We're pretty sure we're not the only ones who are questioning those festive evenings spent sipping beers and our impressive ability to scoff way too many leftovers.
Add to that, the fact that bikinis are getting smaller and smaller (gulp!), and boardies are getting shorter and shorter, and we're feeling ready to turn those pancakes into running fuel!
We're so lucky to be surrounded by endless beachside paths and mountains to climb, so the "I can't afford a gym membership" excuse ain't gonna work 'round here!
It's time to lace-up and get sweaty! Here are our picks for the best running tracks on the Sunshine Coast, all of which are so scenic, you'll forget you're even running. Maybe.
Cotton Tree To Mooloolaba
Let's be honest, there's no better place than the beach. This path goes all the way from Cotton Tree, past Alex, to the end of the Mooloolaba Spit, where you can circle the lighthouse and head back. The track stretches 6km each way, with perfect ocean views the entire route, meaning you can spend your time looking out for whales and before you know it—boom! You've smashed out a 12km jog.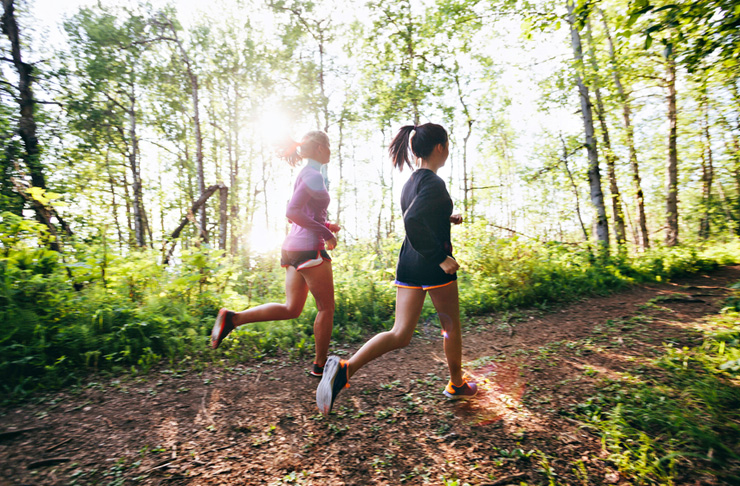 Noosa National Park
Noosa
Noosa's known for being one of the most picturesque spots on the coast, with big cliffs plunging into the sea, postcard-worthy beaches, towering trees, and koalas (if you can spot them). The Noosa National Park has a mixture of flat coastal tracks or steeper inland options, ranging from 1km to over 10km return. If you're brave, wake up before the sun and jog through the coastal trail at sunrise—that golden dawn glow on the ocean will make it 100 percent worth it, promise!
Lara Drive Steps (Buderim Stairs)
Buderim
Up for a challenge? Swap the flat jogging route for some steps and feel those quads and glutes burn (a bikini bum isn't gonna tone itself!) With 148 steps, trying to get 10 laps of these done will leave you shattered, but what an effective way to break a sweat! Yes, you're a machine!
Mount Coolum
Coolum
Beach views are beautiful but beach views from 200m above sea-level? Even better. Mount Coolum is the perfect jogging route if you're keen to try something different. The steps and beaten path make it a lot easier to run than many other mountains in the area. But keep a steady pace, or you'll find yourself completely out of breath halfway!
Kondalilla Falls
Montville
This beautiful path runs a 4.5km loop under towering rainforest trees, through lookout points, and past the magical Kondaililla Falls—ask for anything more and you'd just be greedy. With a mix of stairs, bridges, and dirt paths, you'll be so focused on the track in front you won't even realise you're running!
Caloundra Coastal Walk
Caloundra
Looking to train long distance? Don't worry, we've got you covered. The Caloundra Coastal Walk runs all the way from Golden Beach to Point Cartwright. This 25km route (that's only one-way, guys) is the perfect way to discover the area, bringing you from one town to the next, leading you past breathtaking beaches, a lighthouse, lakes, and creeks. Get a good playlist together, strap on you runners, and enjoy the workout!
On a health buzz? You about hitting up the best bike tracks on the Sunshine Coast here. We've also rounded up the Best Next-Level Hikes On The Sunshine Coast here.
Image credit: Amy Higg for The Urban List and Willie Dalton for Stocksy.