If your 2020 health goals include increasing your fitness, getting a tan and enjoying the beautiful place you call home, then it's time to get off the DREADmill and take your running outdoors.
The Sunshine Coast is home to beautiful beach trails, hinterland hikes and everything in between. So basically, whether your idea of going for a run is 'walk and talk, followed by brunch' or you're destined to be on the next 'Runners World', we've got you covered with a range of tracks for rookies and pros.
Lace up, get set, it's time to conquer the best running tracks on the Sunshine Coast.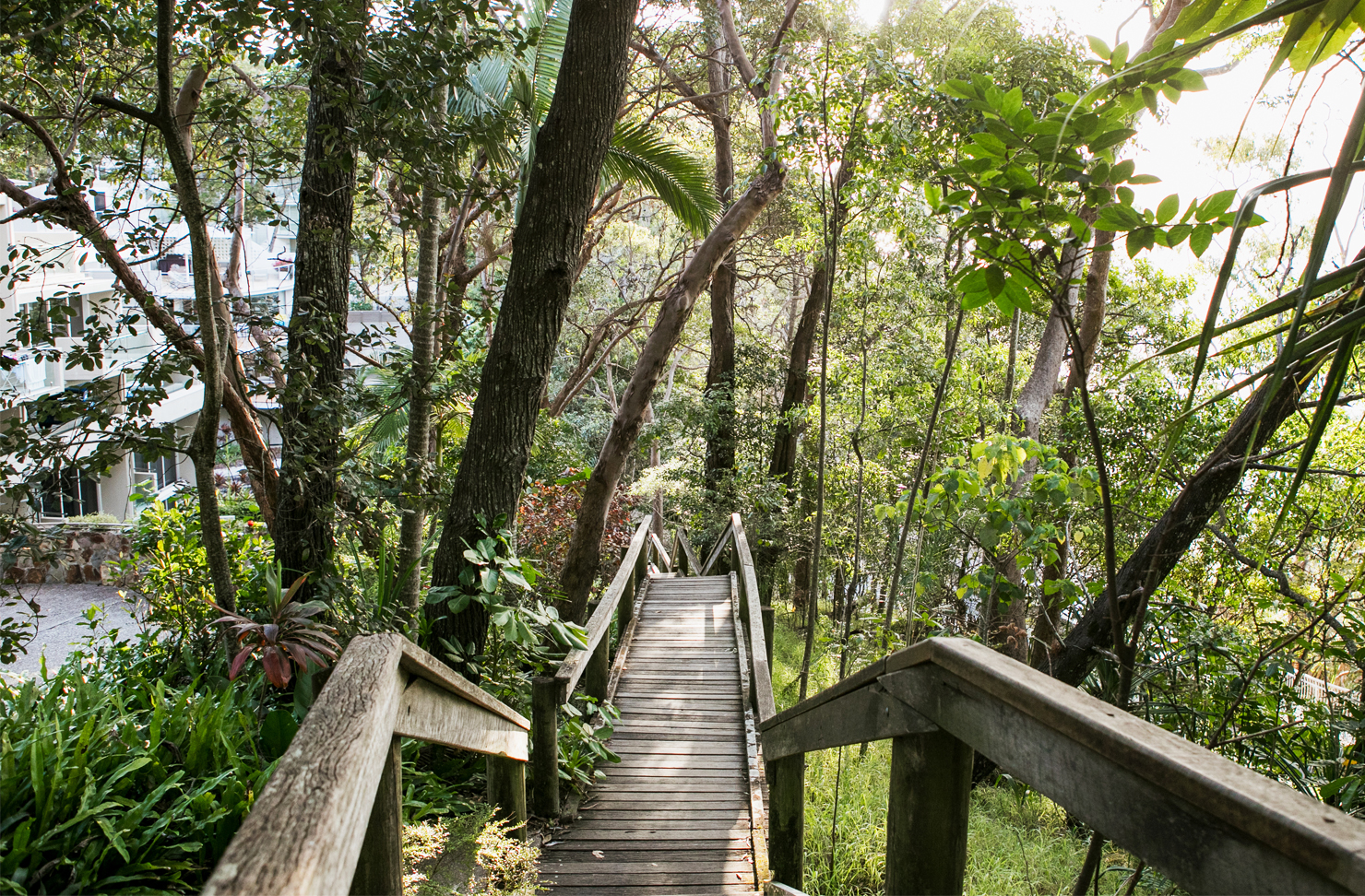 Noosa National Park
Get your jog on through one of Australia's most famous national parks. Noosa National Park fuels all our training needs—just pick your desired scenery, route and distance. A full lap of Noosa National Park will clock you up 9kms, but is worth every grunt. Starting at the Noosa National Park carpark, follow the bush track with stunning views, around Little Cove, past Granite Bay, and all the way to Hell's Gates. Then, take a deep breath in of that ocean breeze and make your way back along Tanglewood bush track. Don't forget to pack your swimmers for a post-run dip at Noosa Main Beach.
Mount Coolum
For the hill climber, challenger, sweat lover and heart racer—Mount Coolum is the run for you! It will take you to the brink of quitting, but then you'll see those views. Push and puff your way up to the summit and take in the vista from a towering 208 metres high. It's all downhill from here, literally.
Point Cartwright Lighthouse
Park your car at the Kawana Surf Club and follow the coastal running track up hill to the headland presence of Point Cartwright Lighthouse for one of the best runs on the Sunshine Coast. A return loop of the track will clock you up to 5kms, which is another way of saying you can totally have that burger and shake for lunch. Our tip? Go early and take in the sunrise for the ultimate wake-me-up.
Ewen Maddock Dam
The Ewen Maddock Dam running track in Landsborough is one of the best running tracks on the Sunshine Coast for trail runners or those looking to build on a longer 10-20km run. The full Ewen Maddock Dam is 9.3km one way and can be found just off Connection Road, so your best bet is to park at Maddock Park, then enjoy the serenity running through the Landsborough hidden gem.
Cotton Tree To Mooloolaba
Hit the pavement from Cotton Tree to Mooloolaba and you'll be tackling one of the best running tracks on the Sunshine Coast. With ocean views most of the way, inclines to help tone those butts even more and a flurry of epic cafes at the end as a reward, this is one trail where you'll want to have a tenner tucked into your sock for after.
Caloundra To Moffat Beach
Connecting Happy Valley, Kings Beach, Shelly Beach and Moffat Beach, this coastal pathway is handsdown one of the best running tracks on the Sunshine Coast. Run one-way and you'll clock 5km on your Fitbit, while taking in beautiful views the whole way along. If you start at Caloundra, enjoy your post-workout smoothie at Ours Cafe & Goods in Moffat, or if you finish at Kings, feast on one of Caloundra's best breakfasts at Beau's.
Kondalilla Falls
Get lost in the lush, rainforest tracks of Kondalilla Falls. Take a jog along the 4.5km loop and you'll be breathing in super fresh air, while immersing yourself in one of the most beautiful spots in the region. But we must warn you, don't be fooled by the pristine environment—this track will challenge you with hills, stairs and changes in terrain. On the upside, once you're done sweating, you can cool off with a well-deserved freshwater dip at one of the best waterfalls on the Sunshine Coast.
Sunshine Beach To Noosa
We'll start by saying this is one for the pros. Begin at the base of Sunshine Beach stairs, then push your body to the limit and race to the top of this stairway to heaven. Once you've made it, run through the gorgeous back tracks of Sunshine Beach, past breathtaking views of Sunshine Beach, A-Bay, Hell's Gates and Tea Tree Bay. Quite possibly the most beautiful running track on the Sunshine Coast, one-way from Sunshine Beach to Noosa Main Beach will be about 5.5km.
Maleny Trail
We love any excuse to pop into Maleny, and the Maleny Trail is a great one for an on-foot trip through our favourite Sunshine Coast Hinterland town. The trail is 5.5km long starting at the inland Obi Obi boardwalk passing through town, then continuing all the way to the golf course and back. This sweat sesh or leisurely stroll will have you taking in the sights of the southern wetlands, historical buildings and plenty of great post-run coffee stops, you'll want to loop back for.
On a health buzz? Get ducking and weaving at the Sunshine Coast's best boxing classes.
Image credit: Amy Higg for Urban List