As we start cruising towards winter, it's the perfect time to get outdoors and enjoy the cool mornings, clear blue skies and endless sunshine that winter on the coast has to offer.
Whether you're a family getting active on the bike, a novice rider, wanna-be competitor, lycra-wearing espresso drinker or a seasoned Ironman type, we've got something for everyone. Guaranteed beautiful views, cruisy rides and great coffee, take a ride through our list of the top bike rides on the Sunshine Coast.
If all else fails, just wet your brow and drink the coffee. The views alone will be enough to take your breath away.
Easy Rider
Caloundra Coastal Pathway
Mostly off-road with only a few small side-streets to navigate, The Caloundra Coastal Pathway from Currimundi down to Caloundra CBD is perfect for families and novice riders. Meandering along Caloundra's most beautiful beaches, you'll see lakes, rivers, ocean, a lighthouse and all the natural beauty the coast has to offer. Make sure you stop off in Moffat for a quality GURU coffee and if you're up for a good brekkie then Beau's will be calling your name at around half-way. The ultimate Sunday ride.
Distance: 14km return ride
Mooloolaba to Picnic Point
Also part of the Sunshine Coast Coastal Pathway, the ride from Mooloolaba to Picnic Point is one of the best rides for families and newbies on the bike. Mostly downhill, you just need to head along Alexandra Parade towards Maroochydore and then through to Cotton Tree. If you're already feeling peckish, grab a Fish 'n Chips from the hole in the wall at The Boat Shed and devour it in the beautiful park overlooking the water. Once you've refuelled, continue along Duporth Avenue towards Picnic Point Esplanade to enjoy some more insta-worthy water views. And then turn round and do it all over again. Ooh, you had me at "downhill".
Distance: 14km return ride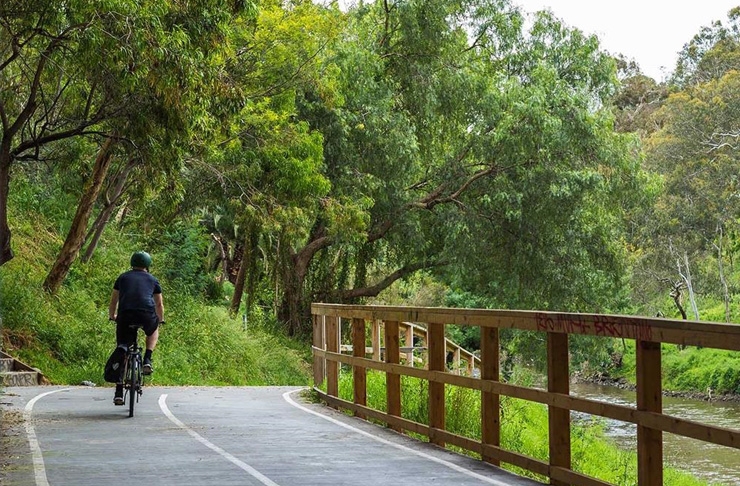 Getting Serious Now
The Surf Beaches Trail
The Surf Beaches Trail runs from Peregian Beach to Noosa Junction. Mostly along the hidden pathway on the beach side of David Low Way, all you need to do is follow the signs for No. 1. You can expect it to take you 2 to 3 hours - depending on how serious we're getting - but you may have to factor in some more time to cool off in the beautiful blue or grab a little refreshment in Noosa or Peregian. An early morning coffee from Skal might perk you up before your ride and when you get back, The Hand of Fatima or Pitchfork will refuel you with all the love and food you could ask for.
Distance: 23km return ride
Sunshine Beach to Coolum Beach
With dedicated bike paths and tracks most of the way, this Sunshine Beach to Coolum bike ride must be one of the prettiest on the Sunshine Coast. It's also a guaranteed butt-shaper with 24km to cover and quite a few hills to contend with. If you're looking to take it easy though, you can rest assured that from Sunshine to Marcus, to Peregian and then to Coolum, are all around equal distance. So either good mental-markers or perfectly timed stops along the way. Start your ride with a Costa Noosa Espresso coffee, finish with a swim and beach sesh on Sunshine and then hang around for a well-earned lunch at Sum Yung Guys once you've worked up an appetite. If that doesn't get the endorphins going you may be a lost cause.
Distance: 24km return ride
Lycra Zone
Nambour to Eumundi Markets
If you're a bit of a lover of the lycra, then we're starting to hit your level. Start your 48km round trip in Nambour after fuelling up at Urban Garden, then head North on the Nambour Connection Road towards Yandina. Keep North on Bunya Road and cross under the Bruce Highway. Take the last stretch to Eumundi and walk those Lycra-clad buns through the market to find yourself a snack. Once you're refuelled, head back to Nambour via Fairhill Road and enjoy some of the coast's best rural scenery. This will bring you back out at Yandina, past Spirit House and on your way back to Nambour. A beautiful bike ride and some market stall browsing all in one. #winning
Distance: 48 km return ride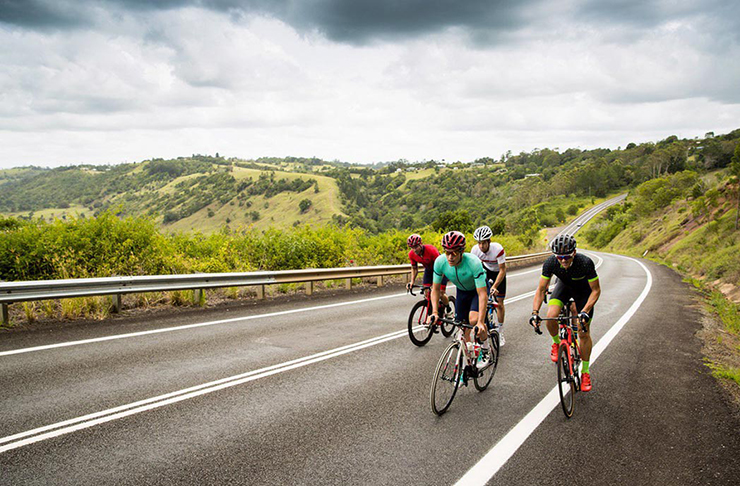 David Low Way
It seems like an obvious one, but David Low Way is a great route if you're looking for a challenging, beautiful and good distance ride. Starting in Noosa and taking you all the way down to Maroochydore, you need a fair amount of confidence and knowledge of the road rules (not to mention fitness!) to get there and back. With a generous road shoulder and flat to undulating terrain, you'll have plenty of space to admire the incredible sea views and sweet coastal towns. Reward yourself with a big brekkie at Bistro C and stretch out on one of the best beaches in Australia afterwards. Happy days!
Distance: 70 km return ride
Ironman Insanity
Maleny Circuit
The Maleny Circuit bike ride is some serious business. If you're feeling a bit Ironman and have been wearing in the bike for some time now, then this one's for you. Starting in Maleny, you'll circuit through Conondale, Kenilworth, Mapleton, Montville and then back to Maleny. Expect some big-ass uphills and steep speedy downhills. You may have enough energy left to admire the gorgeous hinterland but you're guaranteed to have a whole heap of fun. A refuel at the lovely Monica's Cafe is an absolute must and if it's headed into lunchtime territory then Brouhaha Brewery will feed and water you till the lycra comes home.
Distance: 90+ km return ride
Ok so now you'll want a massive breakfast amiright?! We've rounded up the best breakfasts on the Sunshine Coast here. We've also rounded up the best coffee on the Sunshine Coast here. Happy biking babes!
Image credit: Visit Vic and Tourism and Events Queensland