You never understand the sheer importance of high chairs, toys and locked cages in a cafe UNTIL a baby exits you amirighttt? Once that happens your perspective is changed forever, and ever. No longer are cafes judged on their single origin options or their special Smashed Avo, but instead they are judged on whether or not they can keep your terrorists occupied for even five minutes so that you can sip at a coffee and ponder your poor life choices.
Because you haven't slept in 10 years and you have a permanent eye twitch we've done all the hard work for you yummy mummy's out there. We found the best child-friendly cafes on the Sunshine Coast. All you have to do now is turn up and ditch your kids for an hour of rest and relaxation.
One Block Back
Moffat Beach
Think big warehouse, lots of running room, birds to chase and staff that sympathise with you when your child is performing an Oscar winning tanty. They may not have toys, but they have HEAPS of room at One Block Back. Your kids can make noise and be pains-in-the-ass without bothering the poor old couple sitting next to you. Plus they have wine. And cocktails! Amen for midday/mid-week cocktails. Just call us the Housewives Of The Sunshine Coast.
CK Coffee and Wholefoods
Mooloolaba
If you want to feed your kids something that WON'T make them bounce even more off the walls then CK has you covered. Actually they have you covered with everything! They have you covered with toys and a play area, they have you covered with great events and workshops, they have you covered with awesome food PLUS they've got your back when it really matters with their organic booze selection (yassss wine!).
Velo Project
Mooloolaba
Far out do these guys know how to look after desperate parentals. With an entire outside corner dedicated to kids PLUS their own menu (just entitled millennial things) you can catch up with some friends and forget about owning a child for 10 minutes. Plus the staff are so dang friendly and don't make you feel all "Oh sorry my child touched that" and "I am so sorry about the screaming" and "Sorry about The Wiggles music coming from my phone". No, they just say nice things and give you coffee and make your children feel welcome. We love that and we love the Velo Project.
Little Sisters Coffee Co
Maroochydore
As the name suggests, Little Sisters is in fact run by a bunch of sisters. This in itself is really bloody awesome, because as the wise Queen herself once asked "Who runs da world?" to which her answer was "GIRLS". And these girls are doing some cool things. They sell pre-loved clothes, donuts with coffee inside, mugs with coffee inside, trendy pins with no coffee inside, plus they LOVE kidlets. One of the sisters has a daughter who is practically just part of the furniture, so…they just get it. Phew.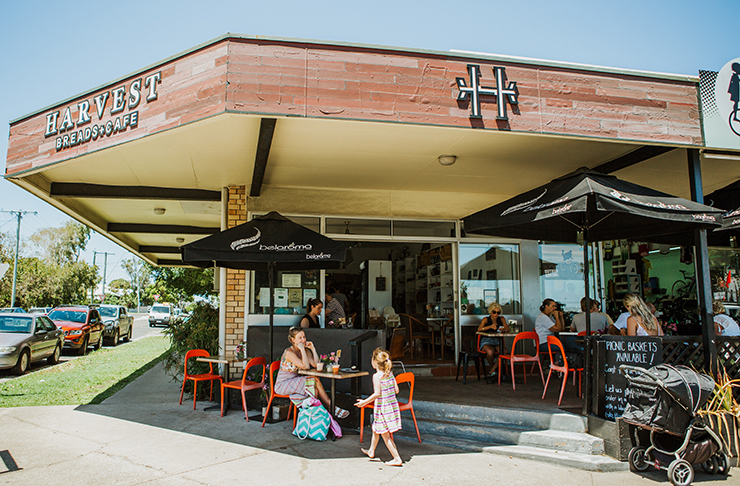 Moo Free Burgers
Maroochydore
Imagine a world where you can eat food and NOT have a child hanging off you like a Barrel Of Monkeys! It seems too wild to even comprehend but Moo Free must understand the struggle is real cause they cater for these small terrorists of ours. So enjoy your burger and enjoy the bliss.
Kunara Organic Café
Forest Glen
Another place where you can eat beautiful healthy, wholesome food PLUS you can ditch your kids in the kiddie's corner and run away next door to do the shopping. Okay, maybe you can't ditch them at Kunara Organic BUT you can at least get a smoothie down the hatch while they're distracted, which is a HUGE win in the world of parenting. And as aforementioned, you can do all your shopping! Groceries, coffee and distracted children all in one place! It doesn't get better than that peeps.
Sunspace Café
Doonan
This place is down right magical. It's like being at home (if your home is a gorgeous cottage-styled house with a HUGE backyard, big vegetable gardens and three baristas). But even if your house doesn't have an in-house chef and an organic garden you can always move into Sunspace for a few hours and play pretend. It's extremely child-friendly/child-proof! Plus there's usually 400 other kids and parents there too so you could probably just leave your child there and nobody would even notice (Parent Hack 101).
Kelly's Of Peregian
Peregian
Speaking of places you can leave your children, Kelly's know exactly how to make parents hearts sing/cry with joy with their caged (maybe other people call it a play pen?) kids area! Nothing says 'the owners must have children' like a special section that locks up and traps your dear angels inside and keeps them entertained. Yes! You can actually sip your coffee and not have to worry about your child finding another family to live with or chasing an Ibis to New South Wales.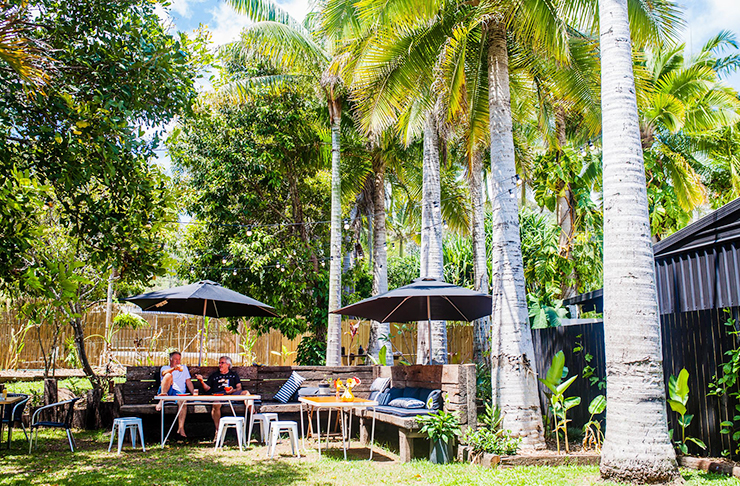 Guru Life
Rosemount
Walt Disney famously said, "Adults are only kids grown up, anyway". This is how we feel when we step into the secret little garden 'round the back of Guru Life. Tables on the grass, a duck-feeding area on the pond, fairy lights, and soulful music make this the most enticing kid-friendly cafe on the Sunshine Coast for both child and adult. There's also some mini-chairs and tables around the grassy corner with trucks and dinosaurs to play with, so you can get that bit of extra space and entertainment if you need it (i.e. you're struggling to contain the energy). The food and coffee is also amazing.
Zabe Espresso Bar
Tewantin
Zabé Espresso Bar must appeal to the most dynamic range of ages compared to anywhere else we know. Not only do they have a lively and beautiful 95-year-old who plays the piano on a Saturday morning, but they also cater to the little ones with a big box of toys and comfy chairs to sit-back on. There are even a set of iPads that the kids can entertain themselves with; and to top it all off-the babycinos are complimentary. Yep, free babycinos with your own very tasty coffee purchase. Which is really how it should be. A great spot for a coffee date with the little ones!
Pioneer Coffee
Yandina
If you haven't yet tried a coffee from Pioneer Roasters in Yandina, then you need to add this one to your list right now. And feel free to take the kids with you, as there are some super comfy chairs and a basket of toys to keep them entertained while you sip on a hot one. Need more time? Hit up the Ginger Factory nearby, where you can take your takeaway cup of joe on the kiddies train with you and extend the moment of sweet stillness. Parents caffeinated + kids happy = a perfect combo.
Harvest Breads
Cotton Tree
Harvest Breads on The Esplanade at Cotton Tree is a go-to for Marcoochydore locals craving an airy slice of authentic artisan sourdough with just the right amount of chewiness. It's also a great place to come if you have little ones. The vibe is uber-chilled so you and your bubba can just sit back and relax. Harvest's shelves are loaded with freshly baked cakes, pastries, and some of our favourite local provisions. Perfect treats for you and your little one.
Not yet with child, but have a furry friend you want to take on a date? Check out these dog-friendly cafes on the Sunshine Coast. What about checking out The Prettiest Walks On The Sunshine Coast.
Image credit: Amy Higg and Ariana Gillrie for The Urban List