There's no denying that up here on the Sunshine Coast we've got life sorted. There's the beach and the undeniably gorgeous Hinterland. We're honestly spoilt for choice when it comes to classic and classy places to eat and drink. And it practically feels like we're on holiday nearly all the time.
And I don't know about you, but when I'm on vaycay, I can think of nothing better than sipping on a fresh and frisky cocktail with my besties before finger-dancing my way down the menu to line up cocktail no. 2 for the night. That's what it's all about, no? Which, is why we thought it might be appropriate to just compile a little list right here, just for you, to work your way through and make sure you've covered all the best cocktail bars on the Sunshine Coast. You're welcome!
Paradise Arcade
Noosa
Paradise Arcade is a haven for all good things. Great Mexican food, sexy grooves, cute neon lights and tequila. Oh and most importantly - their heavenly cocktails. Plus they have super fun names. Ganderin' for some Manderin, The Stalking Dead, Now Raicilla Now I don't… we could go on but we won't. But the key take-home is that they have Margaritas on-tap. 'Nuff said.
Embassy XO
Noosa
When we're looking for a night out that involves sipping out of cute glasses surrounded by cool people and Insta worthy views, we know that Embassy XO have us by the cocktail umbrella. Their bar is perfectly designed with comfy seating and sea views to enjoy their signature cocktail and as the weather starts to cool we couldn't think of a cosier spot to warm up next to the fireplace. Aaah, take me there now….
Sum Yung Guys
Sunshine Beach
Sum Yung Guys have had us swooning over their gorgeous street style food, unique moody atmosphere and super sexy bar for a while now. But don't even get us started on the cocktails. Catch a glimpse of Sunshine Beach while you put your lips around a Hotel Georgia with gin, almond, lemon, orange blossom water, egg white, nutmeg and then just work your way down the menu. You're gonna want to try 'em all!
Miss Moneypenny's
Noosa
When you're cruising down Hasting Street post-beach with all sand in your hair and sun on your face, there is nothing sweeter than swinging into Miss Moneypenny's for a snack off the old bar menu and a cold refreshing drink. And by drink we mean cocktail. And by cocktail we mean strong, fiery, most definitely alcoholic cocktail. The menu is insane but we love the Rose Petal Martini and their Carribean Sling is like summer in a glass. And you can't get enough, sign up to one of their cocktail making classes. So much fun and oh so educational.
Bistro C
Noosa
Okay peeps, there is nothin' better than sippin' on a icy cold mojito on a warm sunny day looking out at our gorgeous Noosa beach - sounds heavenly amiright? Bistro C has a fully decked out bar and and food that goes perfecto with their delicious creations. Cocktail in one hand, food on the way and an amazing view? We'll be there in 10.
Peak Wine Bar
Maroochydore
Peak Wine Bar may be promising wine (which we already know is totally drink-worthy) but the underdog in this whole story is undoubtedly the cocktail menu. This cosy yet contemporary spot on Ocean Street is all about the Randy Mule, Peacock's Tail and Salted Caramel Espresso Martinis. Oooh - so many good choices we may have to settle at one of each.
26 Degrees
Caloundra
Tucked away within the Rumba Resort of Caloundra, 26 Degrees will welcome you with a cool cocktail and and leave you feeling like you're on a mini-vaycay. This gorgeous bar is poolside, filled with beautiful light and more importantly it's filled with booze. Try their espresso martini and their pina colada is only going to add to those holiday feels.
Eddie Cheeba's
Noosa
Eddie Cheeba's is the new little joint in Noosa Junction that has us all talking - and it's not just because of their drool-worthy street food. Their cocktail menu is next level and the people-watching opportunities while sipping on said cocktail? Well, let's just say, that's the cherry on top (see what I did there?). Don't go past their Tequila based Boris. He's a keeper.
Old Soul
Maroochydore
Old Soul in Maroochydore know how to keep us young at heart. What better way to start an epic night out than with a few drinky poos dressed up in a cocktail glass with an umbrella hanging from its straw. Knock back an espresso martini to keep you caffeinated for the night ahead. And then something with a spot of tequila maybe? Good times guaranteed!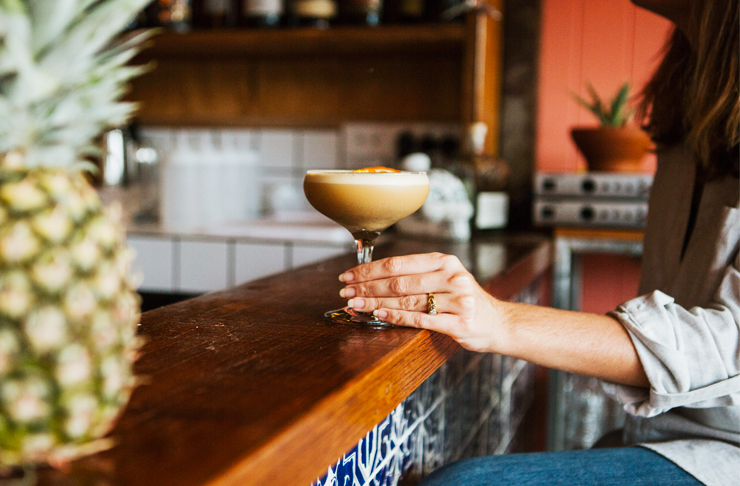 La Canteena
Maroochydore
Is there a place that sounds more perfect for an early eve cocktail than La Canteena? Mexican vibes - check. Street eats - check. Pretty lights strung across cute laneway - check. Beer garden - check. And to put an extra little Ola' in our step, the drinks menu is Mexican bliss. Cancun Coco Yaya (Mexican Mojito for you uncultured lot), Chile Chica Margaritas (with some spice) and a Caribbean Mai Tai - just the beginning of our Meh-hico love affair.
Locale
Noosa
Locale have built a killer reputation on their high quality food and sexy foreign staff members. But if you've been there just to enjoy the bar menu and extensive drinks menu, you'll know that their cocktails are the real star of the show. You can't go wrong with a Classic Negroni and their Snickers Old Fashioned is dessert in a glass.
The Bison Bar
Nambour
The Bison Bar ain't just any old bar. Their live music and entertainment is more than epic and if Melony's Drag Queen Bingo isn't enough to lure you in then surely their cocktail list will be. Try the Mosquito Bite and don't go past the Jaffa.
M.V Catalina
Noosa
If there was an ideal place to be sipping on a icy cool cocktail, well then the M.V Catalina in Noosa would be it. Sit back on the open-air top deck and take in the slice of paradise that is the Noosa River, all while this gorgeous coastal-chic boat takes you for the ride of your life. And make sure you're sipping on one of their lip-licking margaritas while you do it, will you?
Orleans
Maroochydore
Get whisked away into what feels like another time and place by the gorgeous and French inspired Orleans, who've put themselves into a class of their own with their gorgeous menu and intriguing cocktail menu. Try their pre-dinner cocktail made with Esprit de Figues Liqueur, Hennessey and topped with Prosecco and work your way through the rest of the menu till you hit the perfect Espresso Martini. Then go find a fountain to swim in 'coz you'll be feeling as magical as a french maiden by then.
Lot 104
Mooloolaba
As winter slowly sneaks up on us, Lot 104 in Mooloolaba is the perfect place to rug up in a scarf, get cosy in the courtyard and sip on a Highlander Tea. What's that you ask? Chivas Regal, winter-spiced red wine syrup and aclove of ice cubes, all topped with hot English Breakfast Tea and stirred with a cinnamon stick. Can you even handle?
Moto
Noosa
If you're yet to tick Moto off your best cocktail bars list on the Sunshine Coast bucket list, we'll forgive you. As well as pouring local craft beer from Your Mates, Brouhaha, and 10 Toes, these guys are seriously serious about two spirits—gin and rum. Yep, look to their bar shelves and you won't find any whisky, or vodka, or any other non-gin or non-rum spirit. But don't worry, with options like finger-lime gin up for the sipping, there's no chance you're going to get bored. And because you're going to be drinking ALOT, order a toastie to line the tum.
Village Bicycle
Noosa
For the ultimate summer sesh, you'd best be making tracks to this friendly neighbourhood watering hole in Noosa. Perfect for a welcome-all catch up with your mates, Village Bicycle brings the goods with lip-smacking booze and a tasty menu. With an indoor area and cosy beer garden, this is easily one of the best bars on the Sunshine Coast and we're in love with their Perfect Storm cocktail which is a mix of Brookvale Union ginger beer and Sailor Jerry.
Sunset Bar At Noosa Boathouse
Noosaville
So you might think you know Noosa Boathouse, but have you been up all those stairs to the very top? The Sunset Bar is as close as you'll get to a rooftop bar on the Sunshine Coast. With stunning views over Noosa River, sipping on a cocktail as you watch the sun dip behind the hinterland, sounds like the ultimate way to embrace our beautiful year round weather.
Pier 33
Mooloolaba
To wash down all the tasty eats on offer, we'd highly, hiiiiiighly recommend working your way through Pier 33's cocktail list, starting with the creamy Deckchair On 33—vodka, watermelon, coconut, passionfruit and agave—and moving on to Marina Del Sol, a lip-smacking mix of gin, raspberries, egg white, sweet citrus and decorated with edible flowers They're light, fresh and fruity, making them the perfect find for a day-drinking session.
Hong Sa Bar
Yandina
Found at the back of a rainforesty, bamboo-covered property in Yandina, past the cooking school and restaurant, Hong Sa Bar and private dining room is the latest addition to Spirit House's repertoire. Housed in a brand new black single-level building with a sprawling deck in the centre, it's sleek, like, super sleek. Head here for the cocktails and an all-day bar menu on offer. From Coffin Bar oysters and Mooloolaba prawn rolls to ginger and black pepper chicken wings and Thaicini green curry balls (an Asian take on arancini), it's hard to pick favourites when everything tastes like a mouthful of heaven.
Ok so now you've visited the best cocktail bars on the Sunshine Coast what about the best bars? We've rounded up the best bars on the Sunshine Coast here. We've also rounded up the best breweries on the Sunshine Coast here. We've also rounded up who does the best coffee on the Sunshine Coast here.
Image credit: Pier 33 and Amy Higg and Daniel Hine for The Urban List