If you haven't been to CK Wholefoods yet, then you've definitely heard about it. And if you haven't heard about it, then we're pretty stoked to be sharing it with you for the first time.
CK Coffee Bar & Wholefoods is tucked off the esplanade in Mooloolaba—close enough to the beach for a lunch run, but just far enough away from the bustle that it brings a "found you!" experience.
For the past couple of months, this café slash health food store slash epic smoothie and cold-pressed juice bar, has been the talk of the Sunny Coast.
Owned by Martin and Petra Kralovic, this husband and wife team made the move from the Gold Coast to the Sunny Coast all in the name of opening this brand new café.
Obviously, food and coffee are at the top of the list, but we'll get to those a bit later. What pulls us in first though, is how freakin' accommodating the CK crew is. If you want Paleo, they got Paleo. If you want gluten-free, they got gluten-free. Raw? Yep! Lactose-free? Of course.
You get the picture, yeah? Rather than cementing themselves as a one-trick pony, these guys pride themselves on being adaptable, providing delicious food to EVERYONE, no matter what your weakness, intolerance, or lifestyle calls for. This, we love. Like a lot. Because not only do they SAY it, but they follow through.
While these guys could be coffee snobs, because they make a seriously smooth cup o' joe, instead they're super flexible, offering customers eight—EIGHT!—different types of organic milk. We reckon that's gotta be some kind of Sunny Coast record for the most milks available at a single café, no?
You can pair your espresso with full-cream, skim, rice, soy, coconut, lactose-free, or opt for the deliciously fresh almond or cashew milk made in-house, every damn day. CK has a habit of taking things to the next-level, and this is just the beginning.
So, sure, it's a "café" but they've got drinks on tap, too. No, not beers, the healthy alternative—kombucha. Offered in two flavours—turmeric and ginger, and hibiscus—they also offer sparkling and filtered water on tap. Impressed much?
Now, if you're still stuck on the turmeric kombucha, do yourself a favour and try CK's turmeric latte—an anti-inflammatory mix of homemade cashew milk, turmeric, black pepper, cinnamon, and 100 per cent maple syrup. We're not kidding when we say this new health drink is takin' over the world—okay, maybe that's a bit of an exaggeration, but seriously, this latte is not what you'd imagine, with Martin saying 99.9 per cent of tastebuds will go ape-shit (our choice of words, not his) over the stuff.
Beyond the drinks—'cause we all gotta eat—there's an incredible menu packed with all-day breakfast and all-day lunch options. Put simply, you can order what you want, when you want. It may not sound like much, but this is a BIG thing in the food world, and goes back to just how accommodating CK Wholefoods is.
We don't want to send you on a get-in-mah-belly rampage, so we won't go through the whole menu, but there are some clear standouts. Brekky faves include the organic bone broth with sautéed spinach, kale, mushrooms, a poached egg, and house-made kimchi (slightly spicy). This baby is served with organic bread and is going to get even better as the weather gets colder. Trust us!
Other morning dishes worth a mention (although we really could list everything) include the Banana Paleo Pancakes that are dairy- and grain-free topped with local Co-Yo Icecream, seasonal fruits, and drizzled with the purest of maple syrups, and the benny family featuring your choice of salmon, bacon or veggie, and topped with kale-infused hollandaise sauce. Seriously, guys. Kale-infused hollandaise. Where do we even start!?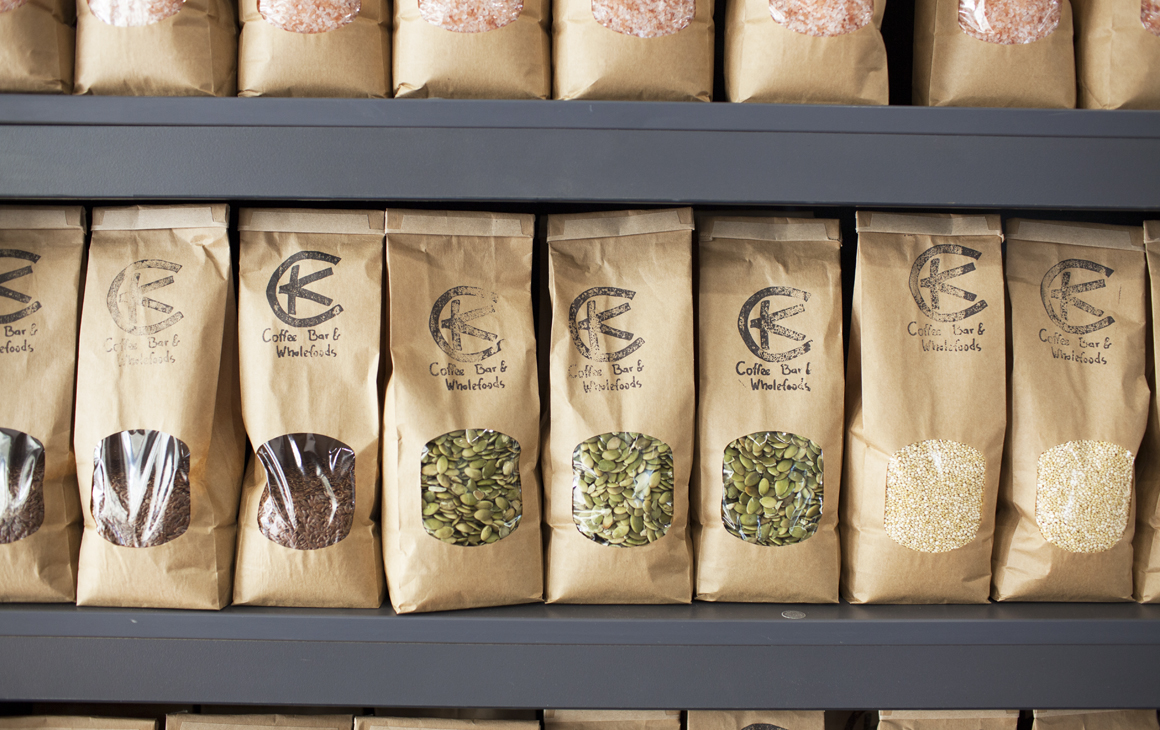 Lunch is just as delectable, and we can personally vouch for the Japanese brown rice seaweed salad with salmon mixed throughout, and coated in a light, miso lime dressing. Holy wow!
But it's not all "salads", with burgers making a solid appearance. Our pick of the bunch? The lamb and beetroot burger. While nothing in-store is deep-fried, you can still get your starchy fix with a side of oven-baked sweet potatoes.
Away from the menu and into the cabinet, you'll find a select range of slices, cakes, and loafs made on site. Think: Paleo banana bread; a raw macadamia, lime, and beetroot brownie; and salted caramel pecan pie. Drooling yet?
Once you've satisfied your pit, which you'll have no probs doing, we suggest you browse the shelves at the back end of the shop. Here, you'll find CK-packaged organic seeds and nuts, healthy cookbooks from some of the best wellness authors around, natural beauty products, and a bunch of other good-for-you stuff.
We haven't really been to a café of this size, that's so focussed on wellness and bringing healthy alternatives to the Sunshine Coast masses. And judging by the hoards of return customers and loyal fans these guys have garnered, we're not the only ones who see CK Wholefoods filling a big gap in the Coast's healthy food scene.
Open seven days a week from 6am to 4pm (kitchen operates 7am to 2pm), if you want to knock back some of the best breakfasts in Mooloolaba, or lunches for that matter, CK Wholefoods is totally the place to do it.
Where: 17 Brisbane Road, Mooloolaba
Image Credits: Daniel Hine and Claire Plush for Metropolist