There's so much more than legalised weed and live, ahem, entertainment when it comes to the many reasons why Amsterdam should be on everyone's European hit list. Coined as one of the most beautiful cities in the world, and with more canals than Venice, the city's postcard architecture, cobblestone streets and pancake houses (if you see a sign with "pannekoek" run don't walk) all add to its charm.
Consistently ranked as one of the best cities in the world to live, and with Amsterdammers or Mokummers, considered some of the happiest people on the planet, we don't blame you for asking how you can get in on the action. A solid start is to plan your itinerary around these local neighbourhoods, and considering pretty much everyone here speaks English, you'll be strolling along a canal like a local in no time.
Because the Dutch have no time for nonsense, and neither do you, it's time to hope on your bike—here are 4 neighbourhoods guaranteed to have you living like a local the next time you're in the 'Dam.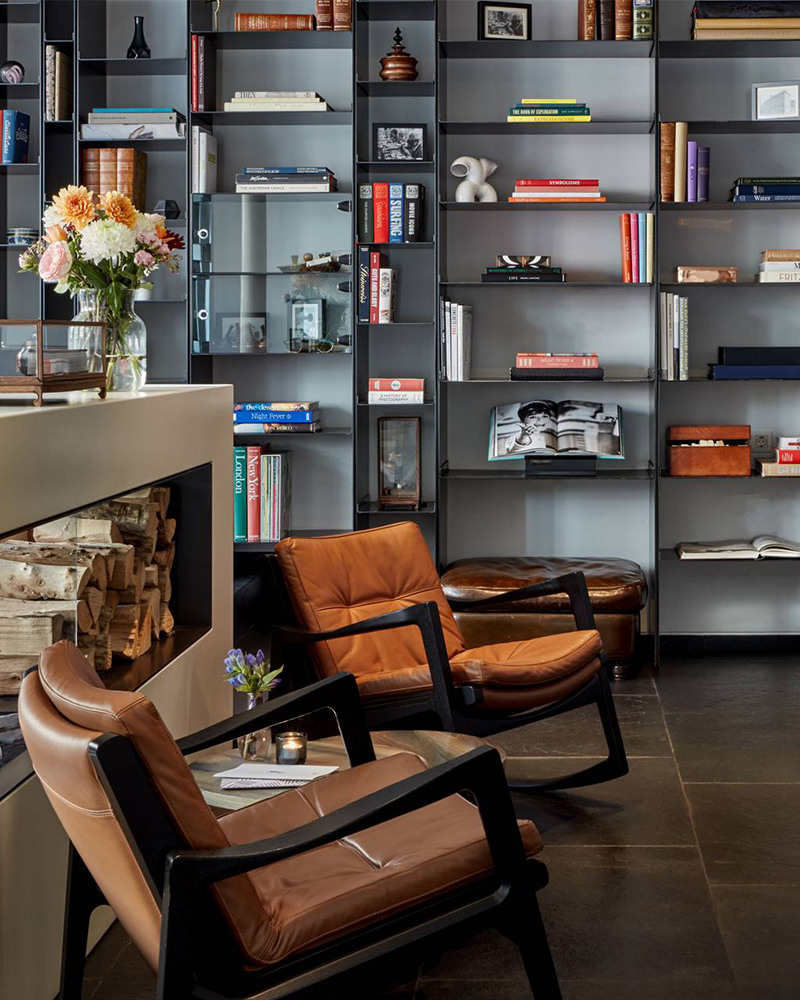 De Pijp
Known for its bohemian vibes and narrow streets De Pijp is a favourite among both the Dutch and expats. If old-school pubs, tree-lined terraces to soak up the sun (we swear the sun does come out in Amsterdam) and a plethora of eats sound like your version of living your best life, then this is the area you should come and get lost in.
Hotel
Sir Albert Hotel
There's only one word for Sir Albert and that's goals. Nestled in the heart of De Pijp this boutique hotel is located in a former diamond factory and the interior is definitely good for your 'gram. Every room comes complete with robe and slippers (we know you were wondering) and a goody box with guilty pleasures (let your mind take you wherever that may be).
Arcade Hotel
Arcade Hotel's claim to fame is that it's the world's first video game hotel. As the name would suggest, there are both metro and modern consoles in each room and up to four player (see what they did there?) accommodation options. These minimalist style rooms and central location are a winner even if you don't game.
Coffee
Back to Black
Back to Black is the quintessential Amsterdam coffee shop. Sitting proud on a suburban corner with white washed walls and turquoise fencing, heading here for your morning cup of Joe will have you concocting highly legitimate reasons to move. Loved among locals for their specialty brew, this coffee bar and roastery is also a small bakery.
Scandinavian Embassy
Representing small roasters from across Scandinavia, the crew here dish up a Scandinavian-style breakfast and lunch to go with their top-notch brews. Perhaps the best part of this minimalistic space is the huge front window, allowing for ample dog and people watching. They even do barista classes, so you can have a crack at brewing their beans at home.
Eats
De Japanner
Plating up late night Japanese finger food (permission to order one of everything), De Japanner sources their produce daily from the nearby Albert Cyup Market, meaning you're guaranteed a fresh feed no matter what time you find yourself rolling in. The drinks menu showcases Japanese beer, cocktails and sake, and is the perfect accompaniment to wash down the chicken katsu or wagyu beer gyoza, and because it isn't a Dutch menu without them, the fries with spicy mayo are exactly what you should be eating at 1am.
Sinne
If you're planning on treating yourself, Michelin star restaurant Sinne is where you go. Derived from the Swedish word for state of mind, the food is a fusion of Mediterranean and Asian, crafted in a French way and with a few modern touches to keep things interesting. Think venison tartare with red beetroot, marinated trout eggs, BBQ mayonnaise and samba vinaigrette or pumpkin filled ravioli with Jerusalem artichoke, macadamia nuts and smoked garlic sauce.
Toni Loco
Sometimes all you want is a bloody good pizza, enter Toni Loco. This is simple pizza done damn well. Whether it's by the slice or the whole pie, there are six to choose from and of course the classics like pepperoni are on offer. And in even better news, they're licensed.
Arles
Jazz museum Numa Muller brought Arles to the streets of Amsterdam in 2016 and has been plating up delicious French eats ever since. Splurge on the set four-course menu (you just don't need the pressure of ordering on holiday) and whatever you do, do not go home without trying the crumble with balsamic and Greek yoghurt.
Drinks
De Pilsvogel
Literally nestled in the middle of De Pijp you will find De Pilsvogel and its famous terrace. This local favourite plates up tapas, a solid sandwich menu and consistently good beats within their Gaudi-inspired walls seven days a week. Hot tip: should you find yourself there on a Friday or Saturday night dancing is encouraged, some would say mandatory.
Vibes
Albert Cyup Market
This market is an absolute must visit on any trip to Amsterdam. Taking up the length of Albert Cuypstraat between Ferdinand Bolstraat and Van Woustraat, this is a favourite among locals and tourists. The largest market of its kind in Europe, this is also your chance to try pretty much every Dutch dish on your list, including piping hot fresh stroop waffles and patat (fries) with a whole range of toppings. The pataje oorlong with peanut sauce, mayonnaise and chopped onions is a gamechanger.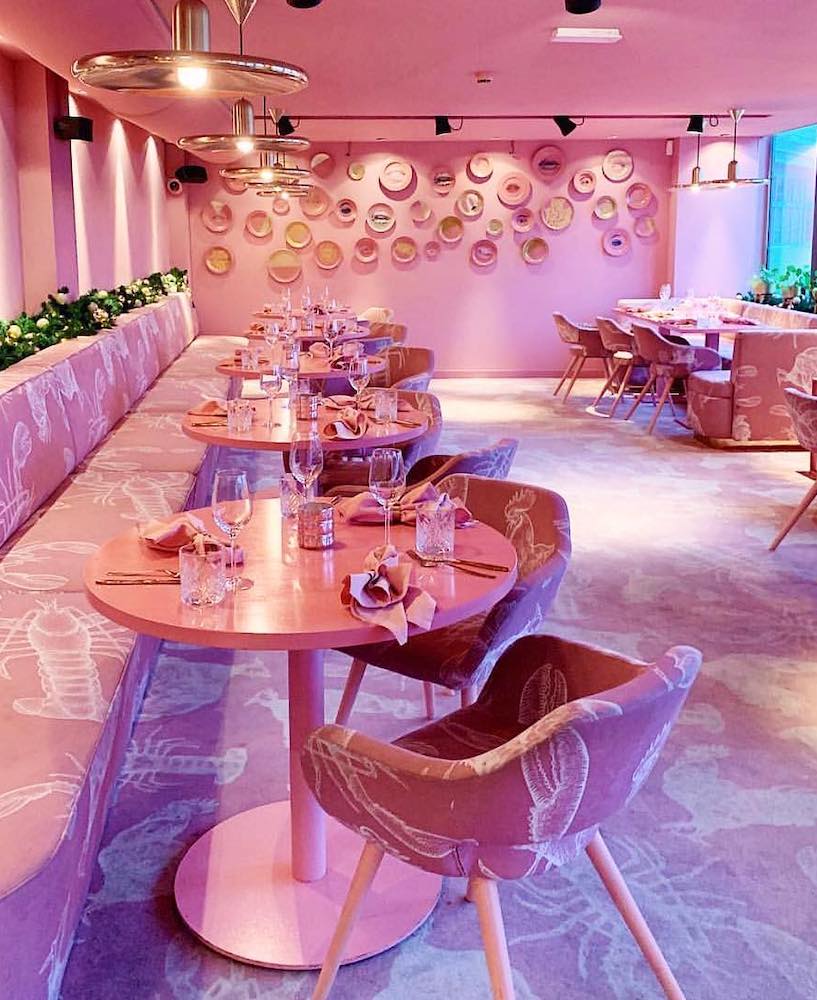 Old South
Oud Zuid in Dutch is the kind of effortless neighbourhood where locals cycle past the most expensive homes in the city, umbrella in one hand, mobile in the other and fresh flowers in the basket. This is the spot for Amsterdam's famous Museumplein and Vondelpark, two spots on every tourist's hit list, but what is it like to actually hang out there? Let us tell you.
Hotel
Hotel Vondel
Fancy a stay in an 18th-century townhouse? Us too. Hotel Vondel is only minutes from Vondelpark, with comfortable rooms at an affordable price for the area. Be sure to take advantage of their bike hire.
Hotel Notting Hill Amsterdam
Yes, you're still in the Netherlands. Hotel Notting Hill is a four-star hotel located right on a canal, you definitely want to splurge for a room with a view here.
Coffee
Coffee Concepts
This loft-style cafe-cum-PR-agency combines all the things that go well with caffeine—art, lounges, books and top-notch eats, with indoor and outdoor seating options it's the perfect spot to fuel up before the day ahead.
Eats
Ferrili's
For old school Italian dining in Amsterdam look no further than Ferrili's. This local haunt has all the comfort foods—lasagne, truffle pasta and risotto—as well as a solid olive tree in the middle of the restaurant. As bizarre as it sounds the foliage is working for them.
MaMa Kelly
We've brought out the big guns with this restaurant, 'grams at the ready team because MaMa Kelly is Amsterdam's answer to London's Sketch. With blush tones as far as the eye can see, the food here is actually seriously good. With three types of rotisserie chicken how could they go wrong?
Drinks
Tunes Bar
Keeping with the chic feels of Old South, Tunes Bar located in the Conservatorium Hotel, has a backlit wall of booze so it's no surprise this Amsterdam bar gets our vote. Known for its creative cocktails there's enough food on offer to book this one for dinner as well.
Vibes
Vondel Park
Amsterdam's answer to NYC Central Park, Vondel Park is a 47-hectar oasis and the largest park in the city. With ponds, bridges, sculptures and even cafes, you haven't done the 'Dam until you've pencilled in a lazy afternoon here. Keep an eye out for their summer concert program.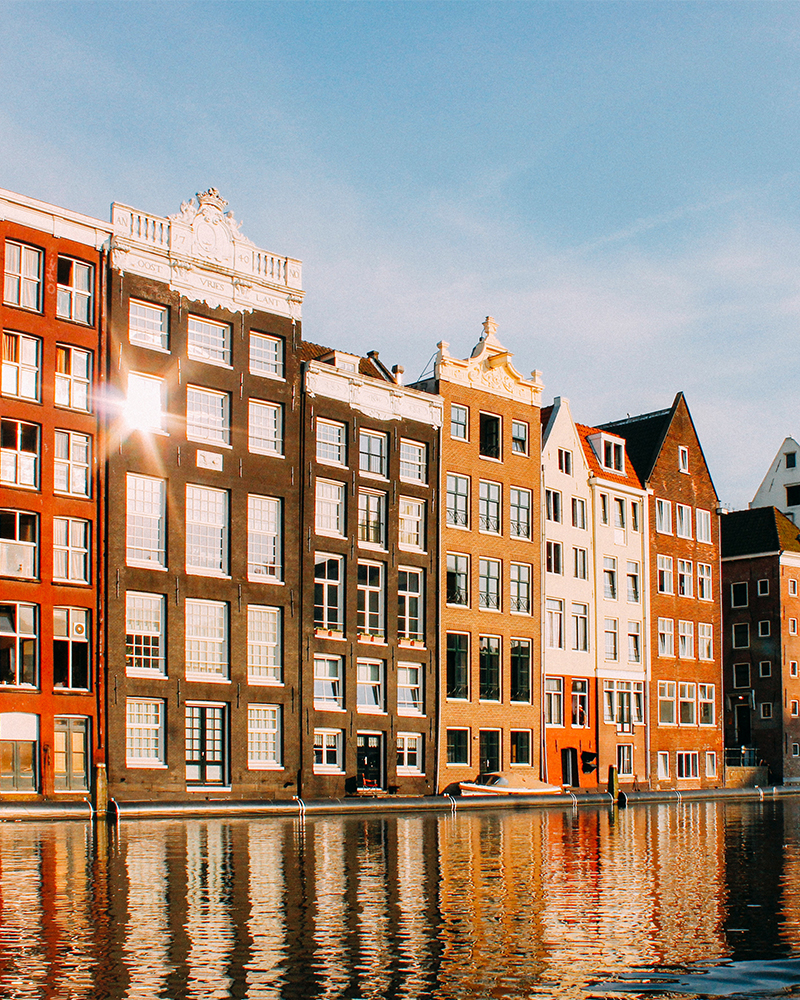 Oost
Coined as one of the more diverse areas of the city, Oost is also known for its wide streets, which might sound kind of bizarre but spend a bit of time in Amsterdam and you'll realise these streets really do standout. Diversity means great food, and this is the area to head for Turkish bakeries, Surinamese supermarkets, Middle Eastern lunchrooms and market eats.
Hotel
Hotel V Fizeaustraat
A hotel room you never want to leave is a pretty good sign, and that's exactly the feeling you'll get when you check in here. With wooden ascents, faux fur rugs and emerald green hues, the space was designed by renowned architect Piet Zanstra and is so well designed it's the hotel Pinterest could have built.
Coffee
4850
This minimal, light filled space is enticing not only for its perfectly brewed coffee but its damn good cinnamon rolls. Our advice is to grab both then go forth and conquer your day.
Rum Baba Coffeeroasters
Keeping with the theme, Rum Baba do both great coffee and baked goods. This micro coffee roastery sells their beans by the bags, and entire loaves of banana bread to go with it.
Eats
Vijfnulvijf Asian kitchen Cafe
It's okay if you can't quite pronounce this one, just trust us when we say it's worth a taste. Combining street food flavours from right across Asia, the crunchy-crunchy chicken and duck bun are winners, along with their curated playlist of beats.
Bar Basquiat
Pull up a stool in what was once an old supermarket, you're going to be here a while. Inspired by its namesake, Jean-Michel Basquiat, and brought to life by Dutch design studio Modijesky, this is the ultimate when it comes to discovering a menu with something for everyone. From Philly cheese steak to fish tacos and duck spring rolls, you'll want to come hungry.
Drinks
Hiding In Plain Sight
As the name suggests, you'll find this award-winning cocktail bar standing proudly on an Amsterdam corner. Classic cocktails and bespoke creations are all on offer here, the only thing to note is because this one is a small bar should you be travelling with four or more of your mates you'll want to book ahead.
Amsterdam Roest
This converted warehouse is the perfect locale for laid back vibes with its own city beach, BBQs and events calendar. If you get lost you're not alone, the street address isn't exactly correct, you need to head towards the water by the VOC Kade.
Vibes
Waterloopleinmarkt
The oldest flea market in Amsterdam should be everyone's go-to when it comes to hard-to-find holiday trinkets that'll guarantee ultimate bragging rights back home. With over 300 stalls the market is open six days a week, just don't head down on Sundays.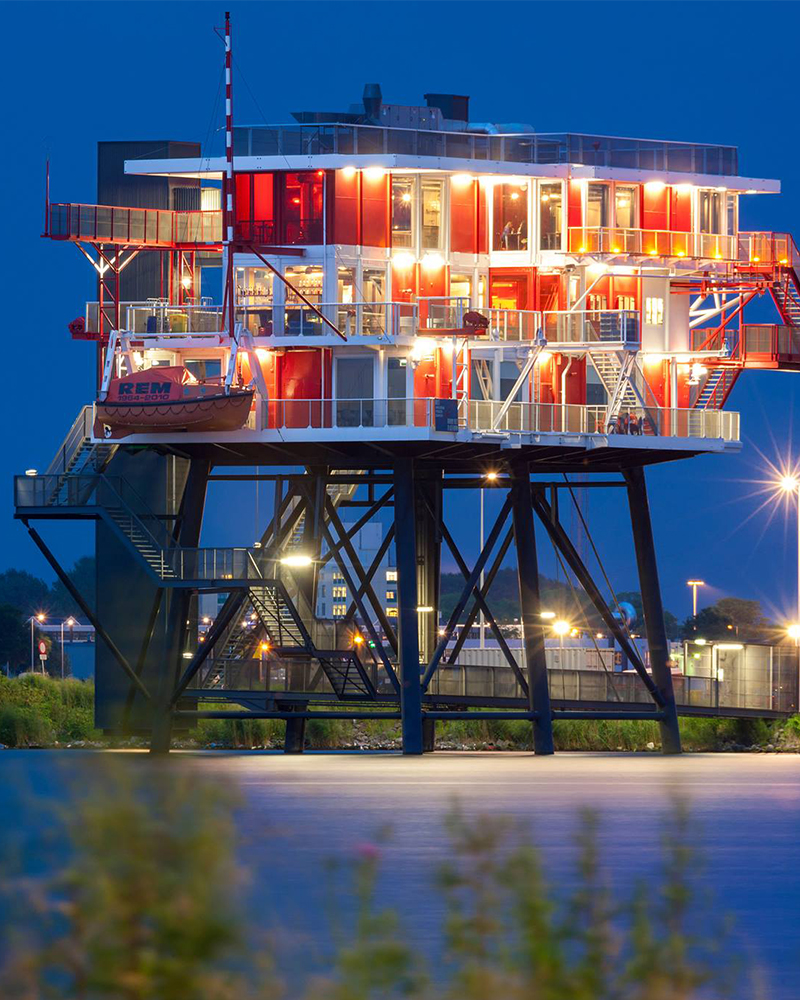 Houthavens
This upcoming neighbourhood located on the IJ River is a must-do if you love the warehouses in NYC's meatpacking district, and while totally coincidental it does have some definite West 14th Street vibes. Now a creative hub for start-ups, food and design, Houthavens is the perfect example of Amsterdam's constant evolution.
Hotel
Moxy Amsterdam
The Moxy is like the cool kid at school, once they decide to sit with you at lunch you'll want to call your mum and tell them you're in. Their trademark chic vibes overlook the harbour and even the retro gym with indoor pool and sauna is interior goals.
Coffee
Coffee Shots—Kiosk by Eline
Coffee Shots is a quaint little cottage sitting proudly along the water just waiting for you to devour one of their baked goods alongside their quality cup of Joe. With porch-like outdoor seating you can eat in, but we don't blame you for grabbing it to go along with your harbourside stroll.
Eats
Za Amsterdam
Bust out your finest eating pants and book yourself a table at Za Amsterdam. Dishing up refined comfort eats from across the Mediterranean but with a strong focus on Italian classics like pizza and pasta, this Amsterdam restaurant has more of an upmarket cocktail bar vibe than restaurant, making it perfect for pre and post dinner drinks.
REM Eiland
It's not every day you eat in a what was once a pirate television station, and that's exactly what REM Eiland was in a past life. Located across three industrial-style decks all with panning views across the harbour, their rooftop is one of the best spots in the city for a drink, and their restaurant one of the best locations for a group feast.
Pont 13
Keeping with the theme of converted spaces, Pont 13 was once a ferry. Their sunny terrace is a favourite in summer, but the food is good all year round. If you're after something quintessentially Dutch for lunch opt for the white bread (it has to be white) sandwich with two beef croquettes smashed between the slices and slathered in mustard.
Drinks
De Prael Houthavens Brouwerij
This brew pub is great for large groups and where you go to taste your way through a selection of IPAs, Scotch Ales, Tripel and more, as well as snacks from sandwiches to Dutch-style mashed potato (read: potatoes with a lot of butter).
Vibes
Ij Hallen Flea Market
The monthly Ij Hallen Flea Market is the biggest in Europe. Held across two industrial warehouses you'll need some time to peruse the 750 stands filled with clothes, shoes, trinkets, jewellery, books and more. If you're not staying in Houthaven take the ferry from Centraal and make a day of it. Be warned the dates aren't exactly consistent so check online before you head and bring €5 for your entrance fee and bags to carry your treasures home.
Heading to Berlin? Check out these four neighbourhoods in Berlin that aren't Mitte.
Image credit: Adrien Olichon, Sir Albert Hotel, MaMa Kelly, Javier M and REM Eiland