New Zealand, Aotearoa, Land of the Long White Cloud—we're pretty damn lucky to call this haven near our home. With picturesque landscapes, sprawling native forestry and 15,000 kilometres of expansive, stunning coastline it's no wonder New Zealand is a popular location for beach-lovers. From golden bays to rugged, black sand beaches, our coastline is second to none.
So, for all of the sunset gazers, the daring surfers and the bake-in-the-sun kinda people, we put together this list for you. Starting in the North and made our way down South, here are ten of New Zealand's most unforgettable beaches. Enjoy.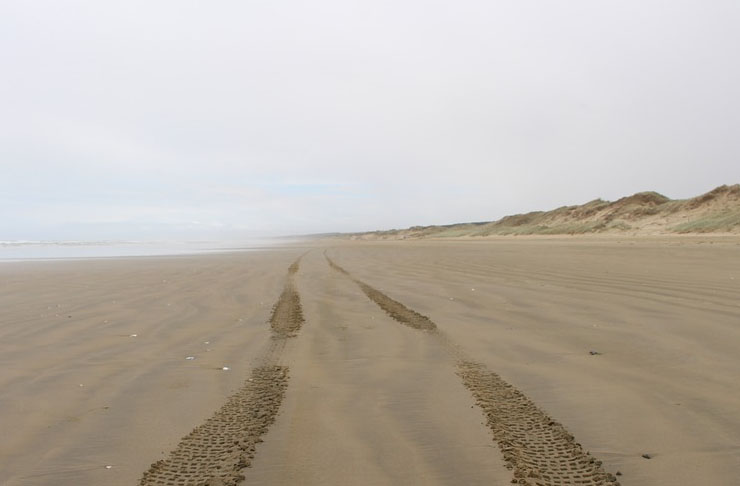 Ninety Mile Beach
Ahipara to Scott Point
Ninety Mile Beach is a vast stretch of coastline is found in the Far North of New Zealand. And, believe it or not, is officially a highway—but is really only safe to drive along for 4WD vehicles and only at certain tidal times. Truth be told, Ninety Mile Beach is actually more like 55 miles, which stretches out from Ahipara to Scott Point. Along the beach, you can partake in activities such as swimming, surf-casting and body boarding down the dunes. And, if you're going to visit, we recommend a stop at Shipwreck Bay, with many of the wrecks the bay is named after still visible at low tide.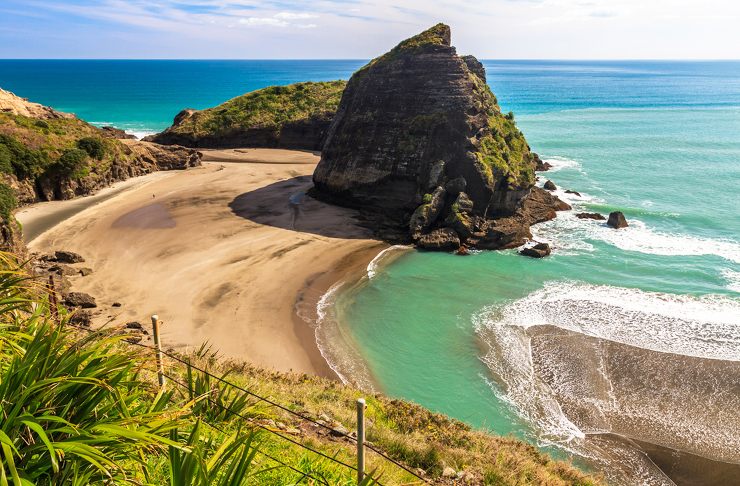 Piha Beach
West Auckland
Piha Beach is New Zealand's most infamous surf beach, located on the West Coast of Auckland. Piha is famously known for its glittery black sand and unforgiving waves. It's a popular location for surfers and swimmers are urged to stay between the flags, due to the many riptides that occur here. Piha is also home to "Lion Rock" a spectacular rock face that resembles a lion at the right angle. There is a walking track that spirals up the face of the rock but unfortunately, you cannot climb to the summit anymore due to safety reason, though it is still a spectacular view nonetheless.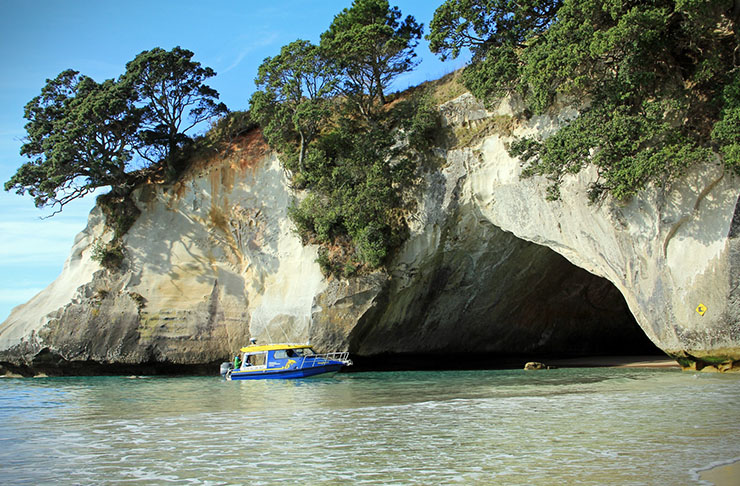 Cathedral Cove
Hahei
Cathedral Cove is a famous beach located on the Coromandel Peninsula and is by far one of New Zealand's most 'Gram-worthy beaches. Start your adventure down a winding path until you come to this stunning bay. Cathedral Cove boasts a naturally-formed archway with fluffy, golden sand and was home to one of the sets in the movie Narnia. You can also reach the cove by water taxi or kayak—a great option for exploring the surrounding crystal clear waters.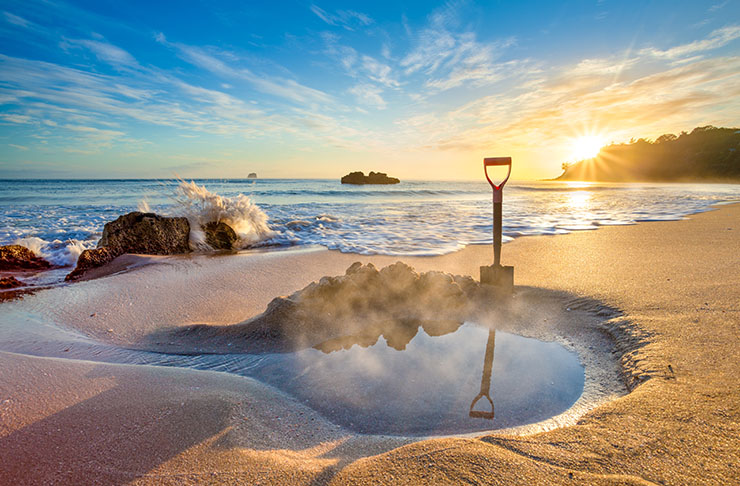 Hot Water Beach
Coromandel Peninsula
This geothermically-heated beach is a wondrous attraction for Kiwis and tourists alike. People flock to the Coromandel Peninsula every year to create their own natural hot pools. Within two hours either side of low tide, beachgoers can experience hot water flow into their make-shift spa pools and relax in the afternoon sun with a bevvy in hand. Do take caution though as water temperatures are known to rise to as high as 64 C!
New Chums Beach
Coromandel Peninsula
Our final North Island beach is New Chums Beach, located in Wainuiototo Bay on the Coromandel Peninsula. This beach is rated in the top ten beaches to visit in the world—and rightly so. New Chums Beach is rarely explored by people, making it a hidden treasure. Its Pohutakawa and native forest lined coastline is untouched for most of the year, with no buildings, roads or campsites making it a natural sanctuary for wildlife and if you're lucky you might just witness Orca whales or dolphins swimming the length of the beach, so make sure you have your camera at the ready.
Anchorage Bay
Nelson
Anchorage Bay is one of the many stunning beaches located in the Abel Tasman, but what sets this gem apart is that you are only able to reach its golden bay by water taxi or foot. If you consider yourself a bit of an adventurer then you're in luck, as this bay is part of the coastal "great walk," where you are able to park up for the night in a conservation campsite or hut. And, while you're there, make sure you make Cleopatra's pool a stop on your journey, with its natural rock pool and moss-lined waterslide, it truly is a magical sight.
Purakaunui Bay
Otago
This stunning beach's claim to fame is that it has been featured in The Lion, the Witch and the Wardrobe and The Lord Of The Rings movies. Purakaunui Bay can be found in the faraway and seemingly untouched Catlins area. The striking cliff faces are what makes this beach an unforgettable one as well as being home to the nearby Purakaunui Falls, which happens to be New Zealand's most photographed waterfall. Make sure you have your camera ready for the 'Gram-worthy nature shots.
Porpoise Bay
Otago
This Central Otago beach is known for its high winds, unforgiving waves and wildlife. Porpoise Bay is not the usual beach you'd want to visit if it's swimming and sunbathing you're after. It's the wildlife that draws people to this stunning southland bay, with it being home to Hector's dolphins, yellow-eyed penguins, fur seals and sea lions! But what makes this beach so stunning is its fossilised remains of an ancient forest from the Jurassic times which you can see at low tide.
Wharariki Beach
Cape Farewell
Wharariki Beach is located in the northern-most point of the South Island. This north-facing, golden sand beach is only accessible via a 20-minute walk. People tend to visit this beach for the scenery rather than the sunbathing as it's known to be extremely windy. Stunning rock formations are what puts this beach on our list of unforgettable beaches in New Zealand as the beach is surrounded by massive rock formations in the water called the Archway Islands.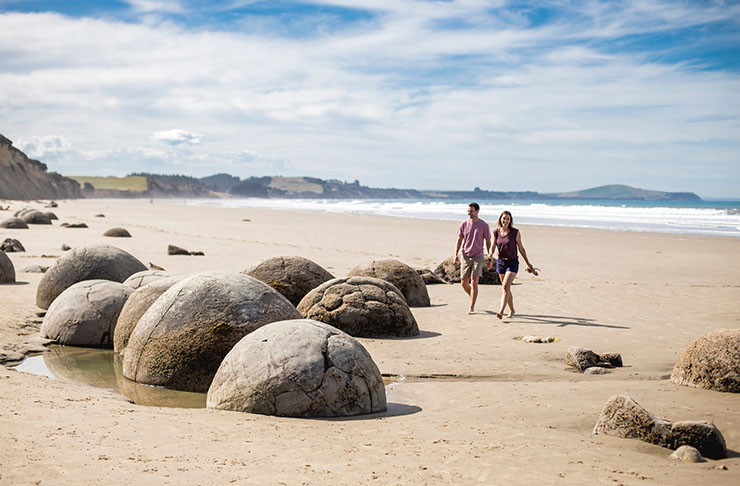 Koekohe Beach
Otago
Our final South Island beach is Koekohe Bay, home to the Moeraki boulders. It is known as one of the most bizarre beaches in the world due to the large, spherical rock formations that are scattered along the it. They are up to two-metres high and, according to Maori legend, they are ancient remains of the sunken Araiteuru canoe. These boulders are a natural wonder and are said to have taken four to five point five million years to grow!
While you're in beach mode, what about checking out the best beaches on the Sunshine Coast here?
PLEASE NOTE:
Kauri is critically important to New Zealand's ecosystem and it is increasingly vulnerable. Kauri dieback has become a serious issue that we need to be educating ourselves on and here at The Urban List we encourage all our readers to confirm that the walks you're doing aren't going to do any damage to our beautiful environment. With certain tracks closed we will try our hardest to stay up to date and hope you will do the same—it's important that we come together to help protect our sacred New Zealand kauri forest. In particular, it is important to note that the Waitakere Ranges have a rahui (exlusion zone) across the entire park and we recommend that this is respected and you stay away.