Want to put your green thumb forward while enjoying your break? Too easy. It turns out Queensland is stacked with sustainable, environmentally friendly eco-hotels. We're talking suites with zero carbon emissions and resorts with that coveted EarthCheck Gold Certification (reflecting five years' certification from the world's leading travel advisory group).
Yep, this list will make you feel even better about saying yes to that winter weekend getaway. Remember—it's not just for you, you're eating strawberries in a spa for the environment.
Elysian Retreat
WHITSUNDAYS
Elysian Retreat is the most secluded island escape in the Whitsundays, and the first completely solar powered resort on the Great Barrier Reef. Only 20 guests are allowed on the island at any given time—and this was before anyone had heard of coronavirus. You'll have access to a three hectare private cove, as well as paddle boards and kayaks to explore the rest of the island. Book yourself in for a personalised organic spa treatment, or a morning yoga class overlooking the ocean.
Thala Beach Reserve
PORT DOUGLAS
You might have seen this north Queensland retreat all over Instagram, thanks to its stunning entrance road which weaves through a plantation of palm trees in neat lines. What you wouldn't have seen in all the drone shots though is Thala Beach Reserve's commitment to sustainability. Using sustainable materials during the low-impact build of the resort was just the beginning—they also have a ban on single-use plastics, with guests provided a steel water bottle to refill on arrival, and have spent the last decade or so improving the surrounding landscape through native tree planting, weed eradicating. Plus, it's a totally luxe hideout to spend a week in, with dreamy bungalows that make you feel like you're sleeping in a treehouse, stunning pools and a rainforest-fringed beach at its doorstep.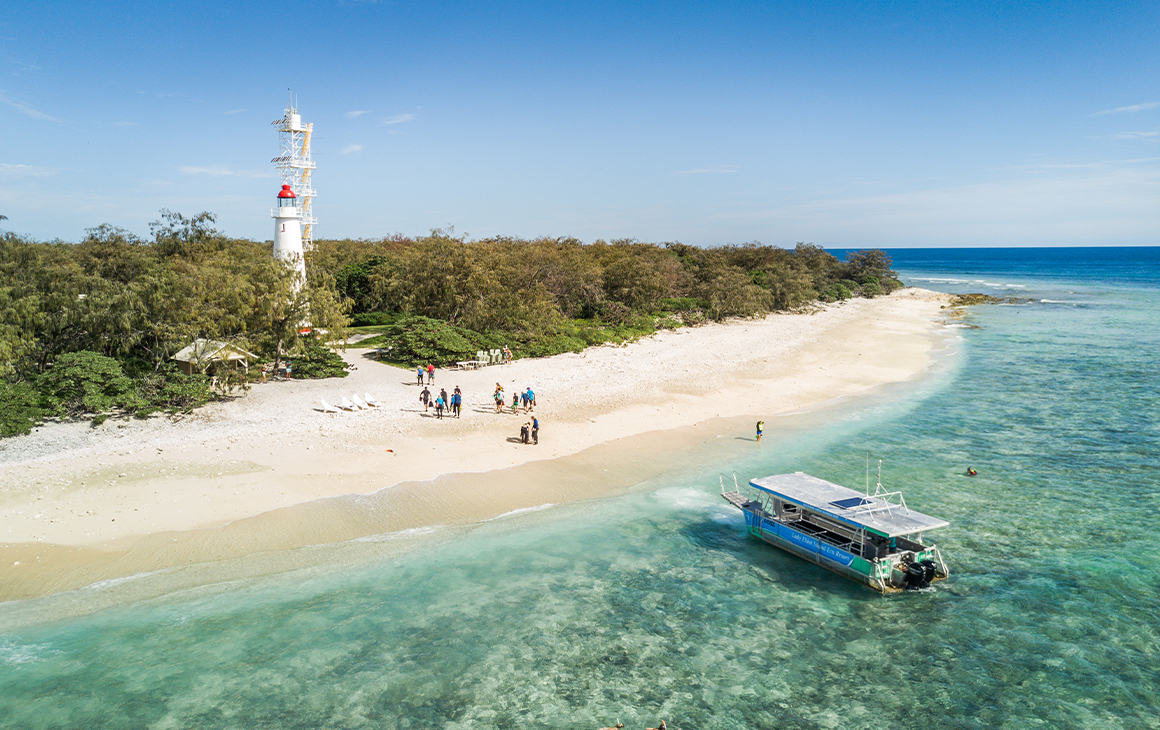 Lady Elliot Island
Southern Great Barrier Reef
The dismal shape of our Great Barrier Reef getting you down? Same here. But hey, put your money where your mouth is and support eco-resort, Lady Elliot Island. Under the helm of eco-warrior Peter Gash since 2005, his vision to maintain the health of our favourite reef translated into carbon neural principles, a revegetation program and construction of a hybrid solar power station. It's one of the greenest travel properties in Australia, and runs regular waste management and squifer initiatives. Not bad for a weekend getaway.
Bungalow Bay Koala Village
Magnetic Island
With Advanced Accreditation by the Australian Eco-Tourism Association, Bungalow Bay earns its eco-stripes. Minimising energy use with no walls and high ceilings, successfully lobbying for a grant to rehabilitate a nearby creek, and sponsoring wildlife rescue on the island itself, this place takes conservation to a whole new level. They also encourage education via guided walks in the National Park (restricted to 15 guests at a time, to reduce impact). Your stay options range from beachside camping to shared accom and cosy cabins.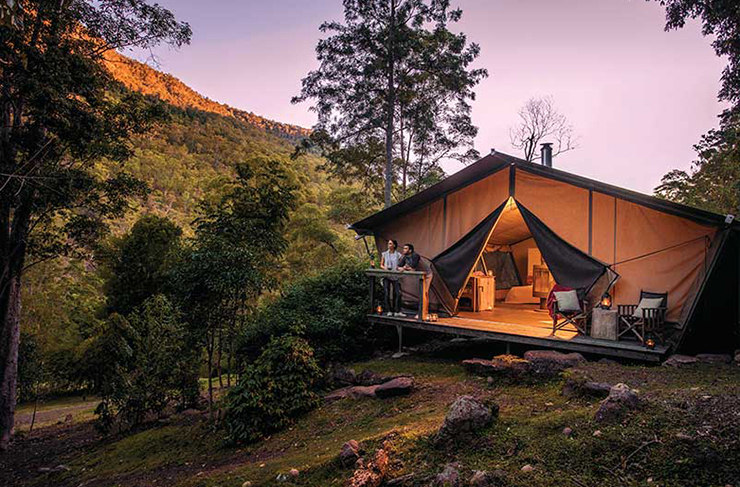 Nightfall Camp
LAMINGTON NATIONAL PARK
Located just 90-minutes outside Brisbane, next up is Nightfall camp, credited for its zero carbon ethos. Smack bang in the middle of Lamington National Park, owners Steve and Jaide have mashed up glamping with eco-goodness. With bush regeneration of native plants, organic cuisine sourced from Brissy markets and a natural spa (a swirling, bubbling spa in the middle of their nearby creek), glamping was never so good for the environment. And if that wasn't enough, know that you can forage for snacks in the wilderness and roast it over their custom-built wood fired oven.
O'Reilly's Rainforest Retreat
Canungra
Surrounded by 20,000 hectares of subtropical rainforest, O'Reilly's is the perfect escape to reconnect with nature. Owned and operated by the O'Reilly family, pioneers of ecotourism, O'Reilly's boasts the world's first Treetop Walk in the canopy of the rainforest and an Advanced Eco-accredited 'Discovery Program' of guided rainforest activities operating every day. Bliss out in one of 48 self-contained and architecturally designed Villas (made from recycled materials) perched onto the sloping hillside. There's also plenty of activities here to get you out amongst nature, including Segway tours through creek crossings to Morans Falls or opt for uber relaxation at the Lost World Day Spa, equipped with a couple's suite and 25-metre infinity lap pool. We recommend ordering a picnic hamper and setting off to one of 500 world-class waterfalls accessible via 160-kilometres of nature trails.
Time to stretch those eco-legs. Good thing North Straddie just opened a sick new mountain hiking trail.
Image credit: Elysian Retreat, Lady Elliot Island, Tourism Queensland