If you needed convincing that the vegan revolution on the Sunshine Coast has well and truly arrived, yesterday's exciting opening of Soul Kitchen Bakery was the definitive proof.
Like bees to the proverbial honeypot, vegans literally flocked to yesterday's launch of the Coast's first ever all vegan bakery, and they were not disappointed.
Based in Maroochydore, this highly anticipated vegan bakery offers everything we've come to know and love at a 'usual' bakery sans the animal products, plus a few extra tasty treats.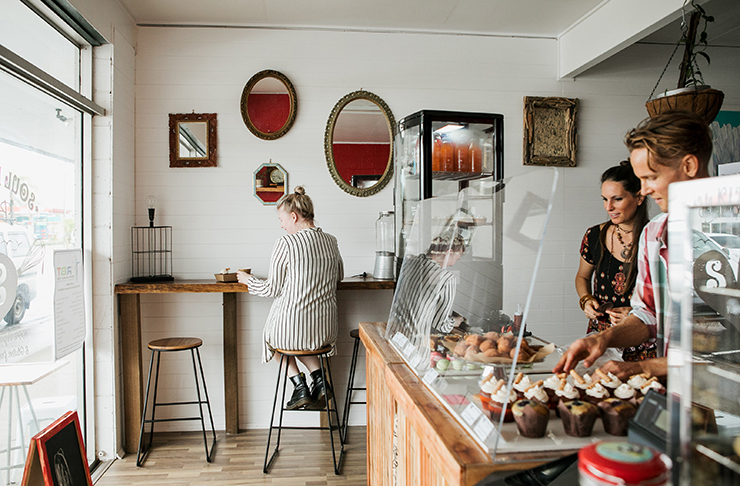 The range of products at Soul Kitchen Bakery is extensive with both savoury and sweet offerings to be had. Think: doughnut holes, brightly coloured macaroons, red velvet cupcakes, lemon meringue pies, ginger nut cookies, blueberry lemon muffins, burnt caramel blondies and their very special Soul Brownies. You can even order a WHOLE damn cake!
But our ultimate fave was the Canadian pumpkin pie. It was sweet, creamy and had the perfect amount of spice. Even the most ardent carnivore would be fooled by this tasty dessert.
If you've not got a sweet tooth, don't worry. There is a wide range of savoury noms to be had a Soul Kitchen Bakery too, with offerings such as their potato 'meat' pie, veggie and spinach pie, savoury quiche and their famous 'sausage' rolls.
The interior of the bakery is simple, warm and unfussy with a firm focus on their food. There are bar stools inside and tables outside for those who want to come in, relax and stay a while. Let's be honest, you'll want to have seconds, and possibly thirds.
The friendly owners of Soul Kitchen Bakery are Hugh and Shirley Forster. This husband and wife dynamo started out as vegan treat wholesalers on the Coast but were stunned by the overwhelming demand for vegan baked treats and so the bakery as a permanent retail location was born.
Another thing we love about Soul Kitchen Bakery is the fact every single food item is also gluten free. That's right kids, no gluten in sight at this place. It's the perfect spot for foodies with dietary intolerances to come and grab a delicious treat to-go. They also serve coffee, so it's a one-stop shop of g-free, vegan goodness and we couldn't be more thrilled.
The revolutionary spot is located bang in the middle of bustling Aerodrome Road. And the best news of all is, you can bring your non-vegan friends here and they wouldn't even know the difference, the food literally tastes that good!
Is it just us or can you hear all the plant-based Sunny Coasters screaming with excitement?! We sure are.
THE DETAILS
What: Soul Kitchen Bakery
Where: Shop 3, 67 Aerodrome Road, Maroochydore
Looking for some other vegan fix noms NOW? We've got you covered 'cause we've rounded up the best vegan cafes on the Sunshine Coast here. What about vegetarian noms? We've rounded up the best vegetarian cafes on the Sunshine Coast here. We've also listed the best smoothie bowls on the Sunshine Coast here.