Look out, Melbourne! The Sunshine Coast is making a serious splash when it comes to art and culture, with new murals, street art and graffiti popping up in our alleyways and backstreets. Whether you're a lover of public art or just need a sweet background for your next profile pic, you'll want to hunt down these five spots for some of the coolest street art on the Sunshine Coast.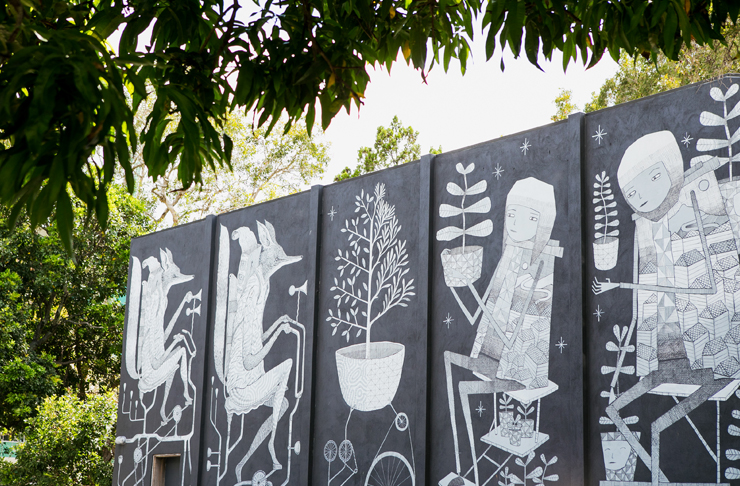 Caloundra Street Art Trail Loop
Caloundra
Caloundra was already pretty cool, but it got even cooler with the opening of the Caloundra Street Art Loop Trail—a 1.7km trail that connects multiple local artworks and street murals. Each work highlights the local history and cultural significance of the area, plus they're super cool to look. To download a map of the trail or to learn more about the artwork, click here.
Nambour PCYC Mural
Nambour
Now, the last place you might expect to find art culture is your local PCYC, but believe us, this wall is worth a visit for any art lover. Behind the beloved PCYC, there's a hidden legal graffiti wall that talented local artists and angsty teens have been scribbling over for years. A recent addition to this wall is a painting by famed street artist Emmanuel Moore, and it's given the old graffiti wall a new lease on life. So grab your camera and chuck on your coolest outfit for a truly hipster worthy Insta pic. Thanks PCYC.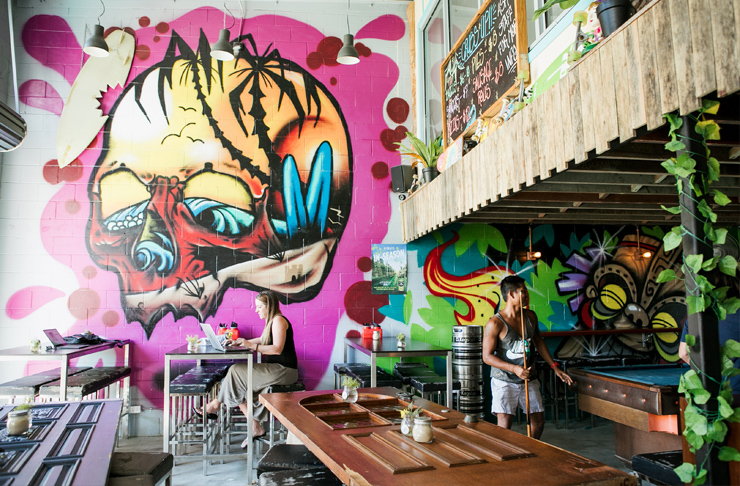 La Canteena
Maroochydore
Okay, so there's plenty of reasons to visit La Canteena. The deep fried chicken wings, the cheesy nachos, the deep fried banana and Nutella tacos, and the sangria jugs are all good reasons to go. But another reason to pay this place a visit is its amazing murals. A giant portrait of Frida Kahlo? Say no more.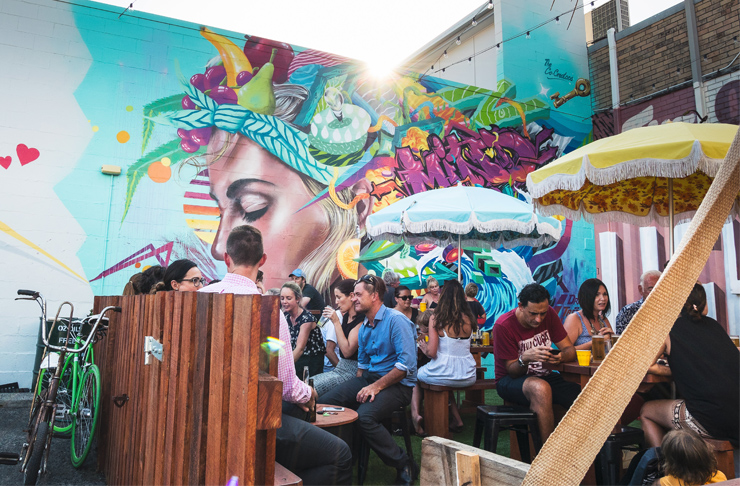 Village Bicycle
Noosa
Noosa had to make an appearance on this list somewhere, right? Well, it did, but only because it deserves it. Village Bicycle is one of Noosa's coolest bars, and not just because of the fun local crowd or binge-worthy menu. Its swooped into a place on this list because of its colourful wall murals. Pull up a stool, order some tater tots and a strawberry fields cocktail, and you'll feel like your wiling away the afternoon in some city backstreet. Hot tip: When you're done here, stroll down Arcadia Street and around the corner to the laneway at Clo Studios for a pastel mural that'll have you seeing hearts.
Nambour Public Art Trail
Nambour
Little old Nambour has come a long way since the days of sugar cane farming and trams. Today, it even has its very own art trail—a 2.3km loop around the town's centre with 13 artworks to be discovered. Each work is a representation of the town's history, and has been created by both locally and nationally-recognised street artists. Grab a coffee and take a leisurely stroll around the streets of Nambour on your next free Sunday morning. For more information, click here.
Image credit: Amy Higg for Urban List and David Hardy