Picture this: you enter your local pharmacy on a mission for Panadol, perhaps a prescription, maybe a pack of Band Aids, and you come out with a bag full of products you may or may not have needed. Returning home with an epic product haul is probably the most satisfying feeling. Ever.
Now, we're suckers for a high-end department store where the smell of high-end perfume gets you whipping out your credit card quicker than you can say overdraft but mark my words; your local pharmacy stocks some of the beauty industry greats that don't cost the earth AND that work.
From cult French cosmetics to local legends, these are the best pharmacy beauty buys worth stocking up on.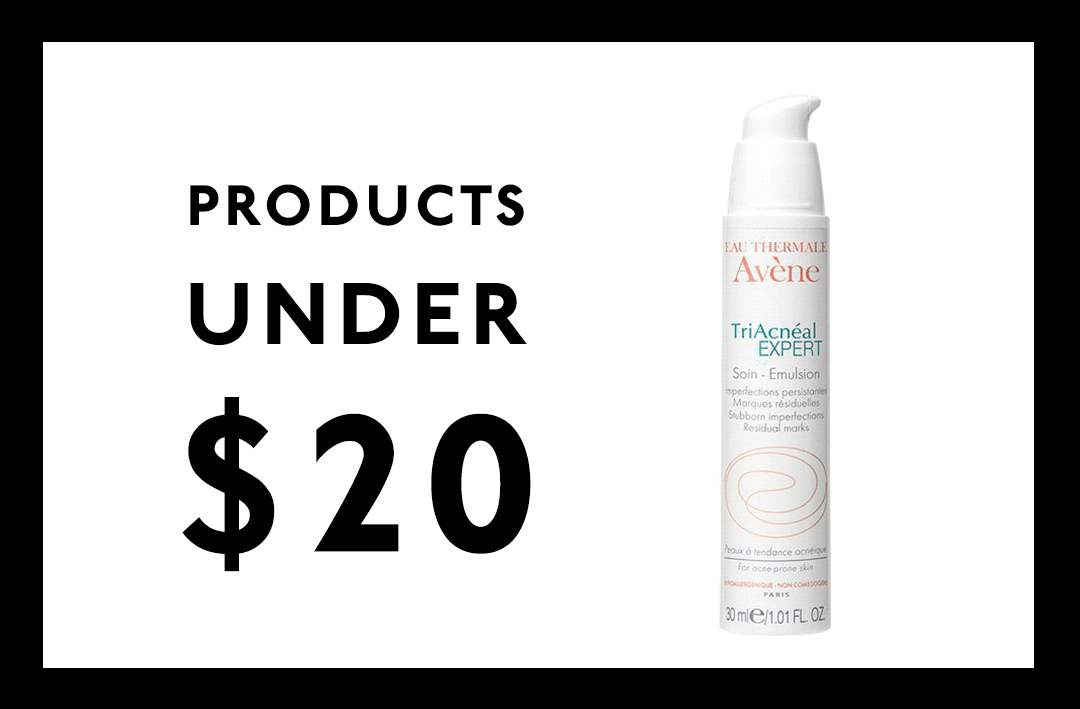 La Roche Posay Cicaplast Baume B5 Soothing Repairing Balm
You can never go past a do-it-all wonder balm, and the French power house La Roche Posay do a cracker. Their Cicaplast Baume can be used as a lip balm, burn remedy, on dry knees, elbows and bites, plus it's ideal if you have extra sensitive skin.
Avene Triacneal Expert
Whether you're a long-time sufferer or you simply get the odd hormonal breakout, no one told us we'd still be prone to acne well into our 20s. The silver lining? It's way more common than you think and yes, there are things you can do every day to keep it at bay. Avene's Triacneal Expert is an active evening moisturiser that doesn't dry out the skin like a lot of acne treatments do, and with active ingredients that fight bacteria and reduce redness and scarring, this bad boy is proof you don't have to spend a fortune on effective skincare. To use: apply after your regular cleansing products.
Olay Complete Defence Daily UV Moisturising Lotion SPF30
Sunscreen is a must for happy, healthy skin. Come rain, hail or shine. No excuses. Slather on Olay Complete Defence SPF30 every day to protect your skin from those harmful UVA and UVB rays—key culprits in the premature ageing of your skin, permanent sun damage and dehydration. Do we even need to discuss the risk of melanoma? No, we don't. You got this.
Lucas Pawpaw
Who doesn't have a tube of this in their bag? An Australian icon-slash-miracle balm, Lucas Pawpaw works wonders for chapped lips, as a burn soother, an eyebrow gel (true story), a natural antiseptic—you name it, Lucas can do it. If you don't have at least one product from the range do you even Aussie?
Thursday Plantation Nurture Oil
If ever there was a product that nourished the skin and made it glow from within, Thursday Plantation's Nurture Oil is it. Great for reducing the appearance of scars and stretch marks, this 100% natural oil also helps lessen the appearance of sun damage and pigmentation. A real multi-tasker.
The Ordinary Granactive 5% in squalene
We've paid a lot of lip service to The Ordinary's Granactive range, but it's the 5% in squalene that gets our vote, and not just for the price point. TO's Granactive 5% in squalene offers all the power of a retinol (proven in its anti-ageing and resurfacing capabilities) without the redness and irritation caused by traditional retinol products. Apply at night after cleansing and before a night cream for some serious brightening and resurfacing results.

Nuxe Multi-Purpose Dry Oil For Face Body And Hair With Golden Shimmer
Okay, I'll confess; I LOVE this product. Apart from the incredible smell Nuxe Multi-Purpose Dry Oil is hands down the best dry oil on the market. Great for stretch marks, dry patches and skin texture, apply liberally for supple, shimmery skin (even run some through your hair for seriously glossy locks!) and shine like a freaking diamond, you qween.
Bioderma Sensibo H20 Micelle Solution
Probably the most famous micellular water on the market (it was the first EVER and has been around for 20+ years), it's no wonder one Bioderma Sensibo H20 is sold worldwide every six seconds. For one, it's ideal for those with sensitive skin that still want a hard-working, non-irritant makeup remover. Great. It removes even waterproof mascara (the bane of existence) but importantly doesn't strip the skin of essential oils and it also acts as a toner and cleanser. She's an oldie but a goodie for a reason…
Elucent anti-ageing eye cream
Boasting 4% AHA and vitamins B3, C and E, Elucent's anti-ageing eye cream delivers this potent mix of ingredients all working together to get rid of those pesky dark circles, improve skin texture and tone—perfect for that delicate eye area. This beaut is also fragrance-free and dermatologically tested so you know it's the business.
BLAQ Hyaluronic Acid Eye Mask
An Instagram sensation, BLAQ's Hyaluronic Acid Eye Masks have been found on the undereye of every influencer face going around. Apart from looking great in a selfie, these squishy under-eye masks are packed with hyaluronic acid and activated charcoal to leave your eye bags looking bright and less, well, baggy.
Clarins Beauty flash balm
Okay, so you've probably found this in your nan's beauty cabinet, but the Beauty Flash Balm by Clarins is a goddamn all-star, hence its legendary status. This 'do everything' balm (by now you've realised we love a multi-use prod) can be used as a lip balm, a face mask, and a moisturiser, and is famous for its dewy glow under makeup. Nothing but wins, here.
DR. LEWINN'S Reversaderm Corrective Skin Peel
You hear 'skin peel' and you assume the worst. But push through the fear here, Dr. Lewinn's Reversaderm is ideal if you need a little exfoliation (and who doesn't?)—minus the dramatic skin shedding. Packed with a powerful combo of glycolic, lactic and mandelic acids—key if you want smooth, healthy-looking skin—this night time gel exfoliates like a dream, removing dead skin cells and resurfacing the skin and helping to unclog pores. If you suffer from sun-damage or want to lessen the appearance of acne scarring, this is for you.
In more beauty news, have you checked out Chanel's new make up range for men?
Image credit: Beauty Heaven