When I was a kid growing up in Byron, I couldn't wait to escape it. I longed to be whisked away to the big smoke, I yearned a far-off civilised place where they had traffic lights, correctly demarcated pedestrian crossings and a ruthless council that voted in laws about compulsory footwear inside supermarkets…you know…Ballina.
Nothing brings perspective like moving away from your home town. An image wafts into your mind, the corners of it soft and hazy like a Bold and the Beautiful flashback and you start to imagine the soft sea breeze from The Pass, the smell of pizza from the monthly markets and the sounds of buskers strumming to the beat of a busy Johnson Street.
Visiting this coastal town can easily turn into an annual pilgrimage. Weather it's for a weekend, a fortnight or a month-long escape, Byron wraps her cooling hands around you and whispers "Staaaaaaaay… have another swim… just eat one more walnut and lentil veggie patty ethically sourced by trained native bush wallabies." So without further delay, let me guide you through what Byron Bay has to offer and I think you'll find it's worth booking a return trip for.

Three Blue Ducks
If paddock to table-style eating had a mother figure she would be skipping around the grassy fields of The Farm Byron Bay. Here you will find Three Blue Ducks restaurant nestled inside the barn doors of a steel and timber mega shed that also holds a bar, bakery and local produce store and opens out to rolling views of farmland. Three Blue Ducks adapts and changes its menu with the seasonal goodies provided from its surroundings. Fresh, rustic, country vibes… Three Blue Ducks just hits me right in the Maggie Beers.
The Mez Club
Right in the centre of town, this fresh Mediterranean-style cantina is just what you need after a lazy day at the beach. Slip on a white cotton shirt and don't bother brushing off the sand, 'cause The Mez Club is what Byron afternoon dreams are made of. Sip on cocktails as you graze on tapas-style dishes inspired by Morocco, Greece and Turkey. No bookings needed just cruise on in, Byron style.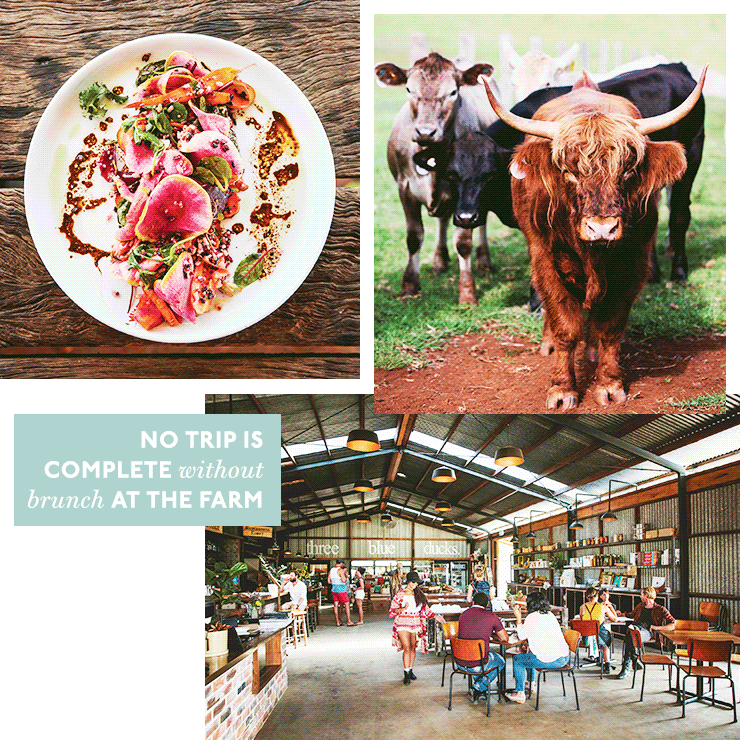 Beach Byron Bay
Holidays are for hours in the ocean followed by lazy lunch dates. At Beach Byron Bay you can literally walk over the sand dunes into this iconic location that boasts uninterrupted water views all the way out to Julian Rocks. Think Burrata with locally-sourced tomatoes and garlic crumbs and you're getting the gist of things. Open for all your breakfast, lunch and dinner needs, you can also visit the Beach's handy kiosk for a takeaway coffee and then…you guessed it…back to the beach.
St. Elmo Dining Room & Bar
My favourite thing to do at St. Elmo is to grab a seat at the bar and watch them make my espresso martini—living my best life, ya'll. St. Elmo has a great Melbourne vibe to it, but think less suit and tie and more moody lighting and exposed concreate interiors. Order some Spanish tapas and then text me to say thankyou for doing all of this 'research'.
The Balcony Bar & Oyster Co.
So much more than oysters, this Hamptons-inspired restaurant has one of the best people watching views in the Bay. Perch yourself on a high stool and look down from this lofty balcony and ponder life's big questions: "Whoever orders just half a dozen oysters?" … "Should I have tried the salt and pepper prawns?"… "How do aeroplanes stay up in the air?" Alas, some mysteries will never be solved.
Barrio
The new kid on the block. And what a block to be on. Barrio sits amongst the new shopping and dining precinct that is Habitat (more on that later, pinky promise). Simplicity and quality is what Barrio is all about. Under the helm of Argentinian-born chef Francisco Smoje, think open fire grilled octopus, blackened eggplant and smoky plates of chicken and beef ribs designed for sharing. Barrio is off to a bang with both locals and visitors alike and should sit right at the top of your Byron eating itinerary.
The Rails
This old-school watering hole is the best place to see live music whilst having a chin wag with a local. In the winter time you can warm yourself by a fire drum, Shiraz in hand and listen to the sweet musical tunes provided seven days a week. Pay close attention to the painted mural behind the band area which changes every couple of years and is sure to bring a smile to your face.
The Beach Hotel
Head to The Beach Hotel for the most popular Sunday sesh in the Bay. Check the local gig guide to watch some epic bands play, all just a stone's throw away from the sand and surf of the main beach break.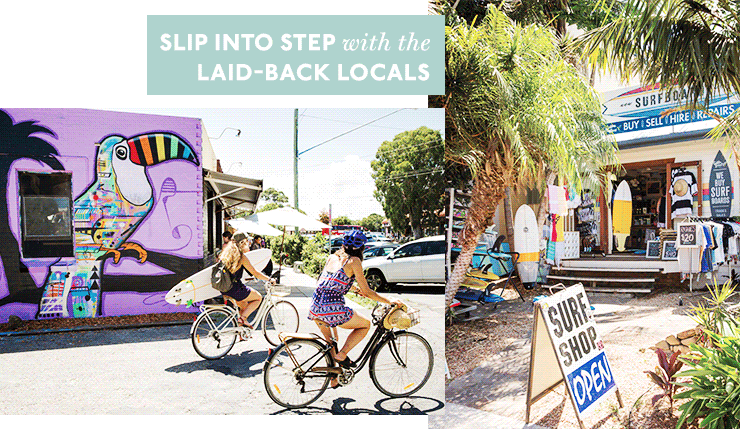 Cafes
Caffeine to Byronians is like air conditioning to Las Veganers (Veganees? Veganites?); anyway, it's essential. But don't limit yourself to one place, tramp your way around town and taste what Byron's cafe scene has to offer.
The Byron General Store
The bones of this cute little building have actually been around for years; it maybe even one of the oldest buildings in town? Though its newest facelift can arguably be hailed its best. Bringing you a choice of organic and healthy treats (try the vegan burger!), The General Store is a nice little oasis if you want to get out of the centre of town.
The Topshop
The Topshop is also a Byron original and once upon a time sold us local kids redskins and milky bars for 20 cents. Now it's a great little spot to grab a coffee and sit out on the lawn on your way to or from Tallows Beach.
The Roadhouse
Affectionally known as 'The Roady', here is a place highlighting Byron's embrace of all things pickled/fermented/organic/tinctured and cold-press brewed through the cloth of 1,000 monk robes-style of eating and drinking. Come for the roast organic beetroot salad and stay for the saltbush and finger lime margarita.
Combi
When the sun is out, the pavement hot and the carparks rare, stop in at Combi to cool your jets and reinvigorate. The smoothies here—adorned with roasted coconut and edible flowers—are almost to pretty to slurp and the acai bowls some of the biggest and best value in the whole of Byron.
Sparrow Coffee
Sometimes you just want a coffee. Sparrow Coffee is perfect for those days when you can't fathom the whole rigmarole of finding a table, a current newspaper or some random's dog licking the salt off your legs. Good brown beans treated with respect for those looking for a quick caffeine fix.
Treehouse On Belongil
There are few dog-friendly beaches in Byron, but Belongil Beach still remains faithful to our four-legged friends. After a dip with your doggo, pop across the road to Treehouse and take a moment to relax away from the centre of town.
FOLK
Keep your eyes peeled newbies or you may miss the turn off to FOLK. Perched at the entrance of a roadside caravan park, FOLK is a sweet brunch stop on your way out to visiting The Arts and Industrial Estate. Pssst come closer, I'm about to give you a hot tip: go visit FOLK's sister cafe WOODS in Bangalow—that is all.
100 Mile Table
Speaking of The Industrial Estate, this is my personal pick for a great coffee if you are spending a lazy day discovering the outer parts of Byron. Disappointingly they do not have a table that is 100 miles long BUT you can enter with ultimate smugness knowing you have found a cafe that not many people, other than locals, know about. Maximum smugness.

After your stay in Byron, you really want a memento to take home that you can casually drop into conversations with your friends. One-off designs, locally-made crafts or homewares that you can only buy in the Bay are worth hitting the pavement for. Pens ready, friends, there will be a test.
Ahoy Trader
I first heard about Jai Vasicek when I bought one of his unique handmade tiles (I now have 11 tiles and three cushions—yikes, groupie!). You can purchase some of his stunning artworks or beautifully-curated brands via his own store Ahoy Trader. I recommend doing at least five laps inside here as things seem to continuously appear before your eyes.
Spell & The Gypsy Collective
Every time Spell drops a new clothing collection I like to origami my money into a paper plane and shoot it through their front door—farewell pay packet, mummy loves you. From floaty boho skirts to stunning button-up blouses, there is a piece of spell magic for every lady, big or small. There is a reason this brand has reached cult status not just in Byron but also around Australia and beyond.
Hope & May
This homewares and clothing boutique with its whitewash walls, handwoven baskets and vintage 501 cut off Levi's is Byron Bay-style wrapped up in one location. Pick up a piece from Hope and May's stunning range of Baby Anything jewellery, a woven straw hat or a soft Turkish towel and float on down to the closest beach.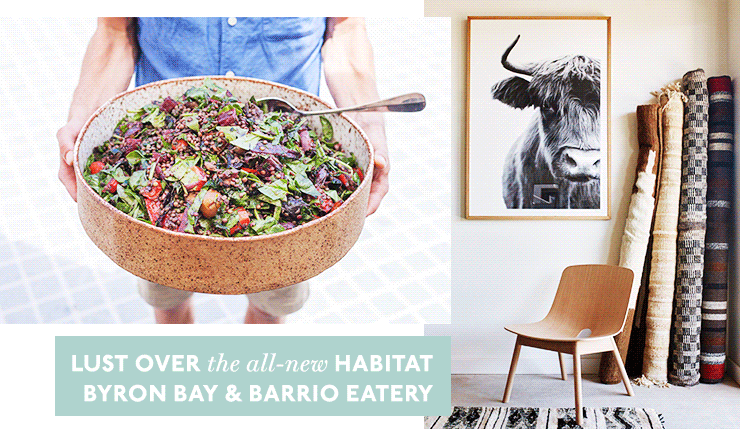 Habitat
Habitat is a community of stores comprising of homewares, clothing and designer wares that really highlight the local brands and craftmanship from around the Byron shire. Nestled inside The Arts and Industrial Estate, this sleek new precinct is home to Barrio restaurant, so grab a coffee and while away a few hours here picking out the perfect memento to remember your trip by.
We Are Pampa
Bring an extra bag people, 'cause you're going to want to shove most of We Are Pampa's collection in your carry on. This stunning concept store and design studio brings to life handmade Argentinian homewares and stunning photography pieces. A must buy is one of their cute 'Monte' cushions or a hand-loomed Llama wool poncho—The Andes hills are alive!
Newrybar Merchants
A scenic 20-minute drive into the hinterland, this adorable converted homestead now houses a collection of curated brands from Byron and beyond. You can stroll through the divided rooms of this house which each hold a different designer, artist or concept. While you're here, pop across the road to Harvest for lunch and soak in those country hinterland vibes that Newrybar is loved for.

Stone & Wood Brewery
A brewery tour and tasting at Stone & Wood is super interesting, even for the most casual of ale drinkers. Climb up and over their brew deck to take a closer look at the beer-making process while being guided by a knowledgeable crew member. You can also just cruise on in for a casual coldie or a paddle of beers, should you want to try them all.
Byron Bay Train & The Arts and Industrial Estate
The once abandoned train tracks of Byron have been brought back to life!! In true Byron fashion, no less, with a world-first vintage solar train that runs a return circuit from the northern beaches into the town's centre. My tip would be to take a bike onboard with you out to The Arts & Industrial Estate, for a leisurely ride around the many shops and cafes in this northern district of the Bay. Make sure you pop in to McTavish surfboards to check out the works of one of the best longboard shapers in the world while sipping a coffee from their new attached cafe.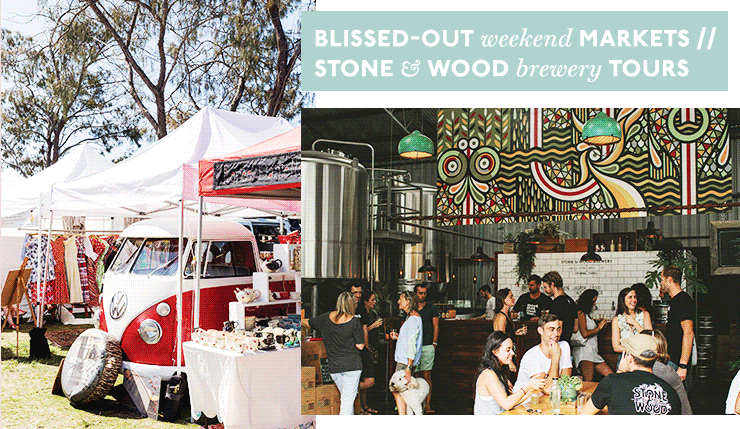 Comma
Okay, time for some relaxation, guys! you've worked hard eating all those eats, drinking all those drinks—something's gotta give! Book a relaxing massage at Comma and be entranced by the relaxing raw and industrial surrounds that will lead you into the hands of one of their talented therapists.
Zephyr Horses
A trip with Zephyr Horses is a great way to appreciate Byron's natural surrounds both on the beach and through the rainforest. Book a photography package to make your horseback experience all the more memorable.
Cape Byron Distillery
Perched up in the hinterland with stunning views out to the ocean is The Cape Byron Distillery. Book a tour on Friday or Saturday and take home a bottle of their famous Brookie's dry gin inspired by the native Australian bushland that surrounds the Brook Farm on which the distillery sits.
Lighthouse Walk
Okay, so the guilt of all that dining out has finally hit and you're ready for a sweat session? Take the beautiful lighthouse walk that starts at The Pass carpark, winds along Wategos Beach and leads all the way up to the most easterly point of Australia. Be sure not to take any tempting alternative roadside routes, as it's annoying for locals who then must swerve around you while you #selfie.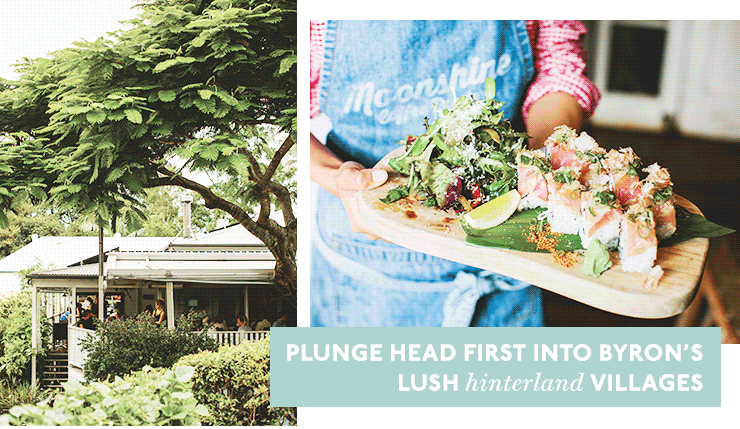 Picnic At Wategos Beach
Finding a car park at Wategos is a sacred mystical event that is not to be sniffed at. There is an unspoken rule that, if you acquire a magical unicorn park you must then have a long-ass picnic to celebrate! Pack some gourmet goodies and a blanket and spend a few hours on the grass watching longboarders dance across the waves. There are also BBQ facilities here and often a coffee van on the weekend. Yeeeew!
Take A Country Drive Ya'll
Just behind Byron is some stunning rural hinterland that is only a short drive away. Cruise your way through Bangalow, Newrybar and Federal who all have sweet little cafes, restaurants and designer wares. My pick is stopping in at Red Ginger in Bangalow to grab some Yum Cha. Please bring me back a pork bun, thank you. More Bangalow goodness located here.
Byron Bay Markets
Held on the first Sunday of every month, you are a lucky little squirrel if your stay coincides with this famous market. Come early to beat the heat and pick up some truly local goodies. STOP!!! This is an important market message!! For 30 years I have been getting a slice of pizza from 'The Pizza Loca Man' what is his real name? Well, nobody but his friends and family and those who ask him know. He sells one type of pizza, yes, just ONE type, with optional chilli sauce that is not an option 'cause you need to get it. Thank you, you may return to your normal reading.
Walk To Cosy Corner At Tallow Beach
When the northerlies a blowin' and you still want to work on that tan (and possibly spot a wallaby or two) you can head to this secret spot that I will quietly tell you about. Walk to the furthest corner of Tallow Beach where it looks super cosy. In the corner, it's called 'Cosy Corner'. Damn it, I can't keep a secret and besides, people sort of already know about it, but still, it's a nice reprieve from the wind.

The best Byron accommodation does away with the uptight hotel lobby vibe. That's not, after all, what a Byron escape is about. A 'concierge' in the right places can offer up a surf report and point you to the best margarita with ocean views. This is Byron man, time to chill.
The Atlantic
A boutique residence whose location is unbeatable; a simple stroll into town yet tucked privately behind sky-high palms. Make The Atlantic what you want it to be, a couple's retreat, a family escape or a big group gathering getaway, with its four beach-style cottages and stunningly designed landscaping, it will provide for all your needs. Sit by the open fire pit on the grassy lawn, ride a free bike into a local cafe or dip into the pool before cutting up a fruit platter in one of the beautifully appointed communal kitchens. If your Instagram feed isn't full in the first hour, then book your stay in their vintage airstream caravan and be the envy of all your city-side followers. #beachlife #blessed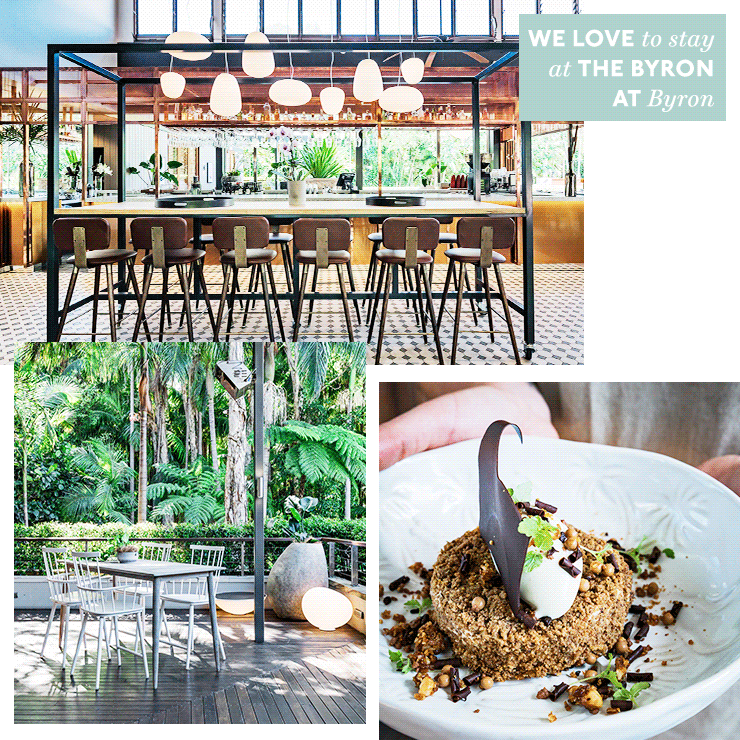 Byron At Byron
Think: lush tropical surrounds, rainforest board walks, luxury spa amenities and self-contained suites. A five-minute free shuttle bus ride from town lies this 45-acre, recently refurbished property, all ready for you to truly bliss out in. Free yoga class in the morning? Check. Infinity pool surrounded by flowering native gingers? Check. Waking up to the call of a waterbird as your alarm clock? Check. Never wanting to leave? Also check. Yes, we're madly in love with Byron at Byron.
Elements Of Byron
If something a little more upscale is your style than I present to you the architecturally designed masterpiece that is Elements. Four words: swinging lagoon pool lounges. Get in them, swing in them, drink in them, watch your kids in the shallows from them (you brought your kids? Good for you! Lol). Wander the outstandingly designed grounds of this beachside resort and you will truly appreciate the time and consideration that has been taken to create such a paradise.
More Options
If you prefer having a place all to yourself Byron, provides an abundance of private guesthouses that can also offer a relaxing self-contained stay. Byron Beach Abodes, The Bower Room or 28 Degrees Guesthouse are but a few. Think: stunning whitewash timber walls, soft raw cotton sheets, reclaimed wooden ceiling beams. Okay, stop thinking, start booking!
Looking for more northern NSW travel inspo? Have you visited beautiful Bangalow or Brunswick Heads? You should!

Image credit: Destination NSW