The Mediterranean island paradise you've probably never heard of—Malta—has frequently flown under-the-radar when planning a cheeky European getaway.
Turns out we have all been seriously missing out. Malta is a destination where cobblestone roads run straight into a coastline that would make even Greece jealous, and its medieval walls contain more history than the streets of Rome. And that's all before we get to the turquoise water, mouth-watering food and balmy weather. Sounds too good to be true, right? If you don't believe us, all you have to do is scroll down to find the 6 reasons you need to book a trip to Malta ASAP. Trust us, you'll thank us later.
Malta Is Bursting With History
Located just off the coast of Sicily, Malta has a long and varied history that dates way back to the Neolithic period. Conquered and ruled by historical heavy-hitters such as the Romans, the Normans, the Knights of St. John, and Napoleon Bonaparte (just to name a few), it's no wonder that Malta itself is a melting pot of cultures and artistic styles. Take a walk through the many churches and palaces dotting the island and be treated to frescoes painted by Caravaggio, Mattia Preti and Antoine de Favray. Then, don your best Indiana Jones impression and delve into a time before recorded history by literally walking through the middle of Ggantija, a Neolithic temple complex thought to be built around 3600 BC. Or, head to Valletta, Malta's capital city, to experience the jaw-dropping 16th century palace that is Casa Rocca Piccola. We bet if you try hard enough, you might just be able to pass yourself off as a long lost member of the noble de Piro family, the owners of the palace, and live out the rest of your life in luxury. Now that's what we call a win-win.
Come For The Hollywood Vibes
Yep, that's right, in addition to all the other natural and historic wonders, Malta also happens to be a screen junkie's paradise. Before it moved across continents to Croatia, filming for much of the first season of Game of Thrones took place in Malta. The famous Azure Window, in Gozo, doubled as the backdrop of Daenerys Targaryen and Khal Drogo's wedding, while the golden city of Mdina, Malta's ancient capital, is home to a number of recognisable locations from the season one version of King's Landing. If Game of Thrones wasn't really your thing, Malta has also been used in such blockbuster films as Gladiator, the Da Vinci Code, World War Z and Troy—the film where we all fell a little bit in love with Eric Bana. Ever dreamed of being an extra in an episode of GOT? Weeell, unsure if we can help, but this is definitely the next best thing.
BYO Stretchy Pants Because The Food Is Damn Good
Due to its chequered history and location smack bang in the middle of Europe and Northern Africa, Malta's traditional cuisine more than packs a punch in the flavour department. For a sandwich that puts anything New York could come up with to shame, wrap your mouth around a Ħobż biż-Żejt, a crusty sourdough bread roll with a hole in the middle which is then rubbed with fresh Maltese tomatoes or tomato paste, drizzled with olive oil and stuffed with tuna, capers, onions, olives, garlic, sea salt and pepper. We're not drooling, you are. If you're in the mood for something a little different, make sure to participate in a fenkata—or Maltese rabbit night—where locals come together to eat and celebrate with spaghetti topped with a rich rabbit sauce and rabbit meat cooked with white wine and garlic, served with fried potatoes. Of course, no trip to Malta is complete without a healthy overdose on pastizzi, otherwise known as little bundles of pure joy made from crispy filo pastry and filled with either warm ricotta cheese or mushy peas. Don't worry, everyone knows calories don't count when you're on holidays.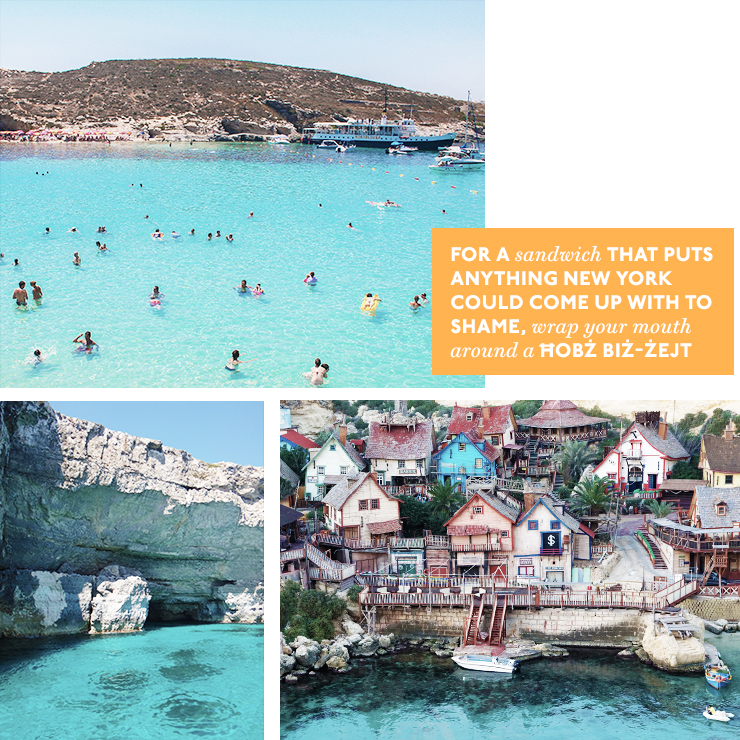 The Beaches, 'Nuff Said
Beaches and Malta go together like vegemite and toast; you just can't enjoy one without the other. Any trip to Malta that doesn't involve copious amounts of soaking up some Vitamin D on warm sand and sipping cocktails by water so blue you're not convinced it's entirely real is a trip to Malta not yet complete. Due to its island nature you can bet that any spot along Malta's coastline will contain a beach worth writing home about, but some locations stand a cut above the rest.
For a beach truly removed from roads and modern construction, Ghajn Tuffieha is your best bet as it is kept peaceful and unspoiled by the long flight of steps separating it from the road. If you're looking for a picture-perfect coastline spot worthy of the name, Paradise Bay will be right up your alley. As for the secret swimming spot the locals want all for themselves, Ghar Lapsi lets you enjoy a dip in sheltered waters. However you like your sand and water combo, Malta has a beach for you. The fun part is finding your hidden gem.
The Scenery Is Instagrammable AF
Oh boy does Malta have some stunning natural sights hidden up its sleeve. Who knew you could fit such a diversity of scenery in an island that is only 316 square kilometres all up? With a landscape that covers everything from dramatic sea-side cliffs, to the rocky scrub of the typical Mediterranean garrigue, to quiet, lush valleys hidden in the middle of nowhere, Malta has something to offer for every type of nature lover. Here's what we'd do: head to Gozo, kayak underneath the Azure Window and then put on you walking shoes and explore the strangely compelling beauty of the Qbajjar Saltpans—used since the Roman times to farm salt from dried seawater. Afterwards, head back to Comino and finish up the day with a float in the Blue Lagoon, touted as one of the most stunning places in the Maltese islands. This time, we're inclined to agree; the Blue Lagoon looks like it walked straight out of a postcard and into real life. If you need us, you know where to find us.
It's The Perfect Spot To See The Rest Of Europe
So you've eaten your way through Malta's best local cuisine, laid on enough beaches to fill your daydreams for the next ten years and now you're looking for what's next. Friends, we'd like to introduce you to the rest of Europe. Little ol' Malta is actually located in a prime jumping off spot for many more popular European destinations. London is only a three hour flight away, while jet-setting to Rome will take you a little over an hour. If you're planning on heading south instead, a flight from Malta could see you following in the footsteps of the pharaohs in Egypt in about four hours. Plus, if you plan ahead (and have a little bit of luck), you can usually net those plane tickets for a steal. Combining sunbathing on a Maltese beach in the morning with downing a macaron and enjoying fine art at the Musee d'Orsay in Paris in the afternoon? Sign. Us. Up. Now.
Do you know where else Malta is close to? Morocco. Make sure to check out how to spend the Ultimate 48 hours in Marrakech.
Design Credit: Sarah Law