For far too long chocolate has gotten away with its neutral colour palette. White? Take a hike. Brown? Get out of town. And...darker brown? Well, you just leave a bitter taste in our mouths.
Riding the high of the millennial pink trend, pink chocolate is here baby, and the future looks bright.
Um Excuse Me, What Is Pink Chocolate?
They're calling it the "fourth chocolate" after the milk, dark and white varieties. Pink chocolate is being touted as the first chocolate discovery since the invention of white chocolate some eighty years ago, but ahem. What about those chocolate Space Food sticks from the 90s? I'm going to correct that Wikipedia article so hard.
Pink chocolate is made from the ruby cocoa bean found in Ecuador, Ivory Coast and Brazil, and after a process of fermenting, drying and roasting, a pink powder is extracted. Best of all, that blushing hue is all natural—no artificial pink colour additives here, my friend.
What Does It Taste Like?
It's got the colour of sherbet, but it tastes like raspberries—there's a refreshing red berry flavour with a gentle fruity acidity. Like the colour situation, no flavourings are added to create that berry flavour. It comes from the bean itself. And though it has the familiar creamy texture of milk chocolate, it's not as sweet.
Here's the thing, kids—you know you're getting old when desserts start tasting "too sweet". It's happened to me, and it'll happen to you, and no amount of anti-wrinkle cream is going to change that. Ergo, I'm really into this pink chocolate thing.
Can You Cook With It?
Absolado. Australia's very own Queen of Chocolate, Kirsten Tibballs, has been spinning recipes like nobody's business. In fact, when I call her for our interview, she's just finished making her own pink chocolate tart: a peanut pastry base, pink chocolate and caramelised rice bubbles, PB & J custard—"a ruby chocolate and peanut butter custard with fresh raspberries"—and pink choc chantilly cream. Woah.
You should treat pink chocolate as you would white, milk or dark chocolate in recipes, though Tibballs warns, "When you add cream and other ingredients, that pink is diluted...but you still get that beautiful flavour coming through."
Who's Into It?
Well, pastry chefs. Tibballs says, "It's great to have something new to work with and something new to inspire ideas and recipes."
Tibballs is an ambassador for Belgium chocolate company Callebaut, and is deep into experimenting with their new RB1 "ruby" chocolate. She's made a golden-speckled chocolate bar creation, with luscious ruby caramel ganache on the outside and crunchy with cinnamon-choc crumble on the inside for the London product launch, and tiger-striped strawberries and cream chocolate hemispheres for the Sydney launch. She's also dabbled with ruby chocolate "rebel" lollipops.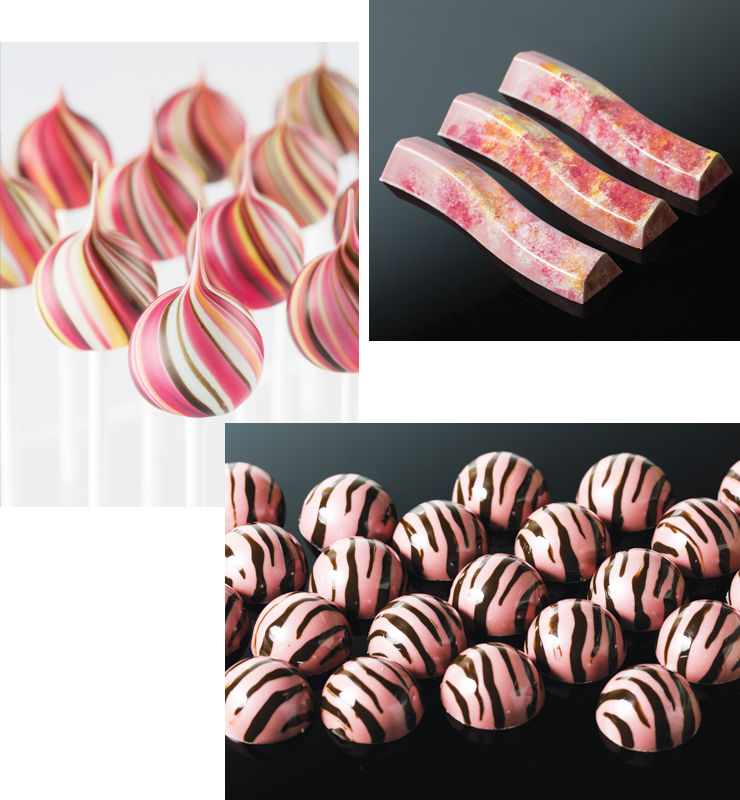 Where Can I Get My Paws On Some?
Callebaut's RB1 ruby chocolate will be available in Australia in September. Kit Kat has released two varieties: the Sublime Ruby, a pink chocolate spin-off of the familiar Kit-Kat finger wafer; and the upper-crust Black Label Ruby, a luxe eight-finger pack of wafers covered with pink choc, meringue, raspberries and dried strawberries...but it's only available at their Kit Kat Chocolatory in Melbourne. Sorry the rest of Australia and New Zealand.
Word is, the pink chocolate is being slowly rolled out around the world due to limited supply of ruby beans. So patience, my pretties...patience.
Image credit: Supplied by Savour School