Imagine rugged coastlines, sweeping yellow desert sands, a dreamy pink lake, and colourful coral reefs all waiting for you, right on your doorstep. The Coral Coast Highway stretches 1,200 kilometres from Perth to Exmouth and is one of the most scenic road trips in Australia boasting otherworldly natural beauty unfound anywhere else on earth.
Now, thanks to Avis and Qantas, it's never been easier to make this dream road trip a reality. From April 1 to October 31, Avis will sort you with a massively-reduced rental car relocation fee of just $250 when driving Perth to Exmouth and $150 if driving Exmouth back south to Perth. It gets even better as Qantas will provide $169 one-way fares between Perth and Exmouth (Friday to Monday) for select flights booked 45 days in advance between April and October 2020. Now all you need to do is pack your bags.
Here's your guide to road-tripping the Australian Coral Coast and every stop you need to make along the way.
Cervantes
The Route: Perth to Cervantes
Your journey will begin with an exceptionally beautiful two-hour drive heading north from Perth along the rugged Indian Ocean coastline. Your first nights' stay will be in Cervantes, but before arriving in this quaint coastal town, make a stop at the ancient Pinnacles Desert of Nambung National Park. Here you'll discover a landscape of impressive limestone pillars covering a vast yellow desert oasis. While driving through the national park, be sure to keep an eye for furry and fluffy locals like kangaroos and emus. From there, drive north to Cervantes and check into your accommodation. On your way out of Cervantes, be sure to stop by Lake Thetis to see the living fossils of Thrombolites.
Drive time: 2 hours and 10 minutes
Geraldton
The Route: Cervantes to Geraldton
From Cervantes, you'll continue your journey north to the seaside town of Geraldton. There's plenty to explore here but diving beneath the waves at Hansen Bay and having a picnic at Ellendale Pool need to be top of your list. Aside from spectacular natural scenery, Geraldton also has a top-notch gastronomy scene, so fuel up for the day ahead at Piper Lane or Jaffle Shack. On your way from Geraldton to Kalbarri, make a stop at Northampton's Oakabella Homestead for lunch set to the backdrop of the dramatic country landscape. From there, continue north to the famous and captivating pink lake, Hutt Lagoon. You've definitely seen Hutt Lagoon's dreamlike pink hues grace your 'Gram discovery page but nothing does it justice like seeing it in person. Once you've soaked up the dazzling scenes here, continue to Kalbarri.
Drive time: 2 hours and 30 minutes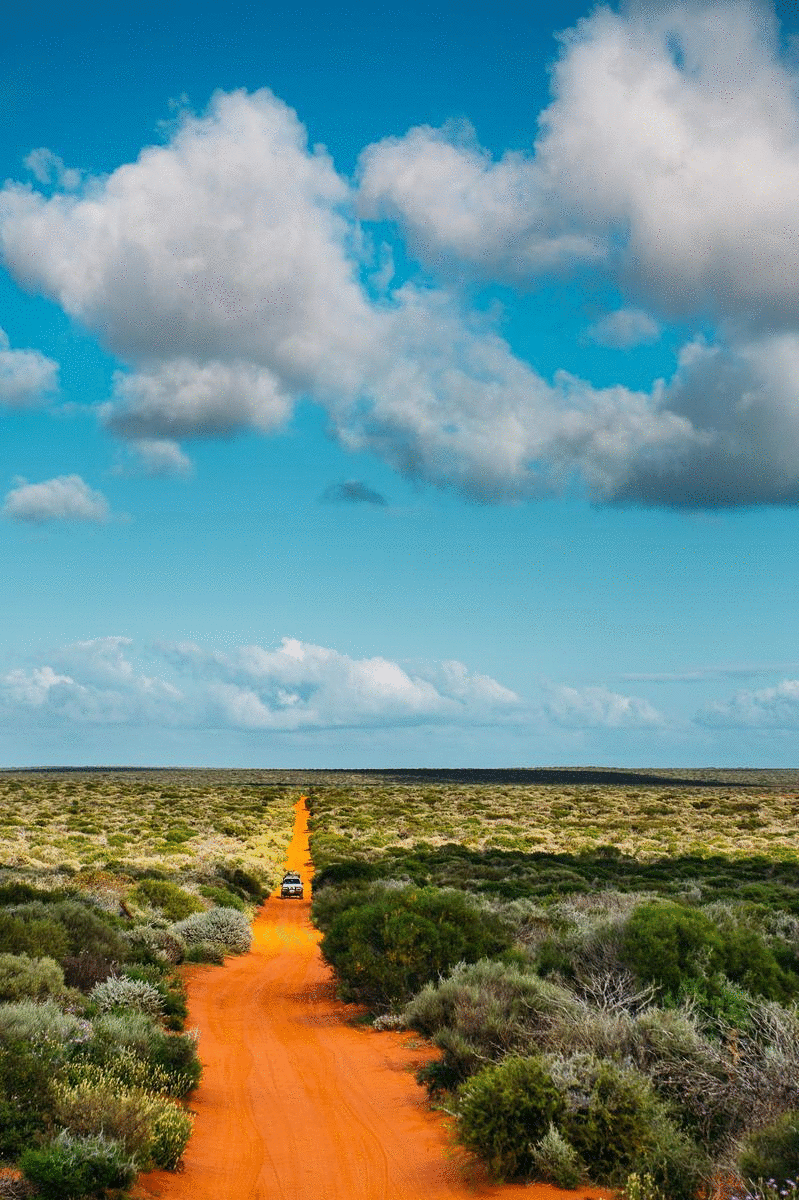 Kalbarri
The Route: Geraldton to Kalbarri
Where the Murchison River intersects with the Indian Ocean, Kalbarri is teeming with adrenaline-fuelled activities like kayaking, quad-biking, and snorkelling the Blue Holes. Lace-up your hiking boots and set out on one of WA's most spectacular coastal walks, the Bigurda Trail. The hike is eight kilometres one way, which takes approximately two to three to complete. Kicking off at Eagle Gorge, you'll wind around dramatic coastal cliffs dotted with wildflowers all the way to the Natural Bridge. As the name suggests, it's a limestone bridge that's been carved away from the cliff by the ocean. For more adrenaline-packed adventures, check out the new Skywalk (open May 2020) in Kalbarri National Park where you'll trek 100 metres above the Murchison River. If you're keen to tackle everything Kalbarri has to offer we recommend staying a few nights before hitting the road again and heading north to Shark Bay.
Drive time: 1 hour and 50 minutes
Shark Bay
The Route: Kalbarri to Shark Bay
As a proud World Heritage Area and the first location in Western Australia to receive UNESCO status in 1991, Shark Bay is an absolute must-do when road-tripping the Coral Coast Highway. Shark Bay is a refuge for thousands of flora and fauna like 12 species of seagrass, 10,000 dugongs, five of Australia's 26 species of endangered mammals and the oldest living fossils on Earth, the Hamelin Pool Stromatolites. For anyone who loves a touch of relaxation, throw down a towel at the world-famous Shell Beach, enjoy a picnic at Little Lagoon, and soak in the hot tub at Peron Homestead. For anyone chasing adventure, hop in your 4WD (or go with an eco-tour) and head to Francois Peron National Park. Here you'll find steep cliffs and a red dessert intersecting with white sandy beaches and azure blue waters. Once you've explored here, it's time to jump in the car and head to Coral Bay.
Drive time: 4 hours and 10 minutes
Coral Bay
The Route: Denham to Coral Bay
With colourful coral gardens glistening beneath the waves just metres from the shoreline, Coral Bay is a laid-back seaside paradise waiting to be explored. Home to the famous Ningaloo Reef, here you can swim with local manta rays, whale sharks, turtles or humpback whales. Or if you prefer to stay above the water, you can see the coral gardens without getting wet, on board a glass-bottom boat. Soak up the sun at Paradise Beach before hitting the patio at Bill's Bar and indulge in a few sundowners. Once you've explored everything Coral Bay has to offer, drive one hour and 40 minutes to the Exmouth airport.
Drive time: 5 hours and 40 minutes
Boasting otherworldly beauty unseen anywhere else on earth, when road-tripping the Coral Coast Highway, it's clear the journey is the destination. Go on, there's no better reason to holiday here this year.
Editor's note: This article is sponsored by Australia's Coral Coast and proudly endorsed by Urban List. Thank you for supporting the sponsors who make Urban List possible. Click here for more information on our editorial policy.