For a few days every year, the sleepy Victorian town of Benalla morphs from 'country pie pitstop' to Australia's unofficial street art capital. This is the annual Wall to Wall Festival, and it's kicking off this Friday.
If you haven't checked out Wall To Wall before, here's what to expect: Giant murals popping-up on every available scrap of wall. Old silos going from concrete eye-sores to 100ft canvases overnight. And thousands of people flocking from all over the world to do workshops, run street art walking tours, gaze at raw naked talent (figuratively—there aren't naked people), and yeah maybe eat the odd pie from Hide's Bakery.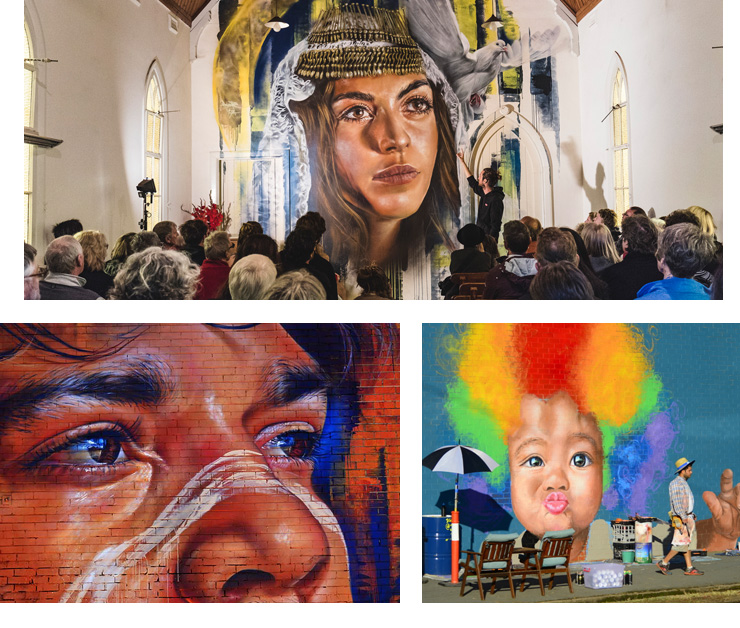 This year the program is looking pretty ambitious. Street artist Dvate will be cherry-picking a mural on the giant, 1940s Goorambat grain silo. There's a lakeside pop-up cinema down on the shores of Lake Benalla (and yep, it's serving bevvies). Street artist Adnate is painting the interior of the Goorambat Uniting Church, just outside of town. And there's a massive range of art workshops, graffiti-mapping street art projections, and a sit-down chat with both Rone (of Fyansford silo fame) and Adnate.
Some events are ticketed, but mostly it's just come as you are. And with the long weekend, you can stick around for a few days and explore the area. God bless, Labour Day.
The Details
Where: Benalla (various)
When: 9 – 12 March 2018
For more info, click here.
More good news! Collingwood's getting a crazy Easter Chocolate Market this month.
Image credit: Wall To Wall