It's no secret that we love a good drink here at The Urban List (some might say myself especially), and we're always on the hunt for new tipples with which to freshen our glasses. Unbeknownst to most, some of the best booze to emerge from Australia is coming right out of Victoria. We're winning awards all over the world—but what for?
Read on for 11 epic local finds that aren't quite what you'd expect…
#1: Your Beer Could Contain… Wine?!
And no, the bartender wasn't having a laugh. Some of Victoria's most creative beer havens are looking to what's right on our doorstep to create some delicious new brews. And what's right on our doorstep? A sh#t-tonne of incredible wine.
Yarra Valley brewery and ciderhouse Napoleone has been teaming up with the region's top wineries to create some fascinating beers that are aged in used wine barrels. This means that the beer made in these barrels tastes ever so slightly of a hearty shiraz (or whatever wine that has been aged in them prior to making their way to the brewery), resulting in super-smooth pints. You'll find heaps of other beers and ciders at Napoleone, such as the all-too-drinkable apple and pear blend, and the epic Helles lager (um, sessionable much?!). Can't choose? Visit the Yarra brewery and ask for a tasting paddle—just make sure they include a barrel-aged special in the mix!
#2: …And Your Could Be Spreading Gin On Your Toast
Is gin on toast the new avo on toast? It just might be, thanks to the good people of Four Pillars Gin Distillery—Healesville's must-visit cocktail and spirits destination. Well, it would certainly make Mondays a little more bearable, anyway...
As well as making some of the best gin around (including a chardonnay cask-finished gin, which tastes just the teensiest bit like a crisp white wine), the award-winning Four Pillars team make two drool-worthy marmalades—an orange marmalade, and a breakfast Negroni flavour. Both contain the fresh oranges that are used to give the gin its uniquely delicious flavour—and of course, the oranges absorb a little of the gin in the process.
The distillery itself is only an hour's drive outside of Melbourne and, once there, you'll find gin and tonic tasting paddles, delicious nibbles and all the gin lovers' know-how you'll ever need. Sorted.
#3: Local Booze = An Epic Dessert Topping
Looking for a simple trick that'll spruce up any dessert and have your guests thinking you're a bona fide Nigella? Look no further than Timboon Distillery in Timboon, west of Melbourne, where you'll find Aussie-made fortified coffee cream and chocolate cream that make for the BEST dessert topping around.
If you're more of an aperitif appreciator, the distillery also produces limoncello, schnapps and whisky—all of which you can learn about and taste on site.
While you're picking up a bottle for later, you might as well stop for lunch. The wasabi mayo soft shell crab burger is too good to miss, and the Asian pork belly will fill a finger-lickin' gap if you have a long drive to your final roadtrip destination.
#4: The Non-Alcoholic Stuff Is Actually Drinkable
We all know cider is our BFF when it comes to Sunday sessions—and Castlemaine cider producer Harcourt Cider's crisp, no-added-sugar apple and pear ciders are no different. However, if you're in need of a booze-free solution that doesn't leave you looking like you're drinking Ribena, it's their sparkling apple juice that you should be sipping.
And if you're a fan of the real stuff, check out Henry of Harcourt, who make some incredible traditionally prepared ciders, infused cider vinegars and other apple-based treats.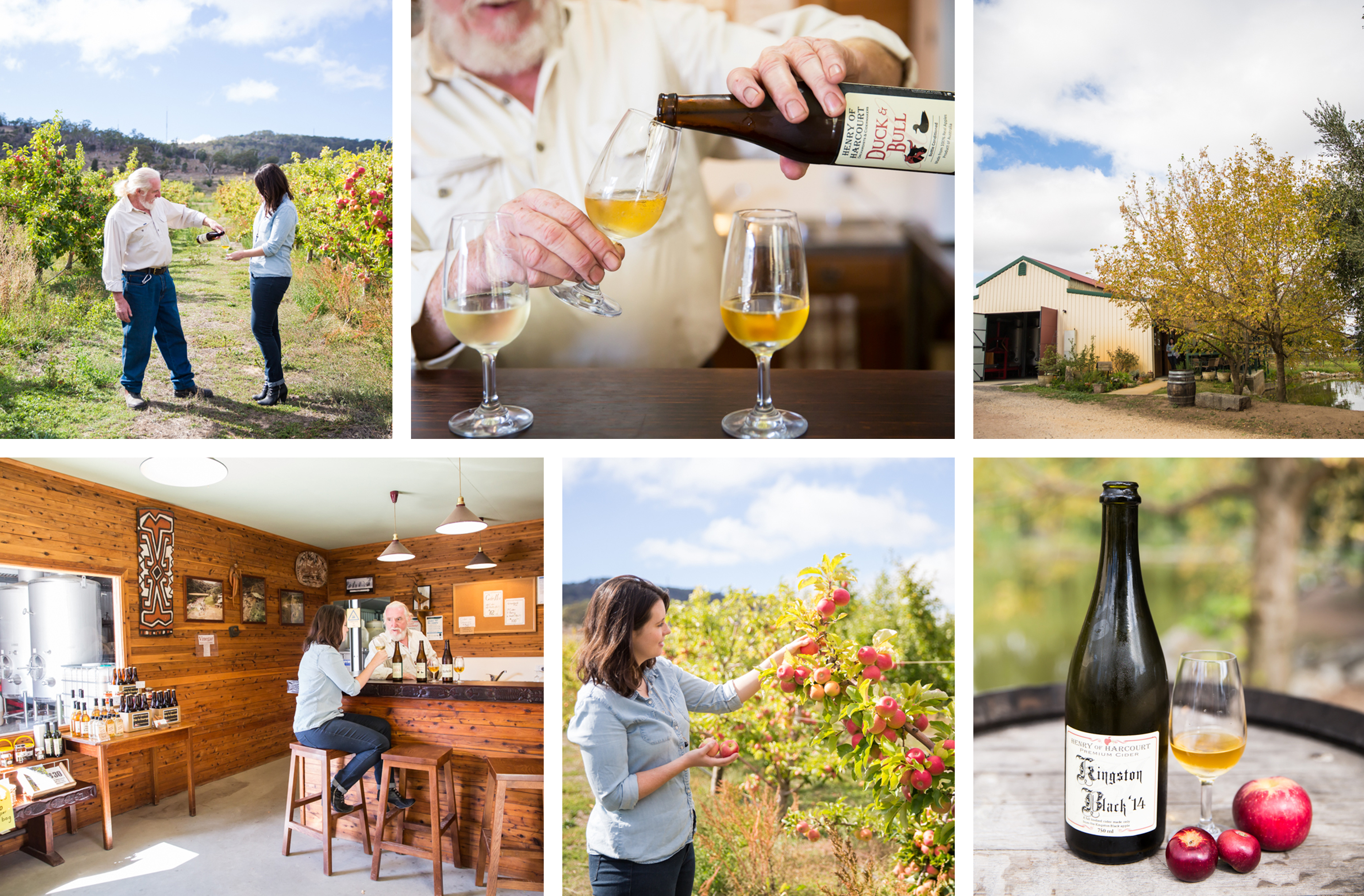 #5: Your Beer Might Taste Like Chocolate
If you're a fledgling beer drinker who hasn't progressed past pale ale, this one's for you. Rich, robust, and smooth like chocolate, we're 99% sure that Bridge Road Brewers' Robust Porter will lure any self-respecting foodie to the dark side. Roast barley and chocolate malt create a bold and velvety brew that's the perfect cool-weather tipple, and we're told it's even better paired with a gooey choccy dessert (who are we to argue?)
The crisp and nutty Chestnut Pilsner is another tasty drop from the boundary-pushing microbrewery, which is a must-visit in the utterly charming gold rush town of Beechworth.
#6: Ditch The Pub And Drink In A Hidden Garden
Beer is best enjoyed when sipped somewhere sunny and secluded, and where better than in a hidden beer garden? If you're headed along the Great Ocean Road, be sure to stop at Blackmans Brewery in Torquay, where you'll find some incredible local brews and sharing platters (sticky beef ribs and fish tacos, hell yes), as well as the best hidden beer garden around.
True story: I took my entire family here when they visited from overseas, and it was probably the only time when my brother and my dad didn't argue because their mouths were too full of beer and meat. If that's not a testament to Blackmans, I don't know what is.
#7: Sometimes A Wrong Turn Is The Best Turn…
We reckon some of life's best decisions and most brilliant ideas occur after a bit of light elbow lifting, and the story behind Little Creatures' Geelong South outpost confirms our (not at all scientific) theory. When the blokes behind our fave Freo brewery were looking to expand their operations with an East Coast location, a fruitless search ended with a sorrow-drowning session at The Barwon Club. With their judgement slightly impaired upon leaving, they took the wrong exit and stumbled across the historic woollen mill that is now home to Little Creatures' sprawling brewery, canteen, bar and beer garden. Gotta love a *hoppy* ending.
#8: …And Two Breweries Are Better Than One
Imagine our delight when we discovered not one, but two breweries at the Little Creatures Brewery Village. Day. Made. Having opened in late 2015, White Rabbit upped sticks from its Healesville roots to work its creative, barrel-ageing magic at a larger facility next to 'big brother' brewery Little Creatures.
While the Little Creatures canteen and bar has an eclectic and repurposed vibe, it's all artisanal slickness and deli goods next door in White Rabbit's Barrel Hall. Admire the beautiful barrels, check out the open fermentation process, or settle down for cheese and charcuterie next to the cosy fireplace—and Choose Your Own Adventure with four 200ml brews.
#9: Cider's Not Just for the Sweet Tooths
If your cider drinking experience has been tainted by overly sweet commercial brews, a trip to the Bellarine Peninsula's Flying Brick Cider House will open your eyes. Their ciders use 100% Victorian fruit and are free from concentrates and added sugars, with their highly-sippable core range including a pear version that's crisp, dry, and downright delicious. The specialty batches are also interesting, with a tangy Fuji Apple and Pomegranate drop knocking our socks off on our last visit.
The food also gets our thumbs up—so grab a seat on the sprawling lawn, a tasting paddle, and do yourself a favour and order the slow cooked lamb shoulder to share. Bonus points if you spot a Flying Brick—the local yellow-tailed black cockatoo that's their mascot and namesake.
#10: The Best Drinks Are Named After Turkeys And Frogs… Yes, Really
You guys, I WISH I had a local turkey and wild frog that I could name my beers after! At Forrest Brewing Company in the Otways, that's exactly how their Pobblebonk and Untame Turkey beers came about. Head to the brewery on your next nature adventure to hear the full story from the dudes who invented the tasty bevvies, and you might even catch sight of a local wildlife hero to boot!
(Hint: Forrest Brewing Company is only 40 mins from Lorne and Apollo Bay—perfect for an inland daytrip on your next coastal getaway.)
#11: They'll Even Let You Get Your Hands Dirty
Located in the so-pretty-it-hurts Great Alpine Valley, Bright Brewery has long been a badly-kept secret among craft beer enthusiasts, hungry road trippers, and parched lycra lovers exploring the High Country's epic rail trails. Taking advantage of the pristine mountain water and local ingredients, all of their year-round Mountain Crafted brews and limited edition Brewer's Choice beers are made entirely by hand from start to finish—and they'll even let a novice like you have a crack!

Beer boffins and bozos alike will love the Brewer For A Day package, where they'll get to make an entire commercial scale batch of the good stuff from scratch, before tasting their way through all the tap beers. The best bit? Once your very own handiwork is ready for packaging, you'll be sent a 6-pack to sample.
Melbourne's an incredible city, but sometimes we all need to get out of town for a weekend. The Urban List has partnered with Visit Victoria to bring you our Get Out Of Town! series — the ultimate guide to Victoria's rural gems. For more ideas about where to wander in Victoria, click here.
Image credit: Supplied; Michelle Jarni for The Urban List