Melburnian's are absolutely ravenous for a good burger, so it's lucky that this city has burger outlets in droves. With the help of Burgers Of Melbourne, we've tracked down burgers from Melbourne's north and the West. Now we're turning our stomachs to the eastern suburbs.
Melbourne's east is probably not regarded as a burger mecca, at least compared to the grittier suburbs of the north. But don't let the tree-lined streets and bigger backyards fool you—there are plenty of amazing burgers to be tried east of Melbourne's CBD.
Here are the best burgers in Melbourne's eastern suburbs.
Top Bun Burgers & Fries
Croydon
Tucked away next to Coles at Burnt Bridge shopping centre, Top Bun Burgers and Fries is definitely a hidden gem out east. Their burger grill is imported from the United States from the same company that supplies the famous '5 Guys Burger' chain. Top Bun Burgers & Fries delivers the highest quality stacks with the best possible equipment. With the average burger sitting between $10-$12, it's hard not to drive past this place without stopping for a quick feed.
Three One 2 One
Richmond
Crazy burgers and crazy shakes are really the only two things you need to know about Three One 2 One in Richmond. Their famous 'Kick Ass' Mac and Cheese Burger landed them a Top 3 spot for Best Burgers of 2016, and their creative, OTT milkshakes have gone viral across the web. Don't be shy to add another patty and wear stretchy pants.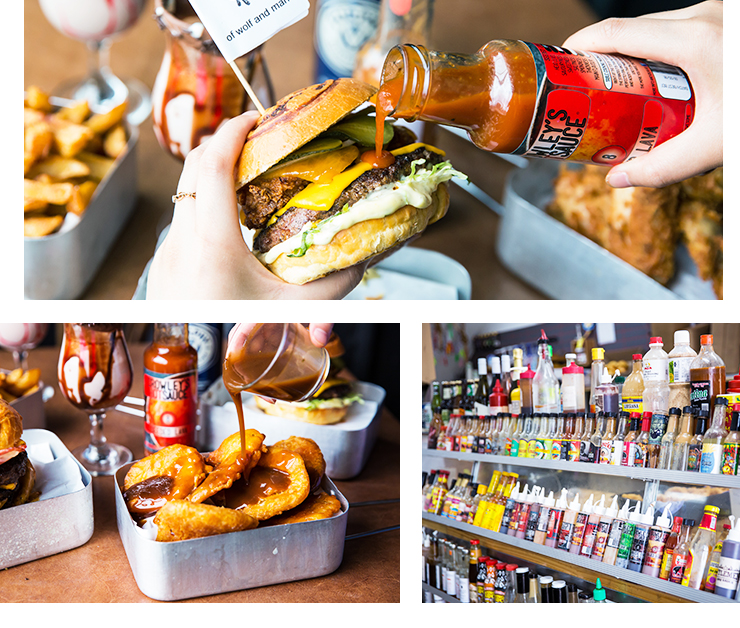 Skipping Girl Takeaway by Jenna Fahey-White
Skipping Girl Takeaway
Abbotsford
The undisputed kings of fries. It's unlikely you'd walk past Skipping Girl Takeaway by accident—it's a destination that plan weeks in advance. Taking over an abandoned fish & chip shop in the back streets of Abbotsford, Skipping Girl is now the home of locally sourced meat and brioche, as well as their amazing triple-cooked chips. What started as a 20 seat venue quickly turned into a diner that can now seat 70+ customers at once. There's a reason they've expanded both their outside seating as well as upstairs.
Burgertory
Kew
At Burgertory you'll get all of the seven deadly sins. Wrath (a spicy double-patty face punch, topped with jalapenos and a house made hot sauce), Gluttony (crispy fried chicken BETWEEN two beef patties, with bacon, Swiss cheese and caramelised onion to boot) and Sloth (a slow-cooked pulled pork burger, with a crispy kale slaw) are all well worth indulging in. Food that makes you go 'Mmmm', then very quickly 'Oh God...'. Buns come in regular milk, charcoal, beetroot and even matcha. All you need to decide is if you want to be a sinner or a saint.
Burger Road
Fairfield
On first glance, Burger Road's menu is pretty much perfect. You'll see burgers, loaded fries, chicken wings, milkshakes, waffles and more. It's hard to know where to start, since everything sounds so damn good. The beef is cooked perfectly, the pulled pork is juicy AF, the fried chicken is full of flavour and putting them all together actually works really well. Come for a burger and stay for dessert—always leave room for those famous waffles...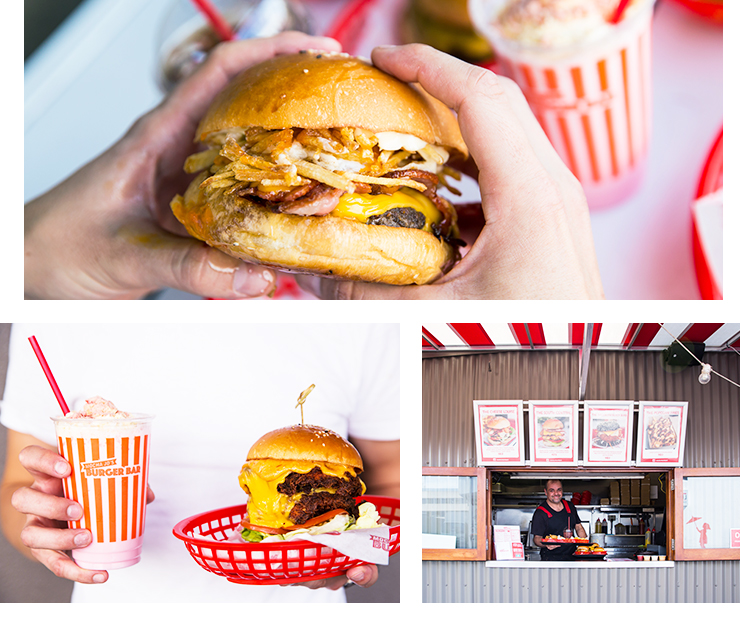 Mocha Jo's by Jenna Fahey-White
MJ Burger Bar
Glen Waverley
Since first opening, MJ Burger Bar has been constantly improving and taking customer feedback on board to improve their product. Featuring a wide array of American style burgers and hot dogs, MJ Burger Bar are one of the best burger bars on the buzzing Glen Waverley Kingsway strip. Solid thickshake menu too. Good pre-cinema fuel.
Mad Patties
Doncaster East & Mitcham
With two stores open in the eastern suburbs, Mad Patties must be doing something right. We started with the chicken wings, moved onto the triple patty burger then finished with some milkshakes. Rolling home from Mad Patties is a definite possibility. Bring a digestive tablet.
Hello Harry
Lilydale
Coming from the sunny state of Queensland, Hello Harry opened in Sydney and now has a home in Melbourne's east. Hello Harry has eight stores around Aus, with the plan to open six more in 2018. Find something that works, then multiply, that's the theory behind Hello Harry. No nonsense, no fluff, just delicious burgers, icy cold craft beer served up in a funky, casual dining room.
Monroes Burgers
Healesville
While you're in Healesville visiting the sanctuary or sampling some wines, go visit Monroes Burgers to slay your hunger while you're there. There isn't much these guys can't do. Their beef is ground fresh in-house every day, blended together with three different cuts of steak from local suppliers, while the buns are baked across the road to their specifications. Keep an eye out for Monroe's weekly specials—you're in for an absolute treat.
The Fish & Burger Co
Doncaster
The Fish & Burger Co will tick all of your burger boxes. We'd recommend starting with the waffle fries with cheese and jalapenos. Then do yourself a favour and order the Cadbury Picnic Super Shake—you can thank us later. As far as the burgers are concerned, you'll be safe with pretty much anything, although your cardiologist might disagree. Our pick? The double chilli cheeseburger: stacked with two grass-fed beef brisket patties, along with cheese, lettuce, pickles, jalapenos, Spanish onion, ketchup, mayo, and their special chilli cheese sauce. We'd recommend booking ahead. These guys get busy.
The Resistance Bar
Hawthorn
If there was ever a burger joint in Melbourne that didn't get enough recognition for being awesome, The Resistance Bar would be the place. Tucked away down a little alleyway off Glenferrie Road, The Resistance Bar is one of Melbourne's best-kept burger secrets. With a chilled vibe and down-to-earth owners, every visit is an enjoyable one. While you're there, grab a serving of loaded fries, a burger and finish off with a bit of shisha while relaxing on the bean bags.
Mums Burger Kitchen
Boronia
Mum's Burger Kitchen has a fairly good setup. They've got a selection of 6-8 burgers at reasonably cheap prices, ranging from $9-$13. Our burger of choice is the Pamala: the perfect flavour combination, with 2 quality beef patties, cheese, lettuce, onions, and pickles. Done deal.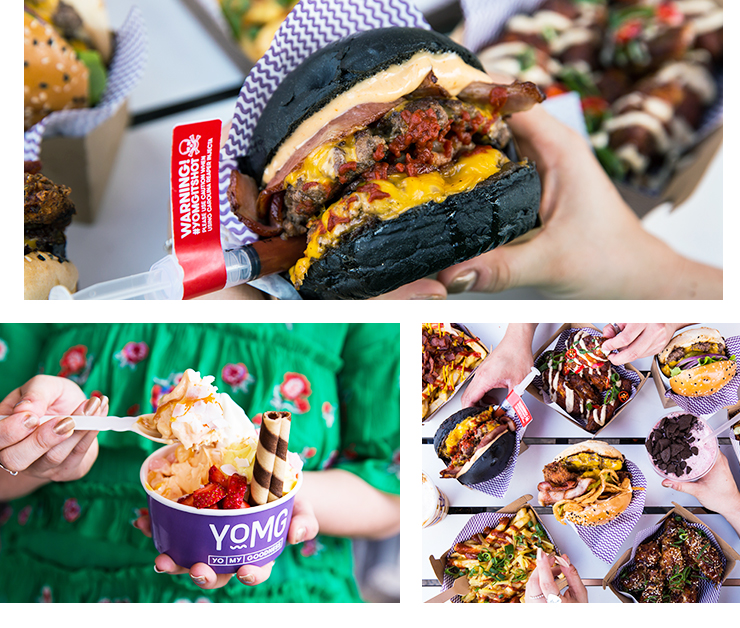 YOMG | Glen Waverley by Jenna Fahey-White
YOMG
Glen Waverley
Sitting pretty on the main strip in Glen Waverley, YOMG has become a legitimate destination for serious burger and fry-lovers, locals and non-locals alike. The menu is split into burgers, fries, shakes and wings, and then there is, of course, the frozen yoghurt bar, which includes every topping you could possibly dream of, from the healthy to the...not so healthy.
The Burger Block
Kew
You may have seen The Burger Block covered by news outlets in June 2017 for their mammoth 3kg burger challenge, but that's not the only reason to visit this small Asian fusion burger joint. You don't have to go large: a standard single patty or double patty burger is more than enough for the average customer. The Asian fusion flavours are what really set this place apart.
On It Burgers
Ferntree Gully
The beef patties are super high quality, the house sauce is unique, and the buns are nice soft brioche—a great combination and a mighty fine burger. On It Burgers also has 16 different flavoured milkshakes...WHAT!! that's right! 16 awesome flavours, ranging from Salted Caramel to Lychee, Green Tea, Toasted Marshmallow, Butterscotch and heaps of others. But we're here for burgers, right? Our picks would be the Bacon Jammy and the Fried Chicken burger—both are spot on and hard to fault.
Wanting more from all around Melbourne? Here's our rundown of Melbourne's best burgers.
When Brennan's not writing articles for us, you'll find him all around the city eating every burger there is to know about. Follow that journey over at Burgers Of Melbourne.
Image credit: Jenna Fahey-White