Like s'mavo, espresso martinis and acai bowls, the humble frozen yoghurt has wooed Melbourne with its hype and downright deliciousness.
But in the words of Carrie Bradshaw—we couldn't help but wonder if it's time to throw in the proverbial towel? The regimented fro-yo run is starting to feel like tying up shoelaces or putting on undies—except our undies are two sizes larger, thanks to the leaning tower of hedgehog slice we've piled atop our swirl.
Ha. That's where Jay's Yogurt swoops in like a fro-yo Superman. The man, the myth, and the legend has touched down at 186 Swan Street, to be precise, with a focus on fro-yo that has a healthy and interactive edge. Ooo.
After years in the nomadic frozen yoghurt scene, deploying icy goods at events in a white van (an exception to taking candy from strangers), Jay's finally has a place to call home. If you've put out the SOS call for a frozen yoghurt revival, consider it answered.
Let's get you up to speed. Jay's Yogurt was originally a notion conjured up by Jay Shelling and his wife Bek, who both hail from the Mornington Peninsula (and therefore have an unsurprising fetish for high-quality produce). On a stint in the Middle East, the foodie duo was trialling some local treats when they stumbled on the holy grail of frozen-yoghurt-churning. It was an epiphany that would ignite a fro-yo Enlightenment in our city.
As Jay recalls, the frozen-yoghurt abroad was a fascinatingly foreign affair. Instead of pre-made yoghurt from an in-the-wall dispensary, customers could invent their own flavour. Becoming arbiters of taste, they would select from a range of frozen fruits and fill a cup with everything from berries to rockmelon. Next up, it's all about that base. The fruits are mixed in situ with a hefty block of yoghurt, and blended into the antidote to your cravings. Kind of like a frozen fruity McFlurry, with like one-billionth of the calories.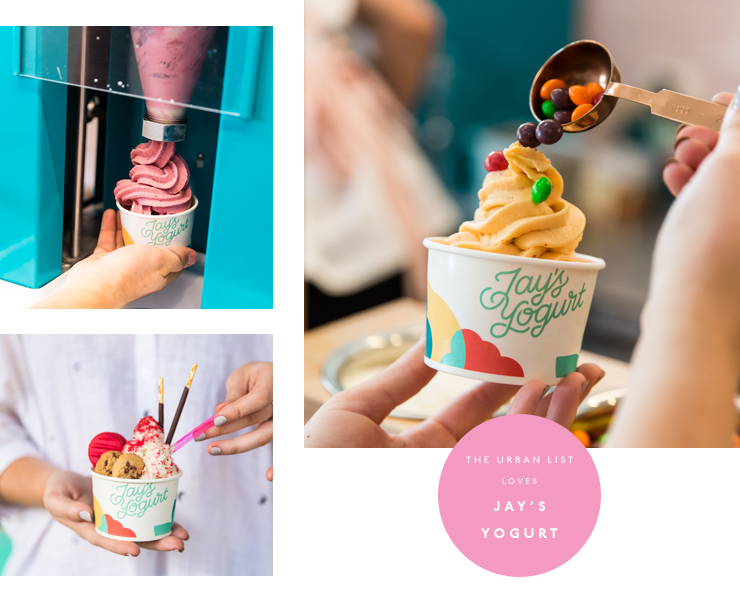 This is the method Jay and Bek have borrowed and made their own in Melbs. What sets this place above the rest is a combo of freshness and a DIY allure. There's even a vegan-friendly option available. All you've gotta do is swap out the yoghurt base at phase two for a b-a-n-a-n-a-s (Gwen Stefani, eat your heart out) vegan blend. We're not making this sh*t up. Yoghurt fiends are witnessing the mixology first-hand and releasing a collective mmmmm upon the first spoonful. It's just indisputably good.
But what about the yoghurt-feasting aesthetic? Well, it's a fanfare of creamy pastels and wafer-hued timbered touches. A slim fixture sits behind the 'Jay's' sign, emblazoned on our seasoned Swant Street strip. We perched ourselves parallel to the brick wall, taking a moment to check out our creations (and 'gram them, obvs), followed by the fleeting concern that a fifth helping of goji berry toppings makes the superfood properties redundant. Naaaah. Shovel that stuff on.
If you're not in the mood for a helping of frozen-yog—weird, but okay—there are healthy fruit smoothies and hot apple cups on Jay's in-store menu. The boys behind the bar whip up whatever your selection is with a consistent side of TLC. They're also clad in retro, striped tees and dinky aprons, taking the classic dessert bar aesthetic to a new level of sweet.
Melburnians are notoriously habitual creatures, but this is the kinda innovation we can get around. You know what to do next.
Want to learn more about Jay's Yogurt? Check out our Directory page over here.
Image credit: Jenna Fahey-White