The first thing you notice about The Hack is the light.
They built proper windows in the 1860s, and the afternoon sun streaming through from three sides is pretty special. It's one of the reasons the place doesn't look like your typical brew pub. And for co-owner Chris Nicholls, that was kind of the idea.
"When we were building it, we wanted to avoid the word 'pub'," he says. "Because, you know, it conjures up a certain image. So we started the fit-out and finished it and looked around and thought, 'Hmm, we've actually built a pub.'"
It might be 'pub' by name, but that's the only typical thing about The Hack. This place is to pubs what Tipo 00 is to spaghetti Bolognese. A different beast.
The Hack has taken up residence on the corner of Crockford St and Bay St in Port Melbourne—a cracked and peeling 19th-century watering hole that's part of Melbourne's drinking heritage. There were people pulling pints here during the American Civil War. Chris met a bloke the other day who's been drinking here for 30 years, and can remember sitting up at the bar with blokes who drank here during WWII. You can't buy that kind of history. The building was The Fountain Inn for about 140 years before turning into The Blarney Stone, then The Crockford Bay, Sloaney Pony and most recently Mardo's.
Not that there's anything dated about The Hack's new fit-out. Chris, his partner Doug, and their wives Nicole and Nat have put together one of the best refurb jobs we've seen in the last few years. New timber on the floor, high bar stools, hanging Edison bulbs, mint highlights, peach walls and custom artwork from Clint Weaver and Malin Alfredsson (Clint actually now lives upstairs in a garret with a view, like the rat from Ratatouille).
For food, Chris wanted something a bit different from your typical parma and pot pie (not that there's anything wrong with parmas and pot pies). So he roped in Kevin Dick from Limp Brisket to take over the kitchen, pumping out epic smoked meat by the plateful.
"People think BBQ meat is going to be grease all over your face and hands," Chris says, "but Kevin has worked at Cutler & Co and Hix Soho in London, so it's really not like that at all. His food's got all that great smoky flavour, but the presentation feels like a proper restaurant."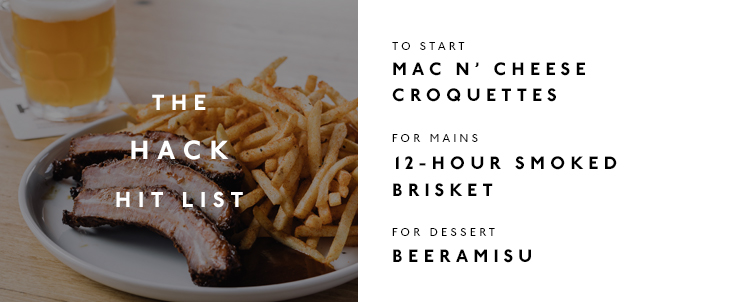 It might be proper food, but that doesn't mean you should hold back. The only way to tackle the epic Limp Brisket Bun is with two hands and a face, brought aggressively into conjunction. It's Melbourne's ultimate smoked meat burger—perfect fall-apart brisket topped with McClure's pickles and lashing of housemade BBQ sauce. Goes great with a serve of the mac n' cheese croquettes.
"These are all I eat," says Chris with a grin.
Vegans and veggos, don't despair. There's a 200g pulled jackfruit on the menu, smoked to perfection, plus a small range of salads and fries.
Chris wanted the menu to be as inclusive as possible. After all, a brewpub is where you come with mates, and no-one wants to be the vegetarian who has to bring a tomato sandwich from home.
Which brings us to the beers.
You won't find any of your typical Draught on tap. And that's a deliberate choice. The Hack boys started as a gypsy brewing company out of Holgate, near Woodend, and they're big on the independent beers: Kaiju Krush, The Chop from Hop Nation, The Matriarch from CoConspirators a hefty brown ale from Mr Banks and a Cavalier Pilsner, among others. The plan is to rotate taps and tinnies throughout the year.
"A lot of people have been coming in and ordering Draught though," says Chris. "So we're coming up with something pretty special..." He pulls up a design on his phone. It's a new Hack brew, very hush hush: 'Normal Beer'. The logo has a certain Carlton Draught-esque vibe, and the flavour profile will definitely be skewed towards the 'easy drinking' end of the spectrum.
There aren't many better places than this for a Sunday Sesh, but Chris's plans don't stop with smoked meat and good beer (this guy has ideas the way other people have dandruff).
He plans to open up the rooftop next year, plus flesh out the function room upstairs, creating a triple-threat super venue. There's even plans to run beer yoga and father's groups for Port Melbourne locals. Watch this space...
Want to learn more about The Hack? Check out our Directory page.
Image credit: Griffin Simm