Happy Labour Day Weekend, guys. In true Melbourne style, this weekend is jam-packed with all sorts of goodness: food, fashion and flashmobs, International Women's Day and a Durian Festival. BYO stretchy pants and your appetite—this is going to be a big one.
Here's everything that is on this Labour Day Long Weekend.
All Weekend
Whiskey + Dreams
This weekend only, Starward is opening their distillery doors to showcase a multitude of single malt and independently bottled whiskey's from around Australia and the world. They're also doing behind-the-scenes tours of the distillery/ Best part? Tickets start at $65 bucks.
Where: Starward Distillery, 50 Bertie Street, Port Melbourne
When: 10 &11 March (two Sessions available from 11:30am – 3pm or 5pm – 8:30pm)
Tickets are available here.
Tastes of Rutherglen
Opening up their cellar doors, Taste of Rutherglen will return this weekend to show off some of the best Victorian wine and produce. Expect winery tours, coffee workshops and mixology master classes. It doesn't stop there—the festivities will carry on into the evening, with and carefully curated menus and a pop-up bar. Nice. There's even shuttle bus services to get you from the city to the vines and back.
Where: Rutherglen (various)
When: 10 & 11 March
For more info, click here.
QV Outdoor Cinema
QV is taking it old school this weekend, with 80's classics like Top Gun and Labyrinth, all served with complimentary pick n' mix lollies and slushies (vodka being optional). Plus you can now bring your furry friend along with you. Rally your mates and participate in the flash mob before The Breakfast Club screening on 10 March, or settle in one of their date packages.
Where: QV, Cnr Lonsdale Street and, Swanston St, Melbourne VIC 3000
When: Every Weekend from 8:30pm
To book, click here.
Swan Hill Food & Wine Festival
Swan Hill is going OFF this Labour Day Long Weekend. We're talking cruises down the Murray, live music, the region's best produce on display, an ABBA tribute band (!!) and a massive artisan food market. And trust us—when Swan Hill throws a food market, they don't pull any punches. Expect more chutneys than your Nan bottled in her lifetime.
Where: Swan Hill (various)
When: 9, 10 & 11 March
For more info, click here.
Hermes at Work
Calling all fashion fiends! Melbourne Town Hall is putting on a show for you! Hermes at Work will celebrate the talented craftspeople who make the Hermes designs come to life, with bags, silk scarves, watches and jewelry on display. The best part? Nine of the event metiers will be in attendance to share their expertise, experience, and passion for the brand.
Where: Melbourne Town Hall, 90-130 Swanston St
When: 8 – 17 March
For more info, click here.
Virgin Australia Melbourne Fashion Festival
Melbourne Fashion Week kicked off in ~ fashionable ~ style last week, but if you're a latecomer to the events, don't stress! This week packs a punch with Women in Media tonight, the National Graduate Showcase on Friday and the Weekend Runways on Sunday. Check the website for extra events—there's a bunch running all weekend.
Where: Various
When: 8 – 18 March
For more info, click here.
Smokehouse Festival At Crown
Take a stroll along the Crown Riverwalk and treat yourself to authentic BBQ dishes like Beef Brisket with potato salad or loaded fries from lunchtime till late. Sit back and relax with a drink and listen to the live entertainment—the perfect way to spend a Friday night with the fam.
Where: Crown Riverwalk, 8 Whiteman St, Southbank VIC 3006
When: 9 – 12 March
For more info, click here.
Bush Mechanics: The Exhibition
Based on the 2000's ABC program, Bush Mechanics: The Exhibition showcases the ingenuity of outback mechanics, who turn branches, spinifex and sand into tools and spare parts to get their cars back on the road. It'll be landing at Melbourne Museum for the next few months. Plus, students get in free of charge!
Where: Melbourne Museum, Nicholson Street, Carlton, Victoria, 3053
When: 9 March – 15 July
For more info, click here.
Thursday 8 March
Melbourne Record x Vinyl Me
Vinyl is back in, baby! Melbourne Record Club is spinning the decks this Thursday night at Francesca's Bar in Northcote. Their Record of the Month listening party will go from 8pm till late, celebrating the VMP pressing of 'Devotion' from Beach House… but then it's BYO vinyl, as they say, "You bring em. You spin em!" Plus, they're giving away two copies of the Record of the Month!
Where: Francesca's bar, 222 High Street Northcote
When: 8pm till late, Thursday 8 March
For more info, click here.
TASTE OF OSLO
Bureaux's 'Taste Of' event series is offering Melbournians to taste the best coffee in the world. No, like seriously. Better than the stuff we have here. Apparently that is possible. They're kicking off with Taste of Oslo on Thursday 8 March—Oslo's best coffee, brought to you by Tim Wendelboe, Solberg & Hansen, Kaffa, Supreme and Kaffebrenneriet. We'll take two shots, please.
Where: Bureaux Collective, 29a Gwynne St Cremorne
When: 6pm – 9pm, Thursday 8 March
For more info, click here.
International Women's Day At Melbourne Central
Melb Central is teaming up with Australian designer, Georgia Hill and Hungry Bear to celebrate this year's International Women's Day. Think free pizza and 'the future is female' tees…ladies, you don't want to miss this one!
Where: Melbourne Central (Casa Amuk + Hungry Bear)
When: "Future is Female" T-Shirts available from Casa Amuk from 10am till sold out. Pizza available from Hungry Bear from 12pm.
For more info, click here.
Friday 9 March
National Meatball Day
Meatball lovers rejoice! It's National Meatball Day on Friday and Meatball & Wine Bar are cooking up a spicy meat-a-ball just for the occasion. How does 'poached beef meatballs with melted mozzarella' sound to kick off your long weekend? Pretty good to us.
Where: Meatball & Wine Bar (various)
When: Friday 9 March, all day
For more info, click here.
2008 CLUBBING REUNION
Ahhh 2008. It was a simpler time. Well soon you'll be able to party like it's the 00's all over again: Brown Alley in the CBD are throwing a huge 2008 clubbing reunion party. All the banger you used to party to when UDLs were the height of fashion. Bring it on.
Where: Brown Alley, 585 Lonsdale St CBD
When: 10pm – 5am, Friday 9 March
For more info, click here.
Melbourne After Work at Baroq House
Drewery Lane's Baroq House is extending its opening hours and launching their 'Melbourne After Work' drinks this Friday. Think freshly shucked oysters, live music with canapés, plus espresso martinis for only a tenner. Get around it, CBD crowd.
Where: Baroq House, 9-13 Drewery Ln, Melbourne VIC 3000
When: 4PM till 7PM
For more info, click here.
Artist In Residence At Santa Carla
Veronica Dixon will call Santa Carla in Brunswick home for the next three months as their next Artist in Residence, a program set up to provide an inspiriting, dedicated and reliable place for an artist to develop and curate their works. Veronica will be taking commissions and working on her own projects (there's an exhibition of her own stuff opening in June). Swing along and chat art, watch her work and pick up some classic Santa Carla goodies.
Where: Santa Carla, 3 Sparta Place, Brunswick, Victoria 3056
When: Every Friday from 9 March
For more info, click here.
Saturday 10 March
Durian Festival
The annual Durian Festival is back in full swing this Labour Day weekend. Durian is a fruit not for the faint-hearted, but still, thousands will gather at The Conder for all-you-can-eat feasting sessions feat. all things durian! While you chow down, there's entertainment ranging from the wonderful (DJs, kids' entertainment and traditional Chinese shows) to the weird (lingerie runways).
Where: The Conder Restaurant, 8/10 Newquay Promenade, Docklands
When: 10am – 9pm, Saturday 10 March
For more info, click here.
DJ Sets At Section 8
Open 365 days a year, Section 8 is one of the most happening bars in Melbourne, and this weekend is no different. Kick off early at 10am with sets from Rev Lon (Dancing Therapy), Sam Cannon (Rhapsodise) + much more. Pull up a crate and relax in the sunshine (if any filters down into Tattersalls Ln). It's free entry, as always.
Where: Section 8, 27-29 Tattersalls Ln, CBD
When: 3pm – 1am
For more info, click here.
Vegan Day Out
Enjoy all your favourite vegan goods at discount prices this Labour Day weekend. Think of it as one big foodie scavenger hunt. Sounds good, right? Starting from the Cruelty Free Shop, you can find everything from coffee to groceries from participating stores in Fitzroy. For those recovering from a hangover, cure the blues with some veggie curry or a one-for-two meal deal (we won't judge you if they're both for you).
Where: Cruelty-Free Shop, 124 Johnston Street, Fitzroy
When: Saturday 9am – 6pm, Sunday 10am – 5pm
For more info, click here.
Sunday 11 March
Southern Fried Sundays
Nothing screams "It's a long weekend" like buttermilk chicken waffles with maple bacon, right? Lucy for you, Belleville is serving up chicken waffles AND a tonne of drool-worthy sides for just under thirty bucks. Pair that with a Bloody Mary or a Mimosa (or two) and have the best Sunday ever.
Where: Belleville, Globe Alley CBD
When: 11am– 5pm, Saturday 11 March
For more info, click here.
Labour Day Eve At Melbourne Public
This is what long weekends are all about. Melbourne Public Bar is throwing an MP Sunday Session on 11 March, and they're bringing a Build-Your-Own Spritz Bar #livingthedream. Cassie Crawford and DJ Scott Thompson will provide the tunes. You can pre-book for $10, or take your chances and get free entry on the day.
Where: Melbourne Public, 11 Dukes Walk, South Wharf
When: Sunday 11 March
For more info, click here.
Jungle City Dance Series
Kitty Cat + The Jungle City Studios are bringing the art of Jamaican Dancehall to the forecourt of the State Library this Sunday. Don't worry, you don't need to be a seasoned dancer for this one—just be keen to bust a move and burn off some energy! Did we mention it's FREE?
Where: State Library Forecourt
When: 2pm – 3:30pm, Sunday 11 March
For more info, click here.
Bike Maintenance Workshop
Own a bike but don't know the first thing about repairing it? Know how to do a safety check before you step out on the road? Ever oiled a chain? We feel ya. The team at Bikes@Work have teamed up with Preston Market for a two-hour masterclass in all things bike related. So you can keep peddling for years to come.
Where: Pam Lane, Preston Market
When: 11am – 1pm, Sunday 11 March
For more info, click here.
Monday 12 March (Labour Day)
20 Days of Gluttony
Bluebonnet BBQ is waving goodbye to their North Fitzroy store, and to celebrate in style, they're hosting an "All You Can Meat" (that's right) with Bottomless BBQ for just over fifty dollars! Send them off in style every Monday this month. But if you can't make it, don't fret—they just signed a twenty-year lease in East Brunswick! Watch this space...
Where: Bluebonnet BBQ, 32 Saint Georges Rd, Fitzroy North (but not for long…)
When: 6pm Monday 5 March – 11pm Saturday 24 March
For more info, click here.
Labour Day Long Lunch at O'Connells
Feeling indulgent this Labour Day long weekend? Feast with a four-course tasting menu at O'Connell's. Carefully curated by Head Chef Tom Brockbank, it's taking an innovative spin on the classics—you won't be leaving hungry. O'Connell's is taking bookings on its website for only $65 per person (plus $45 for matched Australian wines).
Where: O'Connells - 407 Coventry Street, South Melbourne
When: From 12pm, Monday 12 March
For bookings, click here.
Mr. Ottorino's Passata Party
Matteo Tine from Mr. Ottorino is hosting the perfect passata party, honoring the ancient Italian tradition from their Fitzroy courtyard. Learn about bottling and storing passata (so you can keep your sauce for up to a year!) and watch the experts at work. Lunch will be available on the day, with dishes like gnocchi passata with Parmigiano and basil, or the restaurant's signature, Pollo Alla Diavola (Devil's Chicken). Plus, every lunch-goer takes home a fresh bottle of Passata!
Where: Mr Ottorino, 122 Johnston St Fitzroy, VIC 3065
When: 12pm, Monday 12 March
For more info, click here.
For The Diary
Brown Brothers—Easter Family Festival
Victoria's best pop-up Easter festival is back for another year of bubbly joy! Held at Brown Brothers Winery in Milawa, the Easter Family Festival runs over Saturday 31 March and Sunday 1 April. Highlights include the North East marketplace, which brings the region's finest artisan makers and growers into one mouthwateringly gourmet spot (don't pack a picnic from home!). Between the burgers, an old-school pie store the kiddies will love, taco stand and an authentic Italian kitchen—Brown Brothers will host a sparkling pop-up bar (aka the dream). If you're planning on heading to North East Victoria for the weekend (our diaries are booked!), make sure to stay overnight to experience the best of Milawa and drop into the Cellar Door and Patricia's Table Restaurant. Get all the info here.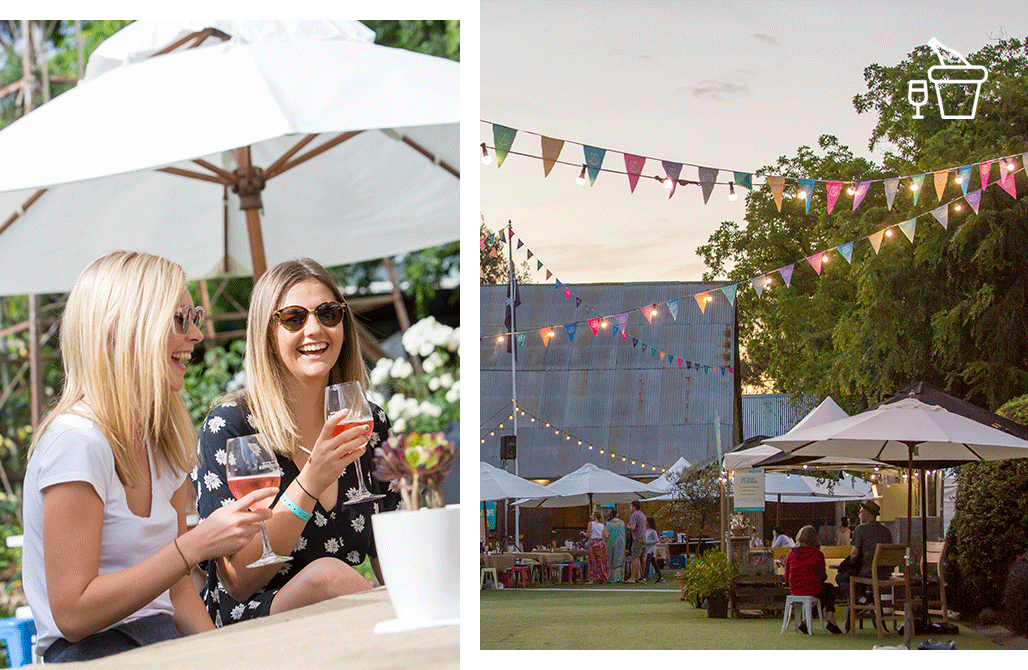 Big Boi Australian Tour
Seven-time Grammy award-winning artist, Big Boi, is setting up stage at 170 Russell for a night of rap next week. His third full-length solo album, BOOMIVERSE, was released last year. With Time Magazine + Paste labeling it in their top 'year-end lists', this is one show you don't wanna miss out on. Tickets came out in November, but there are still some available online here.
Where: 170 Russell, CBD
When: 7pm, Tuesday 13 March
For more info, click here.
Handpicked Wine Wedding
Frock up and enjoy a day out in a picturesque vineyard...with a twist: it's a mock wedding between wine + you. A big congratulations on the happy marriage! Enjoy wine tasting, dancing (Annaliese Redlich from Triple RRR will be spinning tracks for the D-floor), food (think smokey, slow cooked BBQ rolls) and cake (what's a wedding without a cake?!).
Where: Capella Vineyard, Bittern
When: Saturday 24 March
You can book tickets here.
'Exploring Connection' Dinner by Heston Blumenthal
A connection between art and food, David Bromley and Dinner by Heston Blumenthal's chef director, Ashley Palmer-Watts, explore the creativity between art and food. Both 'artists' will be giving talks, with Bromley creating an original masterpiece on the night, which will be raffled and all proceeds going to the Children's Cancer Foundation. An unmissable event as part of the Melbourne Food and Wine Festival. Tickets are $275 and are available here.
Where: Dinner by Heston Blumenthal, Southbank
When: 9 & 21 March, 6pm
For more info, click here.
Street Eatz, Albert Park
What do you get when you put Melbourne's best food trucks, amusement rides, a petting zoo, live music and bars together? Street Eatz, Albert Park. Featuring from over thirty food vendors and Australian breweries, there's something for everyone (even that one vegan friend, we gotchu.)
Where: Gasworks Albert Park, 21 Graham Street, Melbourne
When: 29 March – 2 April
For more info, click here.
Hungry for more this Labour Day long weekend? The Big Burger Biannual is back, baby.
Image credit: Brown Brothers