Laugh, chuckle, giggle, guffaw…whatever you call it, Melbourne's getting ready to do it.
The Melbourne International Comedy Festival rolls into town next month (26th March – 20th April to be precise), with more than 450 Australian and international acts set to tickle the city's collective funny bone.
Now in its 28th year, the festival is one of the three largest comedy festivals in the world (alongside Edinburgh and Montreal), and one of the biggest cultural events on Melbourne's calendar.
This year's program is jam-packed with rising local stars, YouTube sensations, award-winners and international drawcards, along with the return of The Famous Spiegeltent, which will set up shop at Federation Square for the duration of the festival.
But with so many funny folk on offer, how can you be sure you've bought a ticket to a winner and not a stinker? Kathryn Kernohan shares her thoughts on what to book at this year's Melbourne International Comedy Festival – these are the 12 acts you can't afford to miss (unless you want your sides to remain unsplit).
ALEX WILLIAMSON – 'DUMB THINGS I'VE DONE'
Adelaide's Alex Williamson is a major drawcard at this year's festival – but if you're not a YouTube user, chances are you haven't heard of him. The comedian has a huge online following thanks to his slick, generally funny videos – his 'Loosest Aussie Bloke Ever' character alone has more than six million views. Dumb Things I've Done is a 55-minute mix of videos, stand-up and music. Just like his videos, it's not for the fainthearted.
25th – 29th March | Athenaeum Theatre, 188 Collins Street in Melbourne
Don't know Walter White from your Jesse Pinkman? Not familiar with Heisenberg or Los Pollos Hermanos? Never fear – Los Angeles actor Miles Allen's One Man Breaking Bad will get you up to speed with the award-winning TV series. The show covers all 60 episodes in 60 minutes, with the performer playing all characters himself. We recommend not taking your friend who's only up to series three, and hates spoilers.
26th March – 19th April | The Kelvin Club, Melbourne Place in Melbourne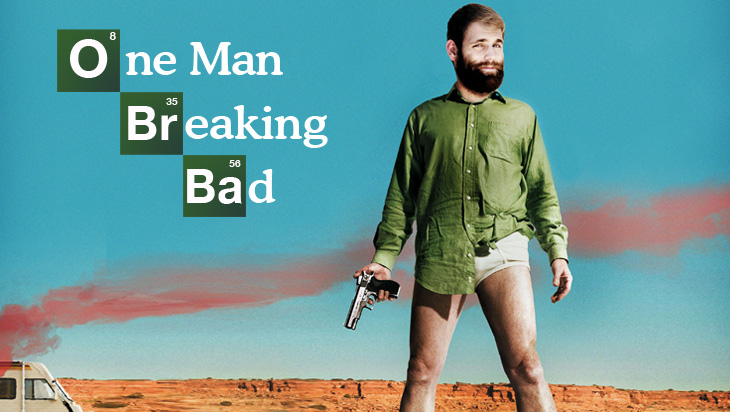 One Man Breaking Bad. Image Credit: Melbourne International Comedy Festival.
Californian Anjelah Johnson couldn't have had two more different careers if she tried. The one-time NFL cheerleader – who performed at the Super Bowl in 2002 – is now an acclaimed comedian noted for her string of viral YouTube videos. With TV credits including Curb Your Enthusiasm and Ugly Betty, Johnson's first Australian performances will highlight her stand-up and, if we're lucky, her ever-popular character Bon Qui Qui (65 million views and counting).
27th March – 6th April | Victoria Hotel, 215 Little Collins Street in Melbourne
TOM BALLARD – 'UNAUSTRALIAN(ISH)'
Former triple j breakfast co-host, Tom Ballard, left the station late last year, citing a desire to return to his first love of stand-up. The Project regular's latest show, UnAustralian(ish), is based on a holiday the Ballard family took around Australia in 1995. Smart, sharp and very funny, Ballard's the type of comedian worth seeing twice – chances are you'll be laughing so hard, you'll miss some of his jokes the first time around.
27th March – 20th April | Council Chambers, Melbourne Town Hall in Melbourne
RONNY CHIENG – 'CHIENG REACTION'
If Ronny Chieng's face isn't familiar now, chances are it will be soon. The 2012 Comedy Festival Best Newcomer has appeared in a number of memorable TV roles of late, including It's a Date, This is Littleton and a scene-stealing turn in Sam Simmons' Problems. Live, he's razor-sharp, forthright and one to file under 'rising star.' In addition to his season, he'll perform a special version of Chieng Reaction for 12 to 18 year olds on 19th April.
27th March – 20th April | The Hi-Fi, 125 Swanston Street in Melbourne
DAVID O'DOHERTY – 'WILL TRY TO FIX EVERYTHING'
The Comedy Festival wouldn't quite be the Comedy Festival without David O'Doherty. The Irishman – and his miniature keyboard – has been packing out venues in Melbourne for almost a decade. Part whimsical stand-up, part musical comedy, O'Doherty's act is versatile, and just as likely to appeal to your mum as it is to your workmates or best friend. Just don't take anybody you don't want to see you snort with laughter.
27th March – 20th April | Forum Theatre, corner Flinders and Russell Street in Melbourne
One of several acts about to undertake their first Comedy Festival, Sara Pascoe is a successful touring comedian in her native UK, where she has appeared on QI and Never Mind the Buzzcocks. Her Melbourne premiere, Sara Pascoe Vs The Truth, was a hit in Edinburgh last year and revolves around the existential and scientific – promising punters "leave feeling slightly more intelligent than when you arrived."
27th March – 20th April | Old Met Shop, Melbourne Town Hall in Melbourne
Celia Pacquola. Image Credit: Melbourne International Comedy Festival.
CELIA PACQUOLA – 'LET ME KNOW HOW IT ALL WORKS OUT'
Melbourne-based comedian Celia Pacquola was sadly absent from her hometown festival last year, instead gallivanting around the UK and appearing on the likes of Never Mind the Buzzcocks. Soon to be seen on new Working Dog production Utopia (to screen on ABC1), Pacquola's new stand-up hour, Let Me Know How It All Works Out, promises the same brand of personal, self-deprecating but always hilarious comedy she's made her name with.
27th March – 20th April | Swiss Club, 89 Flinders Lane in Melbourne
On top of being a cast member of popular UK series The Sketch Show and Not Going Out, Tim Vine's main claim to fame is being a one-time Guinness Book of Records holder for the most jokes told in an hour (the magic number was 499). In case you can't pick it, the English comedian specialises in one-liners, told at a rapid fire pace. In The Tim Vine Chat Show, he'll create comedy based on audience members' occupations and stories (shy folk, you have been warned).
27th March – 20th April | Lower Town Hall, Melbourne Town Hall in Melbourne
Tim Key is nothing short of an acquired taste – you either love the English comic's brand of whimsical, poetic ramblings or you find it bewildering. The 2009 Edinburgh Comedy Award winner returns to Melbourne for the first time since 2012 – he's been busy filming, among other things, memorable roles in I Give It A Year and Alan Partridge: Alpha Papa – with his new show Single White Slut. It follows previous shows The Slutcracker and MasterSlut. Do you see a pattern emerging?
8th – 20th April | Fairfax Studio, Arts Centre Melbourne in Melbourne
LESSONS WITH LUIS – 'BY MYSELF'
2012 Raw Comedy winners Lessons with Luis – aka Luis and his little brother Luelin – will debut a new show, By Myself, at the festival. If it's anything like last year's brilliant Famoucity!, expect plenty of bad sweaters, even worse puns and lots of talk (maybe even some songs) about cats. In case you hadn't picked up on it, Lessons with Luis is a character act pulled off by some very talented performers – and one of the best you'll see during the Comedy Festival.
10th – 20th April | The Tuxedo Cat, 17-23 Wills Street in Melbourne
DIE ROTEN PUNKTE – 'EUROSMASH!'
Having recently crowd-funded their way to a movie, Berlin brother and sister duo Otto and Astrid Rot (aka Die Roten Punkte) return to rock Melbourne in Eurosmash!. The band (really a pair of Melbourne performers, but you didn't hear that from us) is fresh from sold out shows in New York, Montreal and Edinburgh. If you're a fan of musical comedy – from Spinal Tap to Flight of the Conchords – we advise landing yourself a ticket.
17th – 19th April | Forum Theatre, corner Flinders and Russell Streets in Melbourne
Melbourne International Comedy Festival 2014
26th March – 20th April | Various locations
Website | Facebook | Twitter | Instagram
Main Image Credit: Popsugar