In case you hadn't noticed, cats have won the internet and, quite frankly, I'm about as excited as this guy.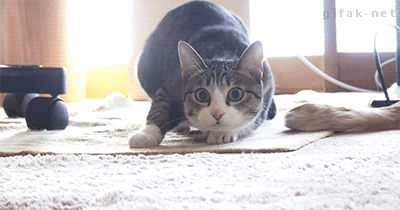 So gather 'round fellow feline enthusiasts, cos this list of the coolest cats on Instagram may just make your (sad and lonely) day.
SNOOPY BABE @SNOOPYBABE

Argghhhh. This saucer-eyed, flat-faced feline has just the smushiest cheeks in the whole wide world! Hailing from China, Snoopy Babe is an exotic shorthair who enjoys dressing up in all manner of stylin' outfits and accessories. He's in touch with his feminine side, often rocking his favourite set of pink beads. Who's a pretty boy then?
CHOUPETTE LAGERFELD @CHOUPETTESDIARY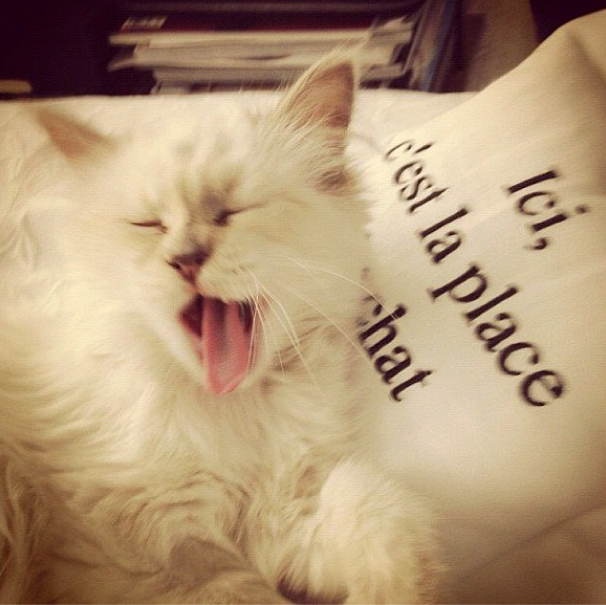 Belonging to Kaiser Karl, Choupette Lagerfeld is one pampered Parisienne pussy. According to a Harper's Bazaar interview, this blue-eyed, longhaired beauty eats her meals at the table on Goyard china, and can't stand the smell of Chanel No 5. Karl is so besotted with his kitty that he wishes he could marry her. Oh to be a fly on the wall! Check out Choupette's Insta for a glimpse of life as the world's most famous felinista.
GRUMPY CAT @REALGRUMPYCAT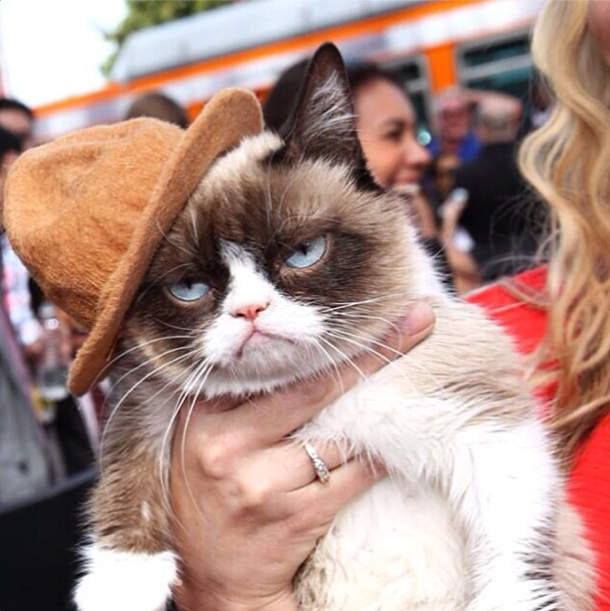 HA! Did you think I'd forgotten Her Grumpiness?! The très unimpressed pussycat that launched a million memes, all hail Grumpy Cat, aka Tardar Sauce. Apparently her utterly unique grumpy face is the result of feline dwarfism, but being on the small side hasn't held her back. She's had a busy year, appearing on the cover of New York Magazine in October, and strutting the hallowed halls of US Vogue just last month. Grumpy's one superstar with staying power (and the world's greatest time waster). She had fun once…it was awful.
COLONEL MEOW @COLONELMEOW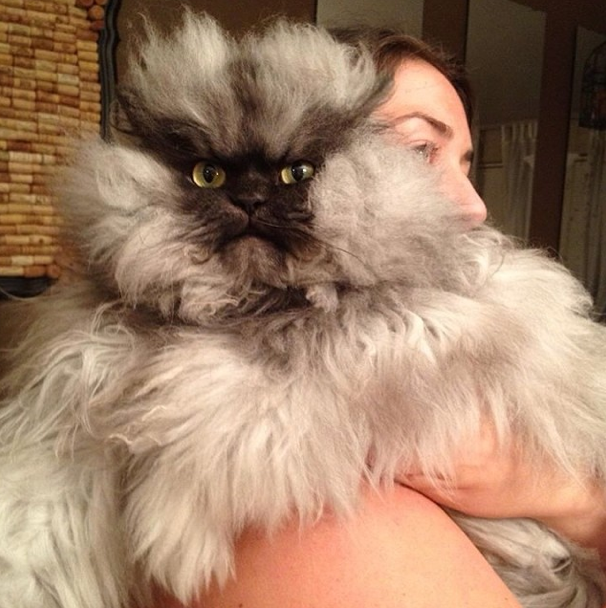 If Grumpy Cat is grumpy, Colonel Meow is apoplectic. With an uncanny resemblance to an Ewok, this two-toned fluffball will fill your feed with a daily dose of stink eye. Not one to win over your pussy hating pals.
SMUSHBALL @SMUSHBALL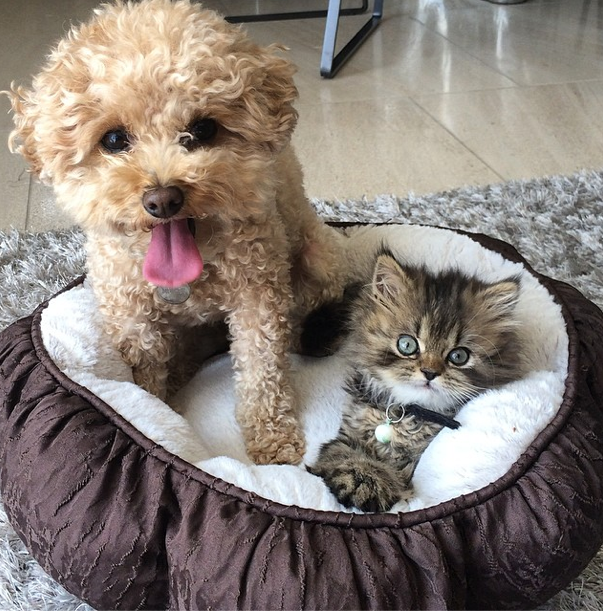 If you're a fan of fluffy cats, you'll go gaga over Smushball, the cute-as-a-button doll face Persian. While she's a semi grown-up lady cat now, scroll back through her Insta shots to when she was an itty-bitty kitty. You will ACTUALLY die from the cute. Speaking of dying, Smushball appears to belong to one atrociously attractive female and her gun-toting partner. Only in America…
MAX MUCA & MR. MIN(I) @CATINBERLIN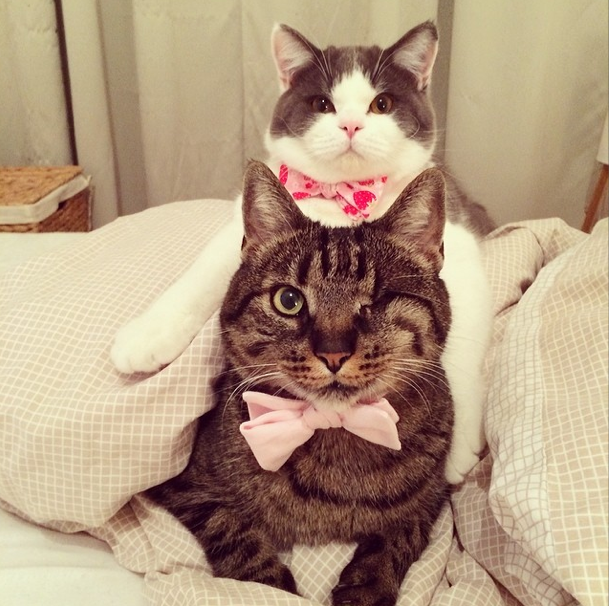 Follow @catinberlin and you'll be treated to two bow-tie wearing kitties for the price of one. Max Muca and Mr. Min(i) are a pair of dapper gents, and poster boys for Berlin-based cat-accessory company, Cat in Berlin. The company specialises in high quality bow-ties, ties and scarves for your furry and purry companion and Max Muca and Mr. Min(i) are the perfect advertisements for their wares. Proof that gentlecats do exist. (Plus Max has one eye, and we're MAD for a one-eyed animal at TUL).
MARU @MARU_THE_CAT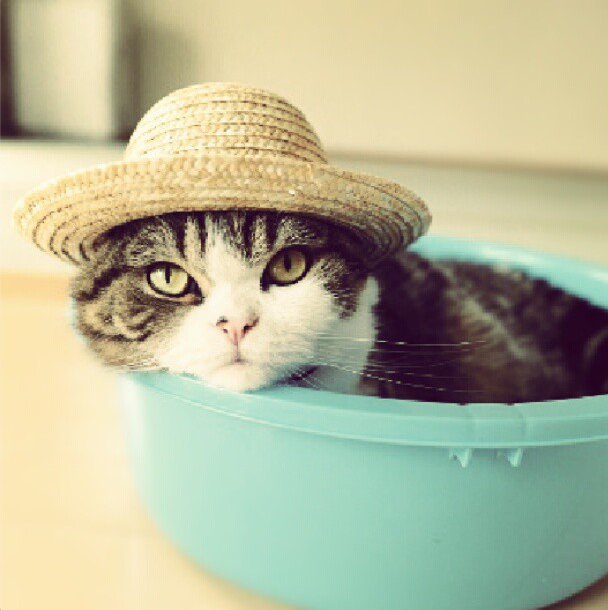 Maru is a Scottish Fold, living in Japan, with an obsessive compulsion to squeeze his hefty bod into small, box-shaped spaces, usually skidding across the floor in a hilarious manner. A YouTube sensation, Maru's videos have had over 200 million views (check them out here), and he's now got a kitty playmate called Hana. Oh, what fun they have! The Insta's great, but the vids are even better.
LIL BUB @IAMLILBUB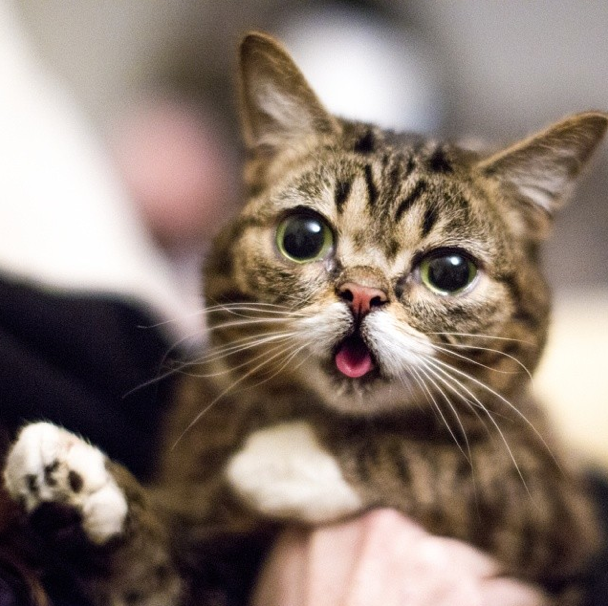 Lil BUB is another Instacat who is far from your run of the mill feline. She was born with a laundry list of medical abnormalities (naw) and as a result is a perma-kitten, meaning she'll stay tiny. Part of her condition is a sticky-outy tongue which adds to her totally adorbs appearance. This purportedly sweet-natured kitty has over 677, 654 likes on Facebook, and her own retail empire. Part of the proceeds from BUB merch goes to the ASPCA. Gah! If I think anymore about BUB, I'll start to blub.
But wait, there's more…
Max @themaxsociety
Lord Áries @ariesmeow
Pancake @meowpancake
Prince & Barbara @princeandbarbara
Peeta @peeta_the_bengal
Charlie Brown @charliebrownthecat
Stitch @thousandfacesofstitch
Venus @venustwofacecat
Ben, Desmond & Jack @tuxedotrio
Cheeto @princesscheeto
Meowbert @zotheysay (OK, so technically not his page but Zoë Foster Blake's cat is too damn cute)
And finally…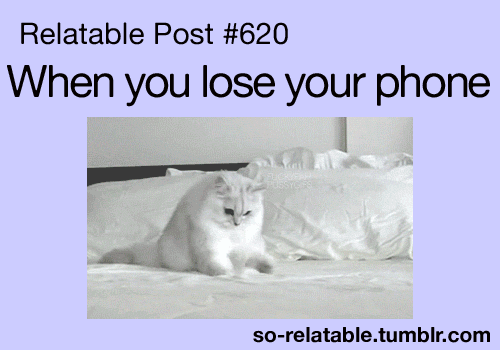 Image Credits: Instagram, cute overload & giphy