We've nearly hit the weekend before Christmas and you're still yet to make a dent on your metaphorical Xmas hit list? We've dashed like reindeers around Eastland to bring you the ultimate (panic-free) last minute gift guide. With gifts for foodies to #fitspo friends, you'll tick off your Christmas present list faster than Santa in a sleigh.
For The One That's Hard To Buy For: Bailey Nelson
Making buying glasses less painful, international brand Bailey Nelson are a favourite for a good reason. High-quality, stunning, affordable eyewear and impeccably knowledgeable service makes it one of the finest eyewear stores around. Also, everyone wears sunglasses. It's fool proof.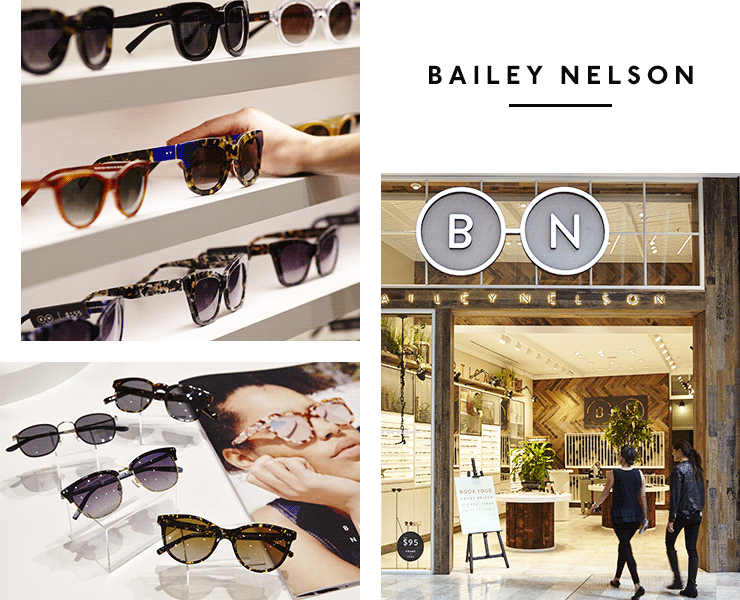 1. Melina / Speckled Tort: A retro vintage frame inspired by the streets of downtown Milan, these sunglasses are an excuse to wear leopard print all summer.
2. Theodore Windsor Rim/Matte Black: An iconic cut originally worn by US Navy submarines, the rounded frames and square shape gives these shades a sleek, modern look for the special man in your life.
3. Mim / Yellow Tortoiseshell: Want bold sunnies? Look no further.
4. Bronte / Bailey Nelson x Aquabumps: The classic with a twist that involves a bit of blue and a bit of gold—it's gifting gold.
5. Wells/Matte Cosmic Tortoiseshell: Whoever said it was hard to shop for guys clearly hasn't been looking in the right sunny places (hah).
For Your #Fitspo Friend: Reformation Pilates
Got a buddy who's always chatting your ear off about the latest boxing, cardio or circuit class? Wear them down (and maybe out?) with a Reformation Pilates voucher. Low impact with supercharged results, classes range to cater for beginners up to expert fitties.
Vouchers can be bought in classes, passes or just pop some money on their cute baby blue gift cards!
For The Foodie In Your Life: Sisko Chocolate
Originally based in Hawthorn, Sisko Chocolate is one of the finest artisan chocolatiers in Melbourne. Handcrafted festive chocolates include smooth snowman, retro Christmas trees and vibrant chocolate-shaped baubles. Give the gift of true sugary magic this Xmas.
1. Large Snowman: He comes with a tiny chocolate nose and a top hat. What more could you possibly want in a chocolate-filled life?
2. Contemporary Christmas Tree: It comes in festive red or green. Obviously.
3. Christmas Tree: You know you want the one with sprinkles.
4. Christmas Disks: Hang them on the tree, or have no shame and eat it in the car on the way home.
For The Addict Shopper: Martin York
We recommend buying all the bags and moving down your personal grocery list of Christmas presents like Santa in a chimney.
1. Babylon bar Bag Tooth Navy: The fail-safe gift if you've hit Christmas Eve without a backup plan, this signature bag from Sancia's will win any heart. Effortlessly stylish, it's the everyday favourite you can claim.
2. Heartbreaker Marble: This gorgeous dusty pink leather bag screams luxury and is cleverly designed to hold all your life essentials (phone, lipstick, keys) in different compartments.
3. Loop Knot Cuff in rose gold: Everyone needs a 'lil rose gold under the Christmas tree…
4. The Bianca Hammered Large Hoop Gold: Um, does the name say it all?
5. Senso Uba in Military Suede: We may be a little in love.
For The Homewares Addict: ISHKA
Embrace Christmas chaos at ISHKA. A vibrant, endlessly colourful shopping adventure awaits.
1. Madagascan Rose & Vanilla Candle: Because every gift guide has got to include a cop-out candle. If you're buying a desperate, last-minute there-are-literally-no-other-options candle, it might as well be this one.
2. Light Blue Elephant Teapot: Bring it to work and bask in the glory.
3. Fox Egg Cup: Planning on committing to health goals this NYE? Encourage egg-eating with this adorable fox-shaped egg holder.
4. Felt Christmas Tree: In case yours isn't up in the living room yet, here's a backup plan.
For The Lit Lover: Dymocks
Stubbornly one of Melbourne's finest book retailers, browse through easy beach reads, modern classics and non-fiction novels for yourself and the family. You've got a year's worth of reading to catch up on.
1. The Vegetarian by Han King: One of this decade's most acclaimed novels, although The Vegetarian is (literally) about a woman who is vegetarian, the novel also weaves a compelling tale of choice as an allegorical tale of modern day South Korea.
2. All The Light We Cannot See by Anthony Doerr: Not one for serial cry babies, this novel won the Pulitzer Prize for Fiction last year. Yes it's another WWII novel. Yes, you should definitely read it.
3. Amazinger Face by Zoë Foster: Who doesn't love Zoë Foster, and who doesn't want their face to be more Amazinger? It's the must-have makeup guide.
4. Truly Madly Guilty by Liane Moriarty: A slow burner of a book, this is the perfect one for a lazy summer read.
5. Smith & Daughters: A Cookbook (That Happens To Be Vegan) by Shannon Martinez and Mo Wyse: We'll leave this one here, in case you're one of the special people graced with cooking skills beyond microwaving.
Looking for more gift ideas? Do a speedy last minute Christmas shop at Eastland. Gift wrapping for a gold coin donation, festive Christmas activations and an Eastland Xmas tree at the centre will make sure you have a very merry Christmas.
Image credit: Michelle Jarni for The Urban List.
Editor's note: This article is proudly sponsored by Eastland and endorsed by The Urban List. Thank you for supporting the sponsors who make The Urban List possible. Click here for more information on our editorial policy.