While international travel is most certainly not on the cards right now (it's okay, we can wait), there are some big things happening in the world that you really need to know about.
Here's the best in travel news this week.
Stonehenge Is Live-Streaming Its Summer Solstice For The First Time
One of the world's most famous prehistoric monuments is taking a step out of the stone-age and into the new. Stonehenge, which normally hosts the biggest and most popular summer solstice celebrations, is cranking out the old livestream antics for the longest day of the year. Considering the usual festive pagan-fuelled celebrations won't be possible due to COVID-19, the English Heritage organisation which manages the site, will be offering a livestream, for the first time ever, of the sunrise behind Heel Stone on Sunday morning June 21.
You Can Now Rent The Villa From "Under The Tuscan Sun"
Perhaps one of the most dreamy movies ever made, Under The Tuscan Sun made the idea of travelling to a foreign country and staying in a completely abandoned villa, somewhat fantastical. That garden, that mammoth kitchen, that tiled roof — the property is a complete dream. And good news, you can now rent this incredible villa (yes, the exact villa from the actual movie) with up to 20 of your best mates (albeit probably not until the 2023 mark). The massive house includes an additional farmhouse, a pool, hammock, Boccee court, a pizza oven, wi-fi and air conditioning.
A Japanese-Inspired Two-Storey Tiny Home On Wheels Has Arrived
Brought to you by Escape Rooms, ESCAPE One XL is a tiny home on wheels that could very much be the future. Inspired by ancient Japanese Shou Sugi Ban (a way of preserving wood), this tiny home is meant to embrace all things organic, natural and zen. The home spans two levels over 388 square feet and contains all the home essentials like bedrooms (it can sleep up to eight), a kitchen, a bathroom and a living room. The tiny home, which is actually considered an RV also has huge panelled windows, LED lights, storage space which can be converted to into multiple other rooms and we're thinking this could very much turn into the future of living (especially since she'll only set you back around $69,800 USD).
The World's Biggest Virtual Wave Is Here
South Korea is now home to the world's biggest virtual wave (we repeat — wave, not rave). The mesmerising art installation has been described as an "anamorphic illusion" and you can spot it on the world's biggest outdoor high-definition screen. The projection has been programmed to look like it's crashing and rolling around in a glorified, glass fish tank and uses smart screen LED technology from Samsung.
This Norwegian Island Allows Anyone In The World To Live On It Visa-Free Forever
Svalbard is a Norwegian archipelago located in the Arctic ocean and is surrounded by snow-capped mountains. It has a university, a church, a brewery and anyone in the entire world can live here. Yep, people from all over the world can ditch their mother home and move to Svalbard without a visa as long as they secure a job and have a place to live. Sounds easy enough, right? In fact, of the 2400 residents who live in Svalbard's capital Longyearbyen, about a third are immigrants (from at least 50 different countries).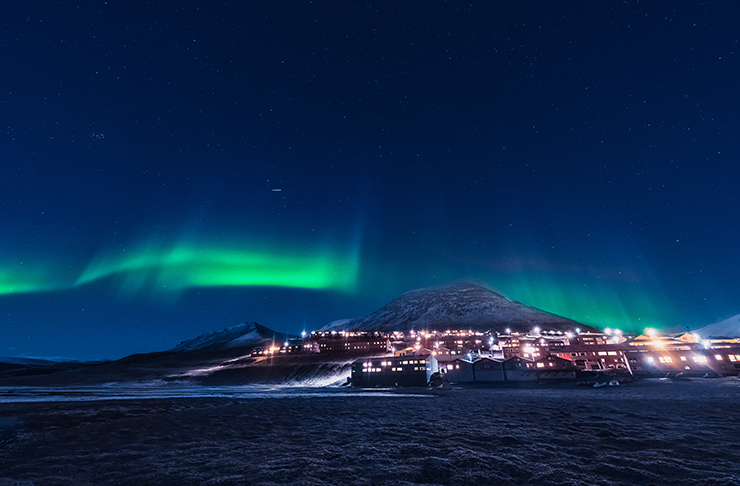 You should also know that Sicily is offering to pay for your next holiday there.
Image credit: BublikPolina, Carlos Fernandez,David Preece, Villa Laura, Escape Rooms, YouTube, BublikPolina