Life can be a hectic beast. Amidst the 9-to-5 grind, catch-ups with your crew and those TV shows you simply cannot miss, it can be tricky to squeeze in a regular session of the ol' exercise.
And, if you're anything like me, fitness is the first thing that flies out the window when shiz get busy. I know, I know, exercise blitzes stress, releases endorphins, blah, blah, blah, but I simply can't find the motivation to drag my sorry butt to the gym for an hour of overenthusiastic aerobics or some one-on-one time with a pair of dumbbells.
So, when I heard there was somewhere in Auckland that could get me fit as a fiddle in just 20 minutes a week (yes, 20 minutes!), I was all over it.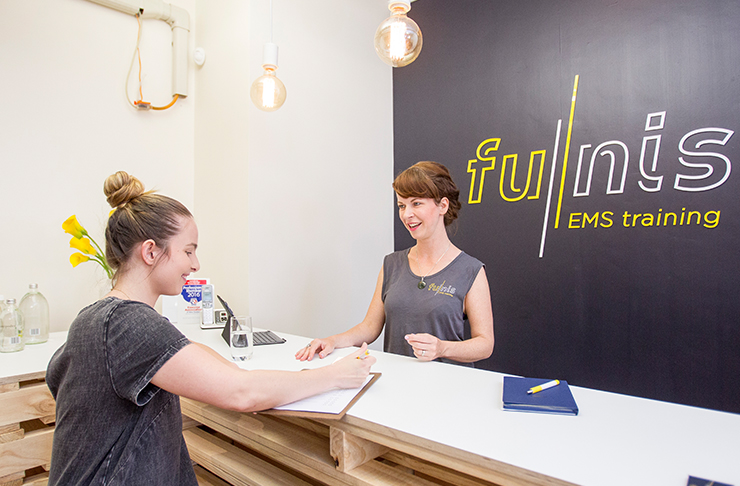 One day after work, I had the opportunity to give fu/nis EMS Training's magical 20-minute workout a go. What is this fu/nis, you ask? Handily located in Achilles House off Commerce Street, fu/nis is Auckland (and New Zealand's!) first dedicated Electro-Muscle Stimulation studio. Now, what is this Electro-Muscle Stimulation, you ask? It's a workout that sends low frequency electric impulses to your muscles, making them contract and relax, just like they do during resistance training. The wonderful catch is that your body is put through the equivalent of a 60-to-90-minute workout in just 20 minutes! Uh huh, magic.
I was greeted by the lovely Catrina, the owner of fu/nis. She introduced me to Kathryn, one of their personal trainers, who would be taking me through the session. We sat down for a quick chat, pin-pointing what results I was aiming for and if I had any injuries or niggles she needed to know about. Kathryn takes my measurements so we can track my #transformation and then I get suited up. The suit (very Lara Croft-esque, BTW) is sprayed with water to help the electric current flooow and then I'm hooked up to the EMS machine.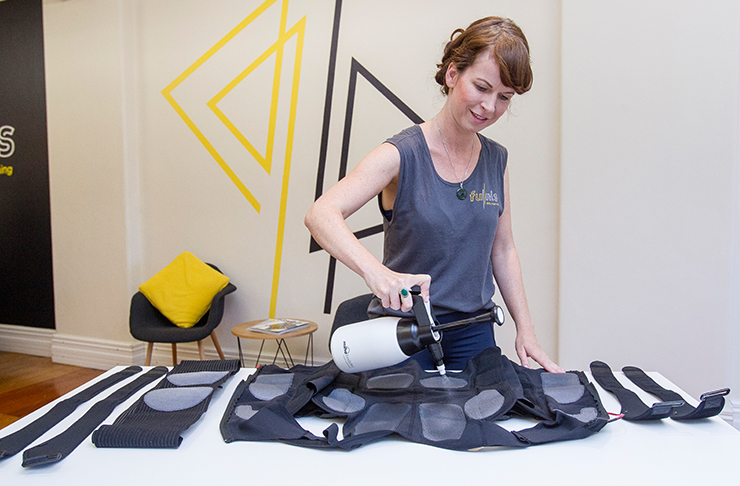 Fu/nis tailors the workouts for your goals. If weight loss is what you're after, they'll put you through 15 minutes of resistance-type training and 5 minutes of metabolic training. Instead of feeling your muscles contract, you'll feel light taps as you run on the spot, do mountain climbers or get your jump squat on.
But for this sesh, and if your focus is toning and shaping, it was all about working those muscles. I get into the ready position (basically a squat) and Kathryn turns the knobs of the unit to get the electric impulses working. Suddenly I can feel my legs, butt, lower back, middle back (who knew middle back muscles were a thing?!), upper back, chest, abs and arms being tickled by those little impluses. Next comes the actual workout.
Your muscles contract for four seconds while you work, and relax for four seconds while you rest. From squats, lunges and kick-backs to standing crunches, push ups, dumbbell curls (without any dumbbells) and punches, I worked through a series of exercises for 20 minutes and boy, oh boy, did I feel my muscles working. During each set, Kathryn would ask how I was feeling, and if all was well, she'd crank up intensity of the muscle contractions. Or, if something felt too strong, I'd holla.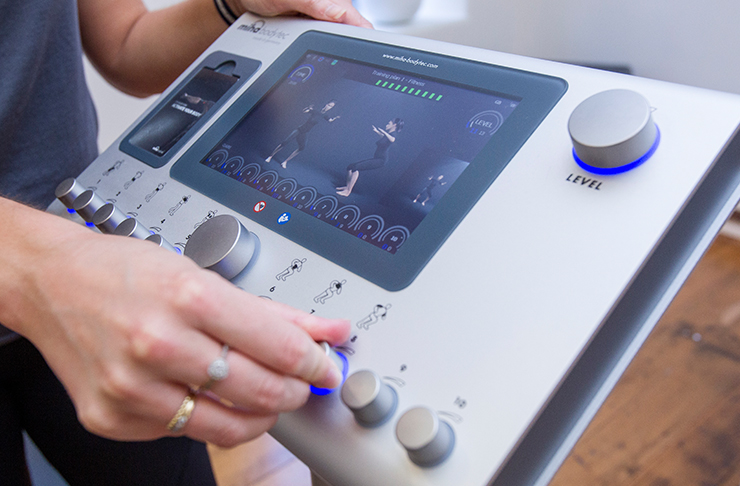 Once that's all done and dusted, it was time for my muscles to mellow out. Kathryn changed the program to Body Relax so it feels like I'm getting a full-body massage—and it is delightful. I take off all the EMS gear and get changed into my office get-up. The beauty of fu/nis is that you can be in and out within 30 minutes, so it's perfect for lunch breaks or when time isn't on your side.
I noticed that my muscles were tired (a good kinda tired) but the real fun started over the next few days. I was reminded that DOMS (Delayed Onset Muscle Soreness) is 100 per cent real and that EMS training doesn't take any prisoners. And the best bit? EMS training can be used as your sole training, or alongside your other gym and training routines. One thing's for sure—I'm hooked.
Image credit: Kellie Blizard