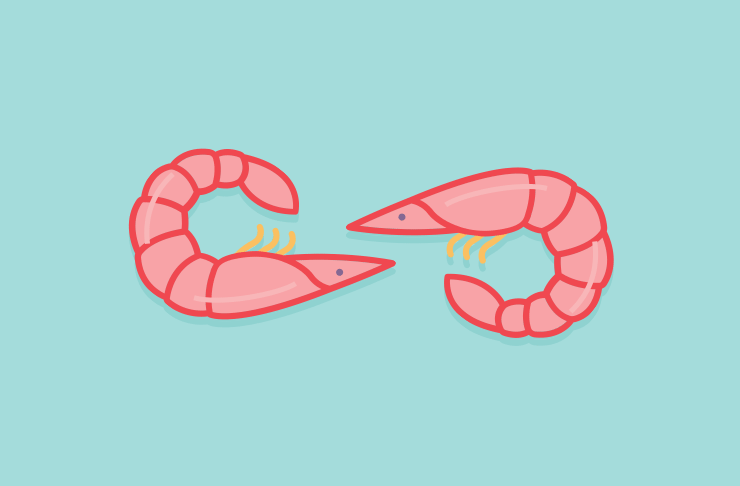 Oooh can you feel the magic? A new moon shimmied its way across the universe on Monday and it has consequences for all of you. Will it leave you feeling brave and bold? Or crazier than usual?
Pisces
It's a double-whammy in the world of Pisces. Not only is the new moon creating mystical and spiritual sentiments in your life but also Venus has gone retrograde in your sign. This means a tendency to romanticise the past. If you find yourself reaching for an old bad habit remind yourself why you dropped it (or him) in the first place.
Where you need to go this week: Binge watching shows is a good habit.
Aries
This week you're falling into one of those moods where you promise to start eating healthier and this time it's going to stick. A fair warning Aries, the new moon is making you feel extra motivated but only if you see immediate results. Put your best foot forward this week, just don't be surprised if it falls back in line with the other one next week.
Where you need to go this week: For when the other foot drops.
Taurus
Everything in your life is more grounded this week thanks to that new moon. Looking around you can see long-term potential in everyone and everything – from your home to your beau. Mercury brings common sense to your sign as well so don't be afraid to make long-term decisions, you're in the right headspace for it.
Where you need to go this week: Where to find short-term furry friends.
Gemini
As if you weren't already queen of multitasking, the new moon is going to amplify this skill ten-fold. If you've got a crazy amount to get done and what seems like not enough time maybe this week is the one to start everything at once. Just don't get reckless on us, drying your hair in the bathtub is still against the rules.
Where you need to go this week: Try out one of these fun adventures.
Cancer
When the new moon crosses your path it brings out your domestic side. If you have a strange urge to embody a 1950s housewife this week just roll with it. Luckily it's no longer the 50s and you can channel a much more badass housewife a la Betty from Mad Men. Home décor is a skill few can master so take pride in your art.
Where you need to go this week: We're in love with this place.
Leo
You're facing a funny contradiction this week Leo's. The new moon has you feeling generous, but you're not usually one to do something without hoping there'll be mad props at the end. If recognition from other's is your main fuel source it can run empty pretty quick. Learn a new skill by paying it forward without expecting a medal in return.
Where you need to go this week: Take care of something other than yourself.
Virgo
With the new moon floating around now is a good time for you to get down to the nitty-gritty details of something. It doesn't have to be important either. Start cataloguing every brunch destination still on your to do list, rank every drink you've ever had by size of headache the next day or build your dream life in The Sims and play it out until realising three days to fall in love and get married to your housemate is a stupid idea.
Where you need to go this week: All the deets you need for sushi doughnuts.
Libra
Uh oh, you got a new haircut and somebody forgot to notice. If this is way more annoying than usual you can blame that pesky new moon. Right now even the tiniest faux pas is rocking your relationship. Before you head for stormy seas ask yourself if this is really an issue or just the moon meddling in your love tides.
Where you need to go this week: Take some time out before making big decisions.
Scorpio
Terrible news Scorpios. The new moon's affects may be the most boring thing to ever happen to you. It says in our astrology book now is a good time for you to focus on taxes and accounting – yuck. We say forget what the stars say. Take those mathematical abilities out to a bar and buy as many cocktails as your tax returns will allow.
Where you need to go this week: Did someone say cocktail happy hour?
Sagittarius
You've always been one to go out and just wing it – like that time you told the hairdresser 'surprise me'. No matter how that one worked out you'll be feeling adventurous again this week thanks to that new moon. If you're getting weary of the consequences in your old age give a new sport a try. Even if you realise you hate exercise you can always fake an injury and never ever return.
Where you need to go this week: This spot is all about winging it with crockery.
Capricorn
In classic Capricorn style you're embracing the slow and steady mantra. The best thing about being a metaphorical turtle is rubbing it in the hare's face when you win that race. So, focus hard on long-term goals and get your gloating face ready – a finish line is near.
Where you need to go this week: These places let you work while sipping on coffee. Life balanced.
Aquarius
A wise boy band once said you gotta fight for your right to party. A new moon in Aquarius brings out your fighting spirit. You'll be keen to tackle social issues and join groups with unusual or radical undertakings. Whether the penalty rate cuts made your blood boil or you just can't stand old Turnbull's face, now is the ideal opportunity to seek justice.
Where you need to go this week: Fight for local produce.
Need more suggestions to deal with your week ahead? Search our Directory for the best of Auckland.
Image credit: Gabrielle Stjernqvist