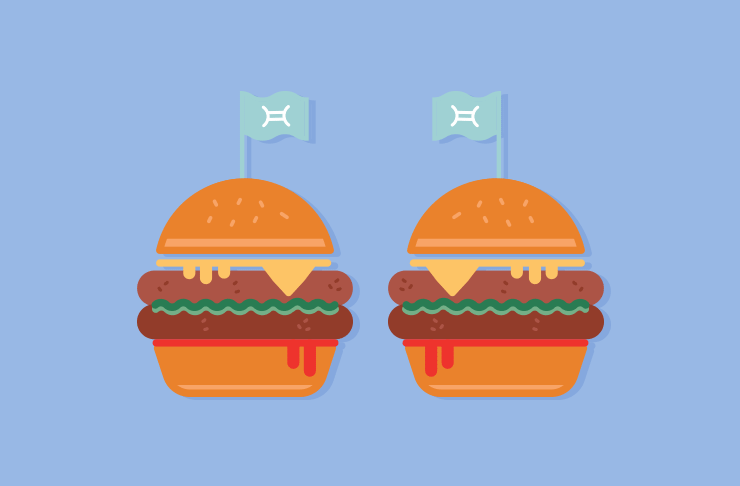 ​
The big news this week is that Crayola wasn't getting in early with April fools and they have officially retired one of the 24-box crayon colours. Dandelion yellow packed its bags for good and our inner 5-year-olds felt the loss pretty hard. What better time to turn to the stars for a much-needed dose of colour. Bet you didn't know every sign had its own colour too.
Pisces
Seriously Pisces, leave some colours for the rest of us. With mauve, lilac, purple, violet and sea green to your name it feels a bit selfish. Taking more than your fair share is not a usual Pisces trait so we'll forgive the indiscretion.
Where you need to go this week: Everywhere to satisfy your inner vegan and their friends.
Aries
Ooh la la Aries you're a stunner in red. The colour of love and rage is typically on your side. Your week is looking like a blast already, all that's missing is a little red dress to really get things going.
Where you need to go this week: The best date spots to bring back the spark
Taurus
Green is the colour of matcha and pink is the colour of fairy floss and cupcakes. A green and pink dessert-like swirl is just what the doctor ordered this week.
Where you need to go this week: Auckland's ultimate green brekky.
Gemini
You're just coming off the back of a sweet as weekend where flirtation was high and rejection isn't even in your vocabulary. Our inside tip to keep the happy days blazing is wearing anything light green or yellow to brighten up a cold Melbourne morning.
Where you need to go this week: Yellow curry is where it's at this week.
Cancer
White crayons work great on black paper. Perhaps that's a metaphor for how you never fit in, or maybe it's just a fact. We'll leave the deep and meaningful up to you this week.
Where you need to go this week: Where to have breakfast every day this week.
Leo
It's gold, yellow and orange for you Leo. Your golden days this week will be on Wednesday and Friday so book something great in there. We know you can't go wrong with all the awesome food options around Melbourne.
Where you need to go this week: This place has gold cutlery!
Virgo
There's always a dud in every bunch and sadly Virgo it's you for the colour horoscope. Grey, beige and pale yellow? Sounds like the colours of disease. Turn to some of your other great traits and forget we ever mentioned a zodiac colour wheel at all.
Where you need to go this week: Put eggs back in their place.
Libra
At first glance, you are actually the same as a Taurus on the colour wheel. Look closer and you'll see that green and pink is not the same as pink and green. It's not that different either but at least you get to lead with pink. It's the little wins after all.
Where you need to go this week: Did someone say pink interiors?
Scorpio
Luxury comes to mind when you think of the colour scarlet. And the Aussie outback is conjured up when someone says rust. Take heed of this dichotomy. It'll be scarlet and rich silky textures for most the week but there's some rust around the corner after this weekend.
Where you need to go this week: You'll be sitting on plush red leather at this new eatery.
Sagittarius
Take some inspiration from your zodiac colour palette this week Saggi's. Blue conjures up feelings of calm, deep water and a restful headspace. You could use a break and nobody will be mad if you take one.
Where you need to go this week: Check out this blue-walled cafe by the sea.
Capricorn
Deep brown eyes and hair as black as night. That's how we're interpreting your colour scheme Capricorn. Most likely he'll appear in a dream one night and in real life soon after. You've been good lately so we won't judge if you're feeling bad.
Where you need to go this week: Something for the all black clothes brigade.
Aquarius
Aquarians are lucky enough to have the colour of the future by their side. With the amount of outer space movies out lately you'd think there'd be more in the way of silver fashions for you. Then again, we all remember the not so distant fails of the early 2000s when metallic and shiny fabric was red carpet style.
Where you need to go this week: Here's some metallic décor we can get around.
Still not sure what to do with your life after some guidance from the stars? Well, here's 5 Fabulous Things To Do In Auckland This Week, that'll keep you busy.