Let's be honest: spending money is all fun, fun, fun! Saving money is, err, not so fun. But it doesn't have to be a total drag (or hard work). Become a lil money savvy and you can easily build those savings—without sacrificing your social life, travel plans or smashed avo (god forbid).
We've teamed up with Westpac NZ to help put your savings on the fast-track. They're all about helping people manage their money better so you can get ahead financially and live your best life #winning. To kick off their money series, here are eight super easy ways to save cash…
1. Name Your Accounts
Personalise the names of your bank accounts to keep your #goals at top of mind. Rename your savings account to "Gringotts Wizarding Bank" and your travel fund to "New York, baby". Alternatively, "don't you dare touch this money" gets the message across loud and clear.
2. Have A Subscription Spring Clean
Paying for the Sweat With Kayla app but haven't worked out in more than three months? Cancel your subscription right this second! Look into free alternatives and hit up YouTube channels. You can also consolidate subs with your family and/or flatmates. For example, Spotify has 'Premium for Family' that can be shared with you and up to five people living at the same addy. At $22.50 a month, this works out to be $3.75 each—less than a cup of coffee.
3. Save $$ Every Payday
When payday rolls around, set up an automatic payment to pop a portion into your savings. Alternatively, get amongst Westpac's Salary Splitter that automatically splits your salary into as many as six different accounts. For example, you might have separate accounts for your rent/mortgage payment, savings, household expenses and your err'day spending.
4. Get $521 For Free!
Everyone loves free money, right? Right! If you're a KiwiSaver member, you could be entitled to a contribution of up to $521.43 a year from the government. Long story short, if you live in New Zealand and are aged between 18 and 65, the govt will add 50 cents for every dollar you contribute to your KiwiSaver account—up to $521.43 a year.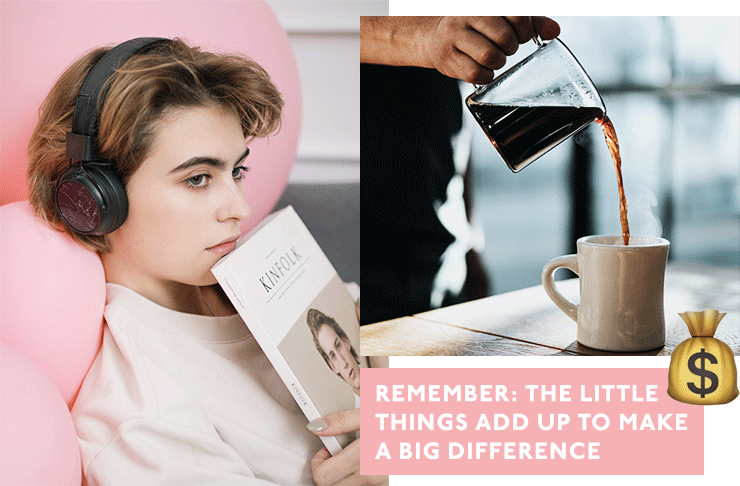 5. Be Coffee Savvy
So you buy your lunch every day? Or bottled water when you're out and about? What about that daily $4.50 flat white? Multiply by seven and that's $31.50 a week. Multiply by 52 and that's $1638 a year…yikes! But you don't have to go cold turkey on your caffeine addiction. If you make your own coffee just two days a week you'll have an extra $468 in your bank account. Arm yourself with a KeepCup and go to cafes offering discounts when you use your own cup. You'll be saving the planet and saving moolah—it's a win-win!
6. Next-Level Your Interest
Don't just have your hard-earned savings sitting in any account—you could be collecting some decent interest on those funds. Look into options available to you and go from there—it might be a matter of having two (or several) accounts. Accounts such as Westpac's Online Bonus Saver rewards you for not touching your money and making at least one deposit a month (by the last business day of each month). Super serious savers should look into Term Deposit accounts for premium interest rates.
7. Make Your Savings Untouchable
Out of sight, out of mind! Remove your savings accounts from your EFTPOS card and hide it from your online banking. FYI Westpac customers can do this by ringing the contact centre or by popping into a branch. This dosh will pretty much become untouchable so you avoid accidentally spending it.
8. Budget For Everything
Track your spending (be honest) to figure out your daily spend. Pro tip: the CashNav app can do this for all Westpac customers. From here, you'll be able to calculate how much you spend on groceries, eating out, shopping, entertainment and everything else in a year. Alternatively, sit down with a pen and paper, create a spreadsheet or check out this epic budget calculator to work out your budget. Keep everything in mind—right down to birthday presents and those big yearly expenses. Car service, we're looking at you.
For more money tips and tricks, check out Westpac's newly launched Helping New Zealand Grow—they've got articles and info to get you on track.
Editor's note: This article is proudly sponsored by Westpac and endorsed by The Urban List. Thank you for supporting the sponsors who make The Urban List possible. Click here for more information on our editorial policy. The opinions expressed in this article are those of the author and not necessarily those of Westpac. Westpac does not endorse or approve any non-Westpac goods or services referred to. This content is intended as a general guide only, and does not take your personal financial situation or goals into account.