These sticky pork noodle bowls from The Wandering Matilda are one of the most insanely delicious—yet ridiculously easy—dinners you'll ever be able to whip up. You can use just about any veggies you've got lying in your fridge and you can also swap out the pork for chicken—but why would you want to really?
Make these tonight and win at life.
---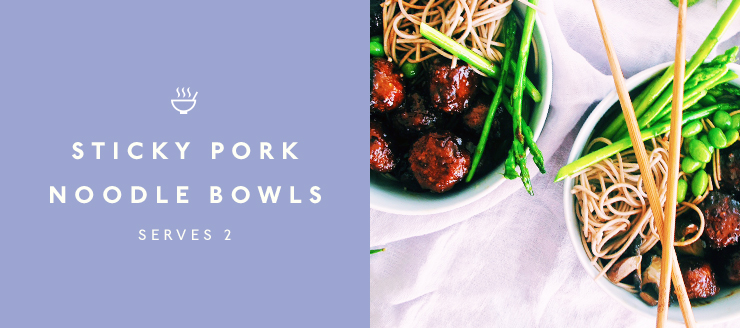 METHOD
Preheat your oven to 180 degrees and get a medium, deep oven proof dish ready. In a cup, mix together the soy sauce, mirin, apple cider vinegar and honey then leave aside.

In a separate bowl, add the garlic, ginger, sesame seeds, cayenne pepper, salt, egg and pork mince. Using your hands, mash the mixture together then roll into little golf-sized balls.

Place in your oven proof dish and drizzle with olive oil.

Place in the oven for 10 minutes, then remove and turn up the heat to 200.

Pour over the prepared soy sauce and cook for a further 15 minutes.

Shake around then cook for a further 5 minutes. In the meantime, cook the soba noodles as per the packet instructions and heat a frypan.

Drizzle slightly with olive oil and add the mushrooms.

After 5 minutes, add the asparagus and edamame and heat through for 2 minutes. Stir the veg and noodles through the meatballs and nom away.
---
Need dessert? Check out this raw salted caramel dessert!
Image credit: Holly Nicholls