Anyone making the hike up Mt Eden knows there's a special reward waiting for them when they reach the top: one of the best views in the city. Now thanks to Whau, an elegant new café that's just opened on the mountainside, there's a treat of a different kind waiting to be had—delicious, lovingly-crafted food inspired by what is a rather significant Auckland setting.
Whau has been a labour of love for everyone involved, from the brains behind the project—Dane Tumahai, his partner Jacqui Perillo and her daughter Georgia—through to Gerrick Numan and the team at Millé who are responsible for the much considered design. Together, they have gone to great lengths to incorporate the historical, spiritual and cultural background of the location—which was once home to one of the city's largest and most important pa sites—and the result is one they can be proud of.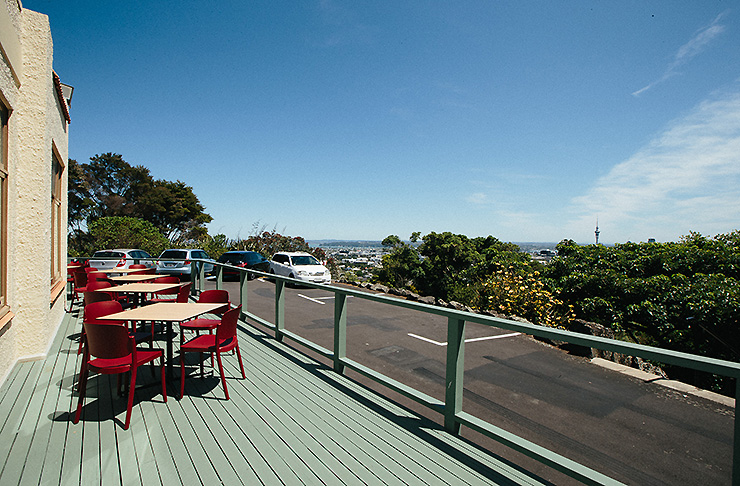 Nowhere is this respect for the land more prevalent than in the café's name. 'Whau' refers of course to the whau tree, which has long been used by Maori for everything from fishing to medicine and which affords Mount Eden its other moniker, Maungawhau (meaning 'the mountain of the whau tree').
Built in 1926 but vacant since the 80s—bar a small, real-fruit ice cream kiosk in the front that was opened last year, also by Tumahai and Perillo—the space you see today is the result of a major re-fit. The interior retains many of the building's original features but combines them with smart, modern touches that subtly tie into the story of the land on which it sits.
An ornate ceiling, polished wooden floors and an entire wall of windows are paired with a cork whau tree 'pathway', splashes of sage green and custom-made tables, each inscribed with the name of one of the 14 volcanic mountains located around Auckland. We particularly like the vintage, scientific-style illustrations on the walls, again featuring the whau tree as well as kowhai and pohutakawa; all helping to create a classy yet unpretentious venue.
The food at Whau treads a similar path, and is the product of many months of to-ing and fro-ing between head chef Nick Ravlich and other members of the team, including local sandwich entrepreneur Huri Rapana Neill—who was called in to help with the project—and Perillo, who has approximately 40 years' experience in the catering industry.
Creating a Maori-inspired menu was certainly a new experience for Ravlich, who before joining Whau admits he wasn't overly familiar with the culture's food. He's clearly done his homework, however—creating a clever selection of contemporary all-day dishes that feature unique, native ingredients you'll be hard-pressed to find elsewhere. He's also adopted a focus on seasonality, which means the menu will change accordingly.
Our favourite offering at Whau is probably the kūtai parai, or mussel and kamo kamo fritters. We recommend you try these even if you're not a seafood fan—generously sized and delicately flavoured, served alongside a perfectly poached egg and some seriously amazing tartar, they may just be the thing to convert you. Seasoned kaimoana fans may also like the melt-in-your-mouth raw fish with ginger, coconut cream and avocado; or perhaps the house version of fish and chips, which comes with the rather exciting addition of horopito salt.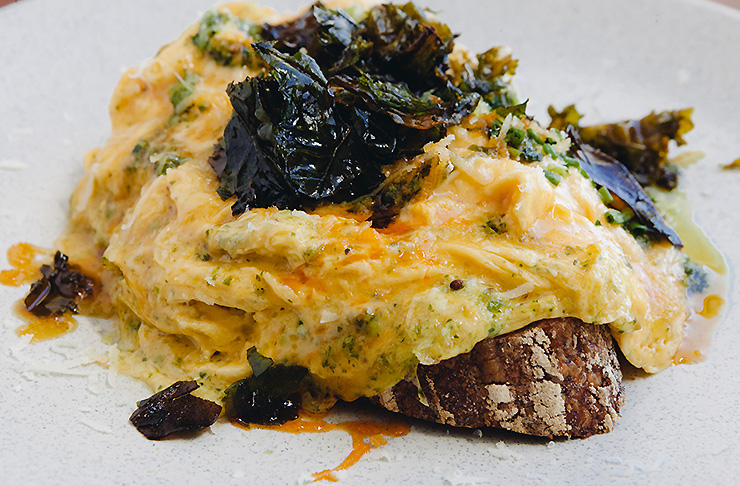 Breakfast fans will appreciate the makue, or green eggs with kumara sourdough, which are—for lack of a better word—drool-worthy. Creamy, herby goodness offset with crispy greens, it's the type of meal that will keep you going all day. The same can be said for the te ahi komau, or blistered vine tomatoes. Don't be surprised when an entire bunch of these roasted red gems is set down before you, also served atop kumara sourdough which this time comes slathered in tangy goats cheese.
There's even one dish at Whau that certain Urban Listers who live nowhere near Mt Eden would happily travel for—the kakato kawakawa, or fry bread crumpets. Imagine the best cinnamon donuts you've ever had, cooked until crunchy and golden brown and paired with richly-flavoured burnt butter, a soft poached pear and lashings of fluffy cream. Plus, the fact that they're on the breakfast menu means that they're a bonafide (read: guilt-free) option for first thing in the morning.
Rapana Neill's influence can be seen in the tāmaki makaurau or Sunday roast roll, which features a heavenly combination of roast pork with pickled apple, cress and gravy dip and—despite what its name suggests—is available for your eating pleasure every day of the week. He's also put together a moreish selection of croissants, brioche and other sandwich offerings which can be purchased from the counter cabinet.
The physical menu is a delight in its own right, with some intriguing facts about Maungawhau and a beautiful Maori blessing that emphasises Whau's attitude toward food. It concludes with the café's core values, appropriately led by aroha. Yes, congratulations are in order Whau, for translating your love of this extraordinary area to the plate—it definitely shows.
For more images and information on Whau, including opening hours, click here.
Image credit: Wono Kim