It's been a long week.
You want to wind down with a relaxing drink, but you don't want to fall asleep face-first in your corn chips and guacamole before Daniel from Finance joins you for a drink. What's a cocktail-fiend to do?
Never fear, there's one cocktail to rule them all when it comes to keeping you awake AND giving you a bit of Dutch courage to chat to to Dan. So check our round up of the best espresso martinis on the Coast.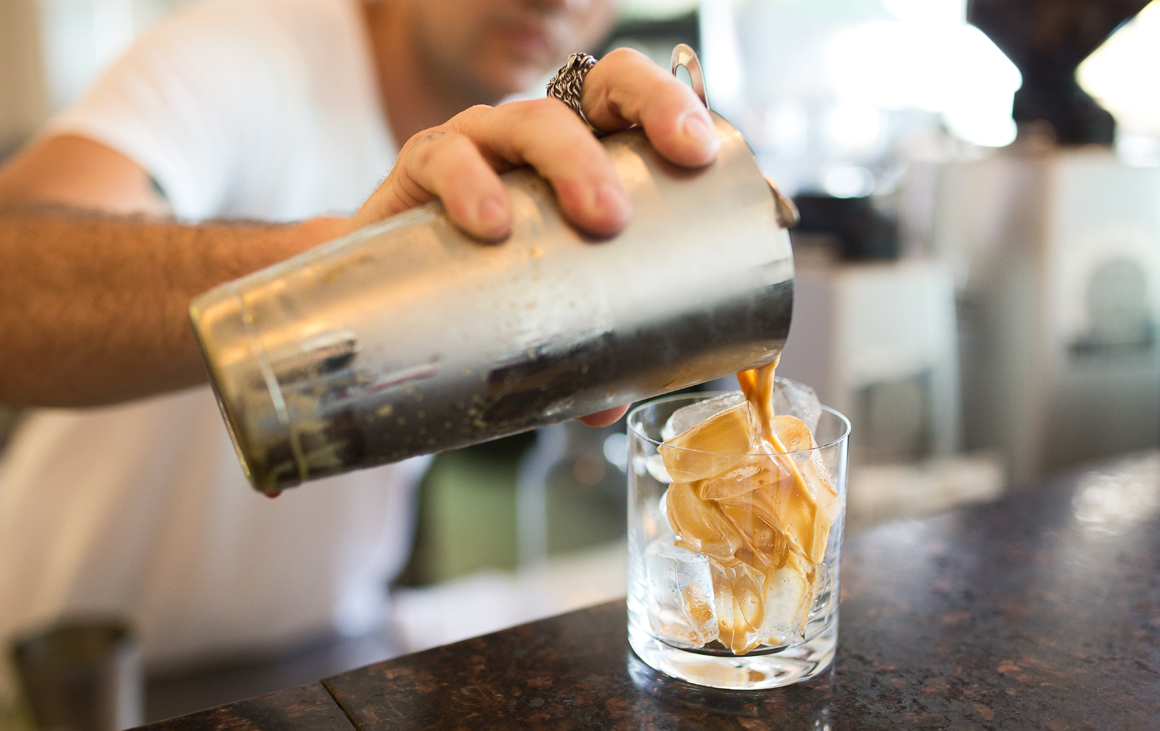 Gainsbourg
Dick's Doppio—the espresso martini on the menu at Gainsbourg—is a homage to Dick Bradsell, the game-changing London bartender credited with inventing the classic vodka espresso martini. Legend has it, Bradsell blitzed up an espresso and a shot of vodka in response to a request from up and coming model Kate Moss for a cocktail to give her a boozy buzz. Presumably this was before Kate discovered more effective ways to stay awake… Gainsbourg's version has a warm vanilla hit, combined with kahula, Sailor Jerry, and a double shot of Melbourne's iconic Padre espresso, all served in an old-fashioned glass. Je t'aime…
Where: Shop 109/59-75, Mooloolaba Esplanade, Mooloolaba
Locale
If you're talking cocktails on Hastings Street, you can't go past Locale. Even though it's mere meters from Noosa Main Beach, you could be in a sexy, candlelit bar in the heart of Melbourne, with the secluded bar nooks, plush banquettes, copper light fittings and uber-professional staff. And their summer special espresso granita cocktail will make you forget all about those sweet, beachy, fruity cocktails. This is serious stuff. The crushed, icy espresso combined with a shot of Belvedere vodka is no ditzy blonde. She's stylish, intense, and she means business.
Where: 62 Hasting Street, Noosa Heads
Good Bar
Some people are purists—they won't accept that classic food, drinks, even language, are a constantly evolving process, rather than an eternal, unchanging item. Disclaimer: I may or may not be one of those purists who spends hours ranting that a Caesar salad without anchovies is just lettuce and mayo…So even though a classic dry martini is always made with gin, James Bond's vodka martini was perfectly valid. And if Bradsell's vodka-based espresso martini was the next in the martini line, then Good Bar's Espresso Rumtini is the heir to the martini throne. As the name suggests, this one has a rum base (Sailor Jerry, no less!), with vanilla rum, a fresh shot of Good Bean espresso, and is slightly sweetened with agave syrup.
Where: 5/19-23 First Avenue, Mooloolaba
Bistro C
If you like your espresso martini the same way you like your men—sweet and dark—then Bistro C has the perfect option for you (cocktails, not men!). With Tia Maria and Kahlua, this vanilla vodka-based version of the classic will hit the spot for all the sweet-tooths out there. And with arvo cocktails by the beach from 3-5pm every day over summer, this seems like a pretty good excuse to get your feet sandy!
Where: 49 Hastings Street, Noosa Heads
Wasabi
When the occasion calls for something a cut above the usual, Wasabi is the place to go. This place can barely open its doors without their mountain of awards and accolades rolling out on to the street. There's nothing traditional about the espresso martini here. Wasabi's "Cohee" cocktail adds Japanese umeshu plum wine to espresso and Belvedere vodka. The umeshu gives an unusual and refreshing sweet and sour taste to the martini. Delish!
Where: 2 Quamby Place, Noosa
Bison Bar
This art-deco inspired den of cool is definitely the place to be if you're looking for a classic cocktail. Bison Bar's cocktail list covers all the essentials, and plenty of options I guarantee will be new to you. Talk to your bartender to let them know what kind of thing you enjoy—sweet? A good hit of caffeine? Vodka or rum? That way you can guarantee your cocktail will be just right for what ails you.
Where: C-square Courtyard, 52-64 Currie Street, Nambour
Lot 104
Espresso Martini Lot 104 gives the espresso martini a Mexican twist by adding a shot of Licor 43, a decadent white chocolate liqueur and fresh Tim Adams espresso. Down a couple of these and you'll be pretty much floating along Mooloolaba Esplanade—no legs necessary.
Where: 104/101-105 Mooloolaba Esplanade, Mooloolaba
Image Credit: Daniel Hine and Ariana Gillrie for Metropolist