OMG! Last week, food life on the Coast as we knew it, changed. Big call, yes, but also true.
So what happened? Well, we hit up one of our fave new restaurants on the Sunshine Coast, Bao Down for a delish smorgasbord of Asian eats. If you haven't been there yet, do yourself a friendly favour and make it a priority.
Anyhoo, after making an impressive dent in the menu, with plates of laksa, pho, and way too many bao for the average stomach to handle—think: fish, soft shell crab, a meat patty with cheese and mustard—we were all but ready to call it quits, when Josh, one half of Bao Down and chef extraordinaire, told us about the day's dessert.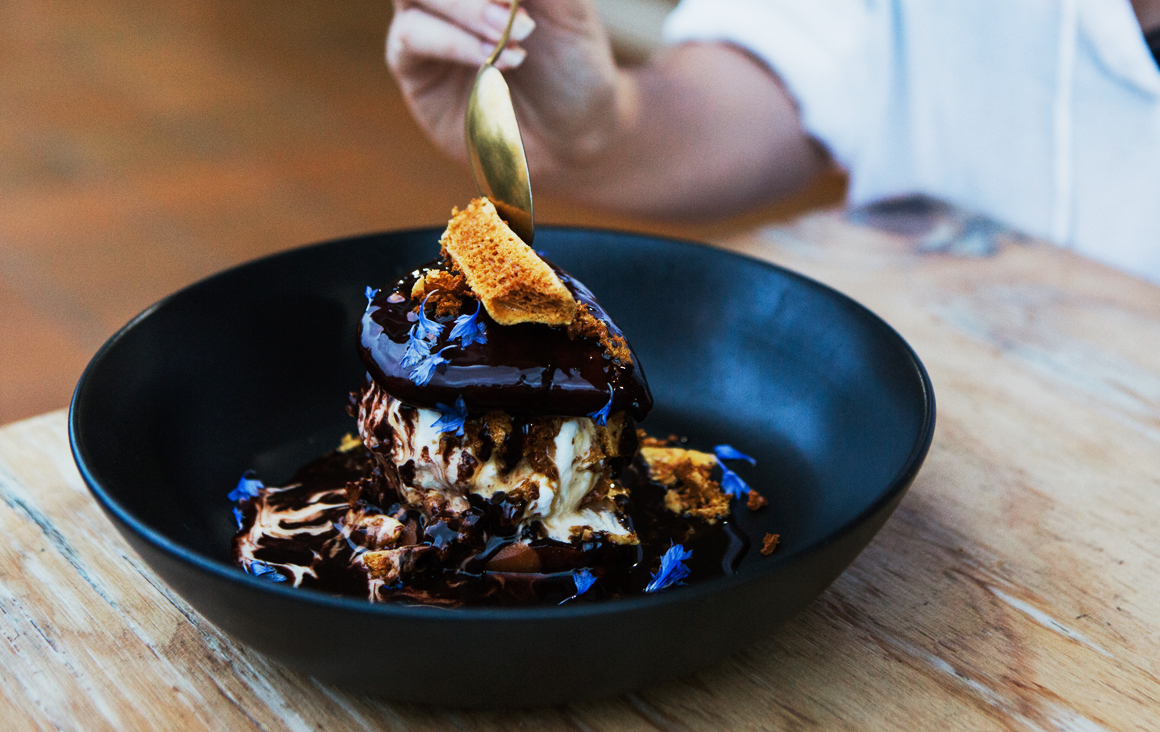 If the headline didn't give it away, we'll serve it to you straight—it was a dessert bao. A freakin' DESSERT BAO, you guys! Now, we don't know about you, but as far as our tastebuds go, we never even knew such a thing existed. So order it we did.
This delicious handful of desserty goodness took our hearts before we'd even laid eyes on it. Just the thought alone was enough to cue the mouth waters, less eloquently known as drooling. But, my oh my, when this thing landed in front of us, we knew these guys had gotten it so, SO right. Which, considering their name is Bao Down, is a very good thing.
Looking like a piece of art, the same bao that is used in the savoury menu is deep fried to perfection and filled with vanilla and honeycomb icecream, drizzled in warmed dark chocolate ganache, and garnished with housemade honeycomb. It's called the Violet Crumble Bao, but "that ridiculously good-looking dessert with chocolate and flowers and stuff" will also ring a familiar bell.
The thing is, there's a bit of a catch. Well, not a catch per se, but more of a win for the spontaneous foodie. So, seeing as desserts are less of a main event, each week the flavour of this bao is mixed up. They're more like a menu special, that are, in fact, super special.
In the past, there's been a raspberry ripe and a banoffi pie dessert bao, but seeing as we can only vouch for what we ate, we reckon we ought to start a petition to bring the Violet Crumble combo onto the full-time menu. Because we so badly want you to try it.
Whaddya say? Interested in devouring this dessert of the gods? Make your case heard in the comments on our Facebook page.
Want more Asian goodness? Check out the Sunshine Coast's ultimate Asian eats bucket list. 
Image Credit: Amy Higg for Metropolist