Let's be real, while we're forever chasing that perfect photo, we're not about lugging a heavy SLR camera around with us all the time. But luckily for us, the advancements of camera quality in smartphones means we don't have to.
The rise of phone photography has certainly skyrocketed over the years and no one knows this more so than Rob Mulally. This Bondi photographer got his start in the game by shooting and practising with his phone before ditching his 9-to-5 job in IT to go pro. So, we sat down with Mulally to get his top phone photography tips in celebration of the launch of the new Samsung Galaxy S20 FE.
Get ready, your Instagram game is going to be taken to the next level.
What triggered your passion for photography?
For me, my passion for photography was always there but I never really pursued it. It wasn't until a few things aligned — like having a great camera on my phone, learning about photography and sharing those photos online — the mixture of all these elements created a cycle that rapidly progressed from mobile photography to buying a camera and quitting my job all within a couple of years.
What inspires your work?
I'm split with what I do. I love practical photography that lets my clients use the photos for their purpose, nothing excites me more than creating a tourism photo that a client uses to promote their destination or a National park would choose as its cover photo. But there is another side, which I'm equally passionate, and that's more creative photography that might convey something more abstract like an emotion or humour — the more technical the better. I love when people think an image was photoshopped or ask how I created a specific video or animation.
What have been some of your biggest "hell yeah" moments so far?
I'm so lucky I have had a few: shooting turtles in the Cook Islands, the mountains in Chile, whales in Tonga, and more recently the night sky right here in Australia in the Warrumbungles.
So you've shot a number of epic photos using the new Samsung S20 FE, what features do you love most about this phone?
For me, it's the Samsung S20 FE's availability of the three lenses plus a high-resolution selfie camera which means I'm spoilt for choice when it comes to what to choosing what to capture, as well as knowing that I can jump into the Pro Mode when I need to take full control and capture RAW files.
Okay, walk us through your top five photography tips for nailing a #nofilter-worthy photo.
1. A phone can go where other cameras can't. So be creative where you put the phone.
2. Make sure what you are taking a photo of is obvious, use the zoom feature to help isolate that subject or move in closer if you need. Crop after when editing. Sometimes less is more, especially on social media.
3. Light is so important; waking up for sunrise or being out taking photos at sunset really can make a big difference.
4. Control your exposure. So many people know they can tap the screen to focus but tap and hold to lock the exposure and use the slider to adjust the photo darker or brighter as needed.
5. Shoot, edit, share, learn and repeat. This is really the biggest secret in photography, those who learn to find the mistakes in their own photos get better the quickest, and a phone is a perfect choice because you can do all this in one device.
So, you're shooting at night time. Do you use flash or no flash?
Usually, I choose no flash. The amazing low light capabilities of phones and the inclusion of Night Mode and Pro Mode mean this is used less and less. But a flash can help you be super creative, so I never say never.
How do you feel about using the zoom feature on a phone? How do the pixels hold up?
The zoom on phones is a game-changer for the composition of photos and having a dedicated sensor and optics means zoom is amazing quality, but just be careful when you go into the digital zoom. A bonus tip for those really wanting to learn about photography is to spend a whole afternoon only shooting with the zoom, this will start to train your eye for the amazing shots you can get with it that you might have otherwise overlooked.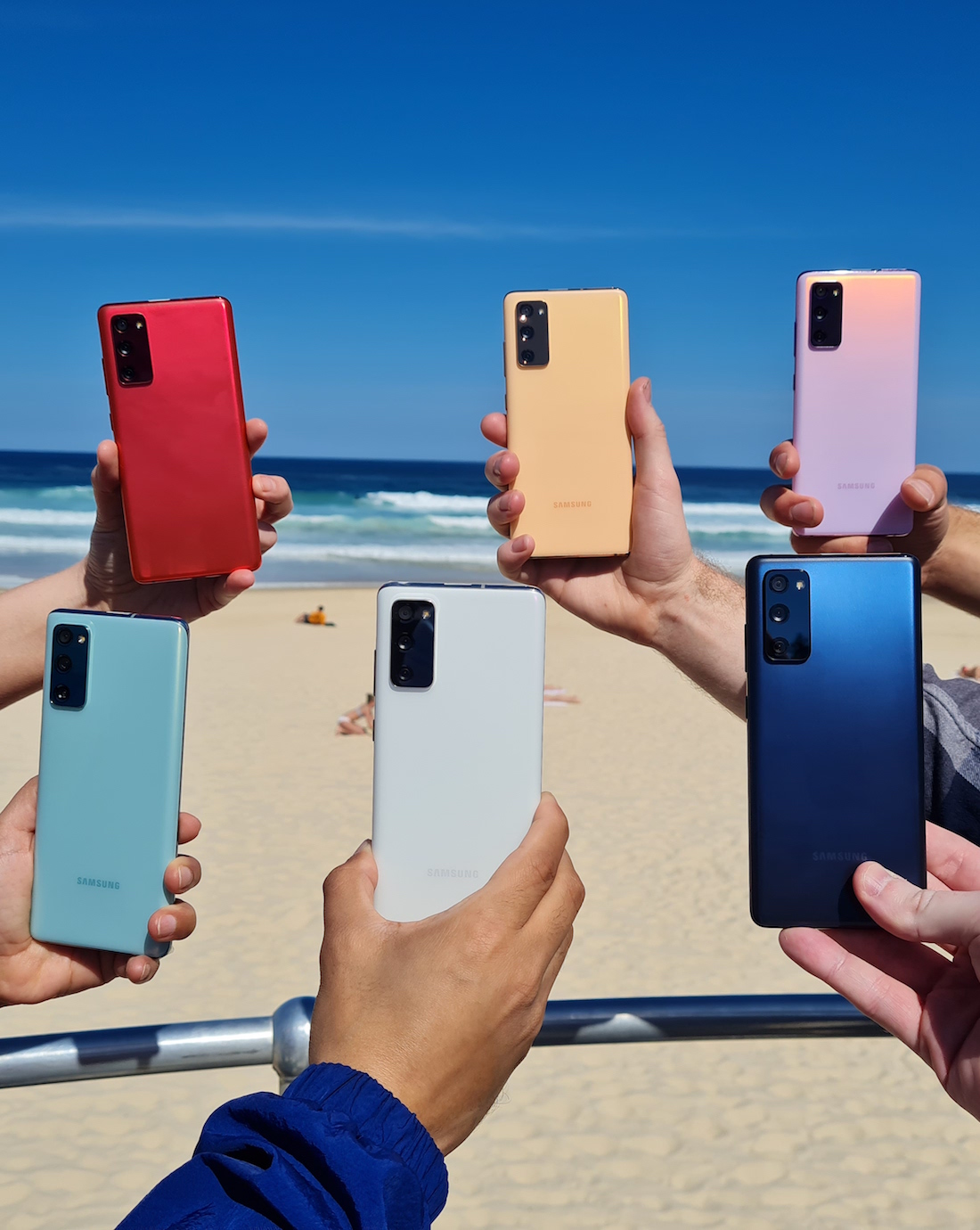 Your advice for nailing the perfect selfie?
Practise and lighting. Samsung has some great ways to trigger the selfie camera by holding up your palm which lets you get a more relaxed pose and not have to stress about how you're holding the phone. So relax, find an open window or doorway that mimicks a big light source, or even a shady spot under a tree (avoid direct light it will cast unflattering shadows) then experiment with your position and pose. Take a few from different angles and positions.
What are your top post-production photography tips? Are there any specific apps or features you use to edit your photos?
I personally use Lightroom or Snapseed on my phone, but there are many great options. Once you have mastered the basics of editing on your phone you will want to have more control editing specific areas of the photo and that's when these tools really start to diverge in what they let you do and how much control you have. For my most serious photos, I also shoot in Pro Mode and edit the raw photos allowing even better control over the edits.
How do you choose the subjects or landscapes for your photos?
I like to be inspired when I'm actually out taking photos, often exploring a new place for the thrill of exploring and just taking a lot of photos is what triggers a sudden idea or 'moment' that makes me spring to life. It can be very difficult to 'visualise' the perfect photos from home. So I like to look on the map where I haven't been and then focus on my five tips and letting the creative process go from there. I think learning this way has helped me, especially when working on tourism campaigns or client shoots as often I need to be creative and think on the fly so the more you have experienced the better.
If there's just one last slice of advice you could leave us with for upping our Instagram photography game, what would it be?
Shoot for the medium or platform. When you're out taking photos, capture different ones for prints, Facebook and Instagram by rotating the camera or phone and composing a shot with that frame in mind. Sometimes you can get away with cropping a photo afterwards but nothing beats a well-intentioned shot and all the elements align in camera.
Get ready to level up your next selfie and Insta game thanks to the new Samsung Galaxy S20 FE. It's the premium level phone with triple rear camera and pro-grade performance for under $1k.
Editor's note: This article is sponsored by Samsung and proudly endorsed by The Urban List. To find out more about who we work with and why read our editorial policy here.