At any time of the day, we take peace knowing it's gin-o'clock somewhere in the world. But since Pomona Distilling Co. opened, we've been wishing it was socially acceptable to be drinking all the gin, all day long.
Set off the main street of Pomona in what used to be an old bakery 100 years ago, this beaut of a spot is like no other distillery we've seen this year. Still incorporating the original brickwork of the building, the entire venue has been completely rebuilt using heritage timbers and any other reclaimed materials possible.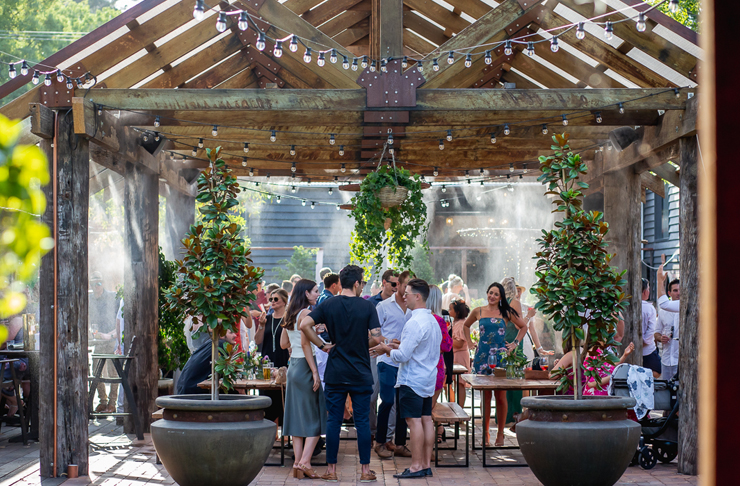 But what really surprised us about this place was all the different spaces within it (all available to hire if you're planning an upcoming event). Once you've found your way through the beautiful bistro—and probably succumbed to the urge of all the delish smells coming from the kitchen—you'll find yourself overlooking a massive garden arbour sprawling even further onto a lush grassy lawn.
But there's more. To the left you'll find a beautifully clad timber bar with copper distillers adorning the wall. There's also a small cellar with large arched windows looking onto a cosy fire pit area. To your right there's an art gallery with its own venue space created from a big old shipping container. And, on the opposite side of the lawn, is the Stillhouse, which is where all the magic is set to happen.
Which brings us to the real reason we're here. The booze. Owner and head distiller Robin Yates has held a lifelong passion for distilling spirits and started producing premium gins and vodka on his family's rural property in Pomona. Now a fully-fledged family business, Pomona Distilling Co. was created to share their love of handcrafted spirits with the community, a major drawcard being that you can book in to distill your very own gin or vodka!
Regular masterclasses will be underway in early 2020. And with so many different inspiring spaces to hire out on the premises (the main arbour seating up to 100 people!), you may have just found the perfect setting to get all your fave people together to try your very own blend of gin or vodka. There's even the option to create and personally label mini bottles of your own blend to send home with guests. How freakin' cool is that?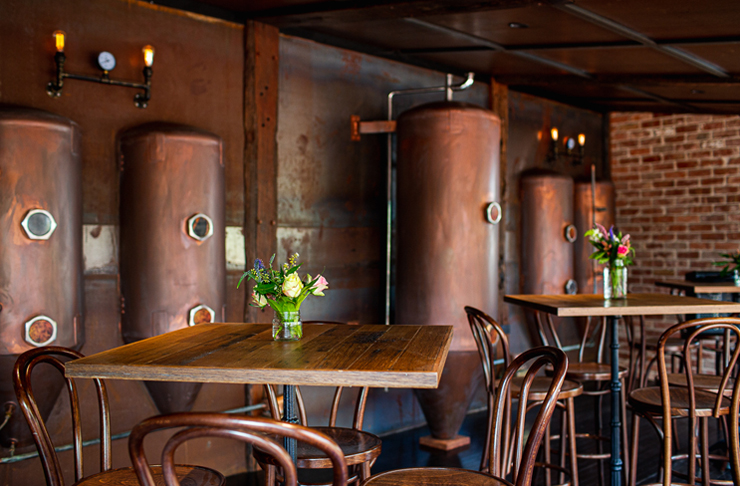 And because you're all such responsible type folk, we know you're not going to be doing all this drinking on an empty stomach. So, let's talk food. The bistro is serving up all sorts of tasty pub-grub type food, but with class. They had us with their small plates of pulled pork sliders, apple slaw and crackle, and stir-fry green peppercorn king prawns. And we'll definitely be back to sample some of their larger plates: think confit pork belly with garlic pepperblack wild rice, vanilla apple jus and crackle.
We're also totally hanging out for when they start up their monthly long table degustation nights under the stars. It's going to be amazing.
But the real star of the show at Pomona Distilling Co. has got to be their four hand crafted spirits, including a Signature Dry Gin, Pink Gin, Butterfly Pea Flower Gin and their Vodka. Drink them with the usual suspects or try one of the moreish cocktails on offer.
Either way, make sure you sit yourself under the cool mist of the arbour with a drink, eat some good food and play some games on the lawn.
Safe to say the rest of our summer afternoons are sorted.
Pomona Distilling Co. is now open Wednesdays and Thursdays from 12pm to 8pm, Fridays and Saturdays from 12pm to 10pm, and Sundays 11am to 6pm.
The Details
What: Pomona Distilling Co.
Where: 18 Reserve Street, Pomona
When: Opening hours listed above.
Image credit: Chevaune Hindley