Planet Earth is made up of approximately 71% water and with that much water comes a helluva lot of swimming opportunities.
So, with so many chances to dip your toes, make a splash or dive deep, we wanted to showcase some of the most jaw-dropping, breathtaking, and spellbinding swimming spots on the planet, to do just that.
From Scotland to Mexico, you're gonna be packing your snorkel and speedos before you've even reached the bottom! Here are nine truly magical swimming spots from around the world.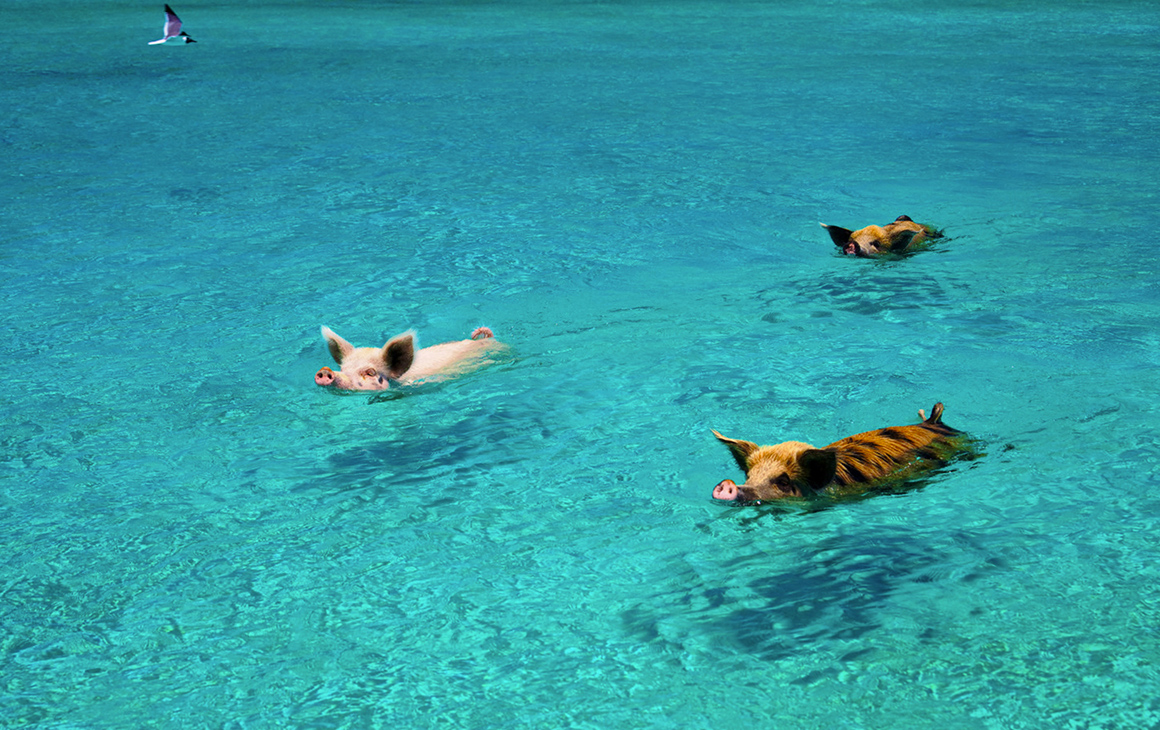 Pig Island | Bahamas
Remember when swimming with dolphins was the cool thing to do on your hols? Well, forget those bottle-nosed creatures, it's time to embrace a certain snouted creature instead. We all know the Bahamas is famed for its straight-out-of-a-travel-brochure scenery, but did you know about a little place called Big Major Cay? Commonly known as Pig Island, this completely wondrous place allows for tourists to swim with these water-loving porkers! Not only will you be treated with picture perfect scenery, you'll also be rewarded with a camera roll full of swimming pigs!
Grjótagjá | Iceland
Iceland is cold. We get that. There's no way you'd wanna dip your toes in anything that's not over 20 degrees! We have a solution that's going to blow away the cobwebs—and your mind. Grjótagjá is a natural, thermal pool nestled inside a rock-covered cave. How awesome does this sound already?! With its teal-coloured warm waters and subdued natural lighting, this is an Iceland gem that's off the beaten track, which will make you the envy of even your most avid travelling friends.
Cenote Ik Kil | Yucatan, Mexico
Twenty-five metres below ground in a collapsed cave, you'll find Cenote Ik Kil. With shimmering, emerald waters filling the subterranean basin and dripping vines spilling from the entrance to the open-air swimming spot, this makes for a breathtaking bathe. The specially carved, limestone staircase will lead you down to the water where you can swim, dive, and play until you're as wrinkled as a prune!
Fairy Pools | Scotland
If you ever find yourself in sunny Scotland (okay, so it's not that sunny, TBH), don't think that it's all tartan and shortbread. The aptly named Fairy Pools is a Scottish swimming spot that's definitely worth a mention; with cascading waterfalls leading into a crystal-clear watering hole in the middle of rugged hills and spellbinding scenery, you'd be silly not to keep an eye out for mischievous fairies! P.S, we are sorry to say, it's not warm!
Giola | Thassos, Greece
Greece is famed for its whitewashed, blue-roofed buildings, stellar beaches and superb islands. As if that wasn't enough to get us packing, they have to go and throw a killer swimming hole in there too. Situated on the island of Thassos, Giola is a naturally formed lagoon separated from the sea by only a narrow strip of rock. It's filled when high waves crash into the pool, making for a simply gorgeous swimming destination. Add in the surrounding rocks, which are perfect for sunbathing and you've got yourself one heck of a spot!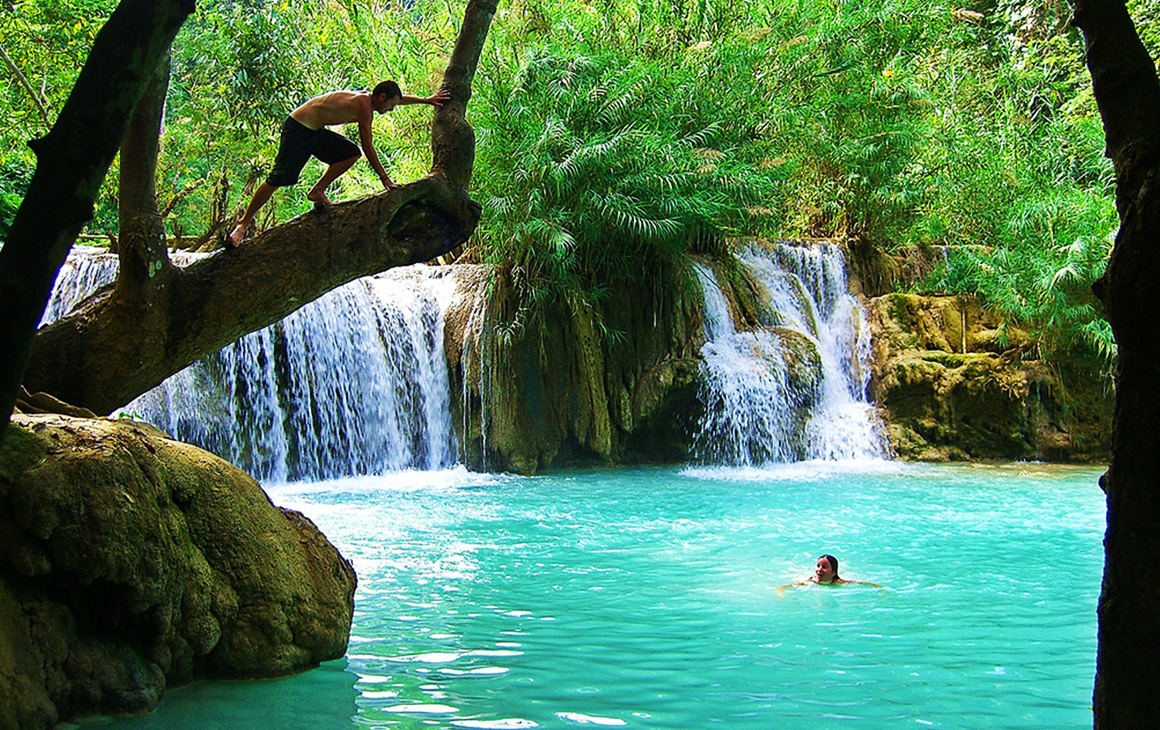 Kuang Si Falls | Laos
Whether you take a tuk tuk or hire a scooter or boat, you have to visit the spectacular Kuang Si Falls in Laos. With a cascading waterfall making its way through three tiers of pools and with mesmerising, turquoise waters, this place couldn't be more inviting if it tried. Not only can you swim and splash, you can also hike to the top of the waterfall. You'll be rewarded with views of the surrounding mountains, rice fields, and pool below. Can we just go already?!
To Sua Ocean Trench | Lotofaga, Samoa
We'll give you the bad news first, you have to pay to visit To Sua Ocean Trench. Good news, it's totally worth every cent. This naturally formed, 98-foot hole is surrounded by lush greenery, is filled with stunning waters, alongside an abundance of tropical fish and a sandy bed. Take steps down the ladder to begin your descent into this marvelous masterpiece and at the bottom you can take the plunge into the splash-worthy waters and dive continuously off the wooden platform. Can you spot Nemo?
Macarella Beach | Menorca, Spain
Locals say you can still sunbathe in winter and the flock of visitors in summer show just how incredible Macarella Beach really is. With tiny glistening coves and with a calm body of sparkling seawater, this paradise haven is nothing short of spectacular. Sheltered by the surrounding pine tree-covered hills and blue skies, we can't find fault this Balearic Island utopia. If you're feeling ballsy (literally), why not head 'round the corner to make the most of the nudist beach?
Dead Sea | Jordan
Featuring as many outstanding swimming spots as we have, we couldn't go past the Dead Sea for its uniqueness and complete wow factor. Although it's called the Dead Sea, this body of water is actually a lake—a rather salty lake at that! To look at it, you may think that it's just your average run-of-the-mill lake. However, immerse yourself and you'll soon discover that you can float. No, you haven't discovered magical powers or the ability to defy gravity, you've just learnt exactly what this water phenomenon is made of! Bob away to your heart's content and prepare for a load of LOLs.
Not heading OS anytime soon? Never fear, we've got a bunch of amazing swimming spots on the Sunshine Coast.
Photo Credit: The Huffington Post, Flickr, and AmazingPlacesOnEarth.com