Booking a weekend away in Melbourne? Already gearing up to put on your eating pants and make the rounds through all of your inner city haunts? Think again team. Oh, you'll be going to Melbourne alright, but this time you'll be heading west and straight to Footscray for all the African and Vietnamese eats, markets trips and (duh) booze you can handle. Plus a few coffees because 'when in Melbourne' etc.
If you've never heard of—much less visited—Footscray, then buckle up. Home to Franco Cozzo (Google him) and some of the best cannoli in town, we'd like to formally welcome to your new favourite foodie spot in Melbourne.
Pride Of Our Footscray Community Bar
With a view over Footscray market, the location of the west's newest community-run bar is nothing short of iconic. The community pride here is strong, but also just the straight up pride for diversity, sexuality and, you know, humanity. Pride of Our Footscray is a good time, with great eats, booze, drag, lots of sport, private karaoke rooms and pool tables to boot—they basically have everything.
Footscray Milking Station
With no distinct signage aside from the old newspaper adverts, Footscray Milking Station is a café serving up a great coffee, cracking brunch and a couple of vegan dishes to choose from as well. Start with a coffee (obviously), before hitting up the vegan cauliflower buffalo wings (as good as they sound) before making a U-turn back to the coffee menu.
Bad Love Club
If you prefer your cafes candy pink and your toasties extra AF, then you need Bad Love Club in your life. It's an all-day jaffle bar and bakery by day, and a pumping late-night dessert and cocktail bar by night, so basically you'll be starting your day right with a strong brew and a Frankie jaffle (it involves baked meatballs and marinara sauce in a GARLIC BREAD JAFFLE), then rounding out the day with Smoke on the Vodka cocktail which is only every single one of your espresso martini dreams come true. No biggie.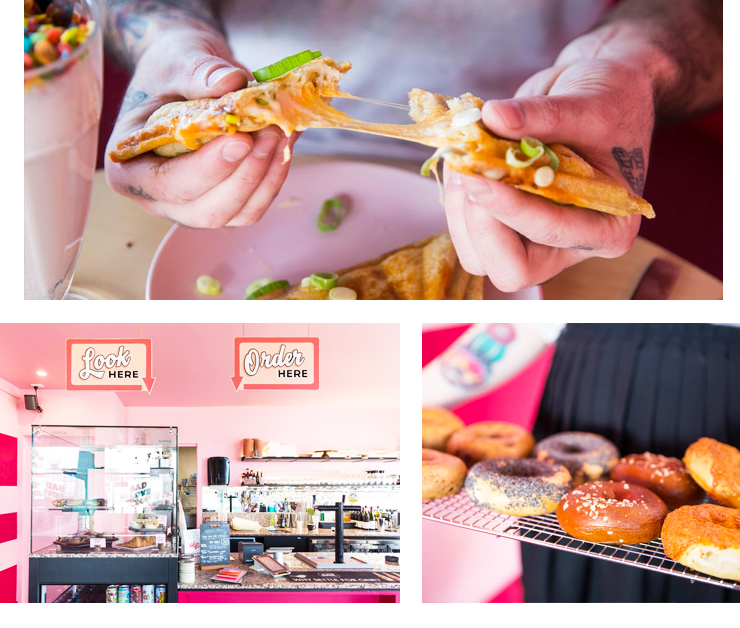 8bit
By now, you're all well familiar with 8bit burgers and that's for a damn good reason. Fusing video games with burgers that don't muck around too much, it's one of our top spots to hit for a quick feed. As per usual, we think you should just keep it classy with the 8bit with cheese because some classics never so out of style.
T. Cavallaro & Sons
Famous for some of the best damn cannoli in Melbourne, T. Cavallaro & Sons is a legit Italian patisserie where the pastries never change and that is a very good thing. There isn't much room for sitting—or anything, really—in here, so we suggest you order up big and take it home to devour. Also, take one to your mum; she deserves it, okay.
Footscray Market
Arguably one of the most authentic (and full on) markets in Melbourne, Footscray serves nothing but the freshest. Whether you need to stock up on meat or seafood, or some dried goods and produce for your own kitchen, put on your bargaining hat and go to town here. Our top pick? The herbs. It sounds weird but they're cheap and fresh AF.
Back Alley Sally's
Set inside an old abandoned warehouse, Back Alley Sally's is a screen printing factory turned watering hole serving up top notch tipples and a mean feed. Here, you can grab pizza by the slice and they're slinging everything from a classic ham and pineapple combo to a vegan slice, and a couple of healthy salad and soup options too. The drinks menu is extensive, with more craft brews, gins and hard liquor than you'll know what to do with—just the way we like it.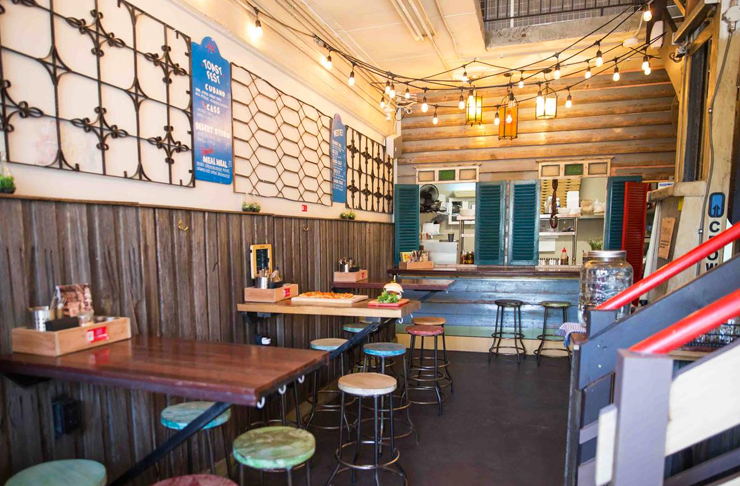 Mr West
From the outside, Mr West looks like your average bottle-o with a YUGE collection of wine and beer, but what you might not notice at first glance is the stairs leading to the bar upstairs. The rule here is pretty simple—either grab and go or pull up a pew, grab a glass and start drinking. Head here after 4pm (Wednesday through Sunday) and you can do all of that, or walk upstairs to the bar (with or without bottle in hand) and commence drinking.
Huxtaburger
Another burger joint that's quietly taking over Australia (one city at a time), Huxtaburger is an eatery that you're probably very well acquainted with this one already. Their ethos is all about keeping the burgers simple and lip-smackingly good and on that note, you really can't go past the Theo: double grass-fed beef patty, double cheese, bacon, bbq sauce, mustard, mayo, tomato, lettuce and pickles. Of course, if the thought of that behemoth makes your jeans explode, there are plenty of, err, lighter options as well (it's all relative, right?).
Fox In The Corn
Four words: pizza, pasta, craft beer. Now here's a few more: Fox in the Corn is all about locally and ethically-sourced produce and they've enlisted the guys from Millgrove Pasta to deliver a simply comforting (and just plain simple) menu. First, pick your pasta (you'll be choosing between spaghetti and ravioli) then pick your sauce—or head straight for the specials menu for things like gnocchi and gorgonzola or pappardelle with roast lamb. And before you panic about the lack of beer menu (even though we've already told you there is one), just know that it has its own special menu that'll demand a chunk of your time—it's damn long.
Small Graces
As the seasons change, so too does the menu here at Small Graces and that means you'll be transitioning from blueberry smoothies (packed with banana, maple syrup and peanut butter) for summer and comforting dishes like their Bean There, Done That (slow-cooked white means with roasted garlic, pecorino pepato, crispy kale and chestnut chips) during winter. One thing we love about this place though is their list of small dishes and sides. Each little dish ranges from $1 to $6 so you can build your own breakfast from scratch. And you know what that means team—bring your special friend with all the dietaries (we've all got one).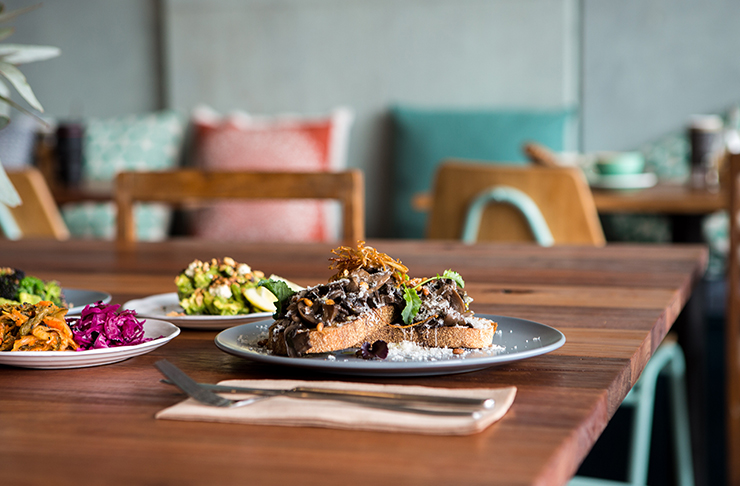 Up In Smoke
Let us all take a moment to thank the good guys behind 8bit for this slice of deliciously smoky meats. Done? Good. We've got some eating to do. Up In Smoke is the BBQ joint you head to when all you want are ribs done right and a beer on the side. Their overnight-smoked brisket deserves your serious consideration too which is why you're ordering a little bit of everything. Expect a hand-delivered tray stacked with brisket, a rack of pork ribs, some pulled pork and a few sides (helloooo chilli mayo slaw) and we suggest a heavy sample of their beer selection too which is a winner whether you grab a tinnie or something from the taps.
Roti Road
Combining the best of Malaysian dishes with a pinch of Chinese flavour, don't muck around when you head to Roti Road. If you're dropping in for yum cha then you'll be filling your table with all manner of Malaysian-style snacks. Otherwise, scroll your little eyeballs all the way down to the roti menu for a literally silver platter filled with sambal, curry, dhal lentil and the reason your all here—roti.
To's Cafe
Hiding in plain sight on one of Footscray's busiest strips, this place doesn't look like much, but then that's kind of the case with most of Melbourne's best banh mi joints. They focus on food more than marketing, so it's easy to dismiss them from the street. In the case of To's, that would be a big mistake. Give the grilled chicken a miss and stick to the BBQ pork: it's not too salty, and it comes with meaty pate, pickled veg and pork floss to boot. The rolls always come with a big smile (which isn't always the case at other bakeries), and you can upgrade to 'extra meat' for a cheeky $1.50. Highly recommended.
Phat Chicks Fried Chicken
Footscray's answer to fried chicken, Phat Chicks has a not-so-simple but concise menu with juuuust enough variety to suit both white and dark meat lovers. With breast, thighs, wings, drummies and ribs all accounted for, your next choice will be what sauce to slap on them (original, sweet chilli garlic, sesame soy, cheese or spicy). Grab some rainbow slaw and Cajun fries on the side too and, fine, some cheese Japanese curry gravy too for a next level chicken-fuelled food baby.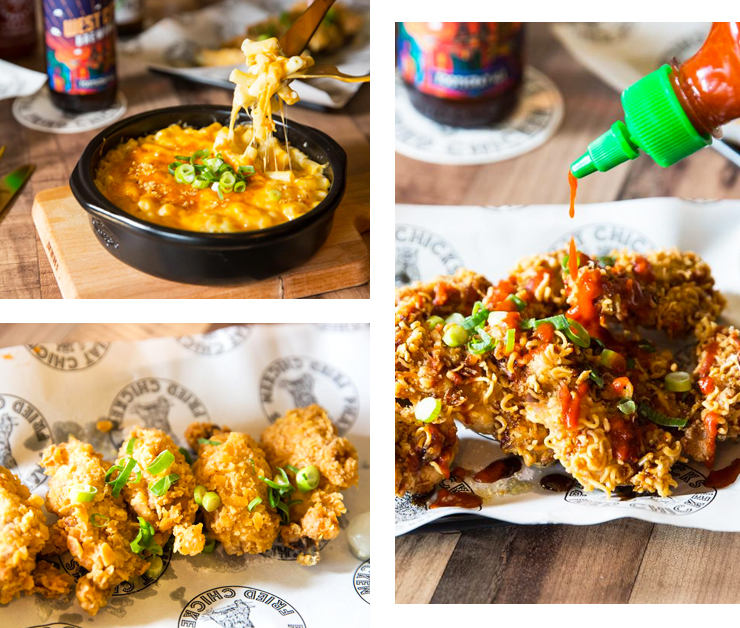 Cafe Lalibela
Cafe Lalibela in Footscray is another much-loved Ethiopian restaurant in the west. It's been dishing up consistently delicious dishes for over a decade now and has more than earned its stripes on the Melbourne food scene. We recommend the pan-fried chicken as well as trying one of their imported beers.
Konjo Ethiopian Restaurant & Craft
Set in two equally delicious locations—Footscray and Collingwood—there's almost no excuse not to let Konjo Ethiopian Restaurant & Craft turn your hard-earned dollars into an easy to devour meal. Their homely atmosphere makes sharing one of their massive communal platters even more fun, plus their vegetarian platter is definitely one to phone home about, especially at such a reasonable price.
If you're heading further afield, here's a list of reasons to consider Malta.
Image credit: Bad Love Club & Back Alley Sally's | Jenna Fahey-White, Small Graces, Phat Chicks | Ben Tyers