Let's be honest, if you didn't gram your cotton candy-topped French toast, then you definitely didn't eat it. We're all suckers for a bit of #foodporn (don't deny it) and there's no better place to capture a pretty snap than Sydney's most Instagrammable café, Speedo's.
This North Bondi eatery has built up a rep for serving up some of the most jaw-droppingly b-e-a-utiful (and delicious) food in the city. In other words, it's a foodie lover's dream.
To help you navigate their jam-packed menu, we've picked out the best of the bunch. From stacked and drizzled pancakes to bright-pink bowls and slightly naughty rolls, here is some of the most Instagrammable dishes in Sydney.
Caramelised Banana And Chia Vegan Pancakes
Whoever said healthy pancakes couldn't be pretty AND taste good obviously hasn't been to Speedo's. Vegan or not, order the caramelised banana and chia pancakes and you'll be treated to a sky-high stack of three pancakes with poached berries, fig, pistachio crumble and maple syrup. Keen to go full-blown cheat mode? Dive into the triple stack pancakes and add ice cream. Whatever you choose, you're guaranteed a stunner of a meal.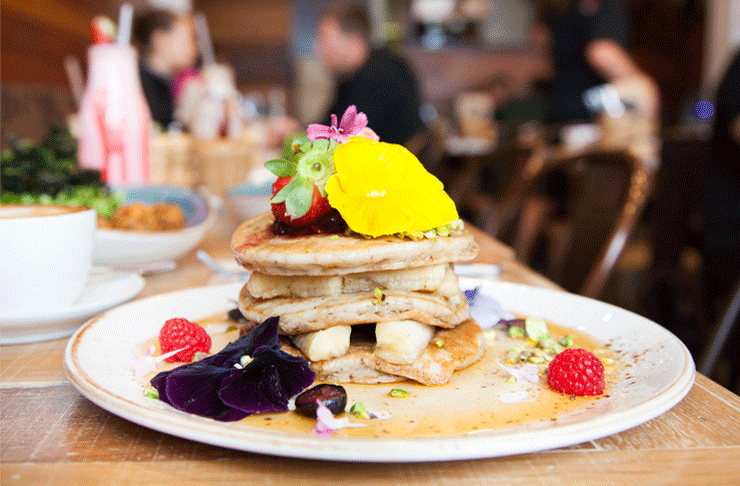 Green Goodness Bowl
If you and green food aren't best of mates, prepare for that to change once you meet Speedo's green goodness bowl. Not only is it super photogenic, it's loaded with poached eggs, avocado, chickpea, flax and sesame seed fritters, pepitas, vegannaise, kale crumb, leafy greens and quinoa soy sourdough toast—yum! Both your body and your gram will thank you.
Raspberry And Lemon Hotcake
Who doesn't love a hotcake on their Insta feed? Speedo's oh-so gram-worthy raspberry and lemon hotcake is bound to reel in all the likes. Think a HUGE hotcake covered in honey whipped ricotta, poached fruit and generously drizzled with maple syrup. If that wasn't enough, it's topped with delicate, edible flowers! Brace yourself for some serious Insta-lovin'.
Pink Pitaya Bowl
Pitaya what? Yep, those bright-pink bowls you've seen all over Insta can be found at Speedo's. A pitaya bowl is basically dragon fruit blended with other fruit and decorated with even more fruit—uh huh, it's basically a fruit party in a bowl. Speedo's make theirs with mango, coconut, blackberry, strawberry, passionfruit and kiwifruit before sprinkling tasty vegan granola. And the best bit? It's as scrumptious as it is stunning.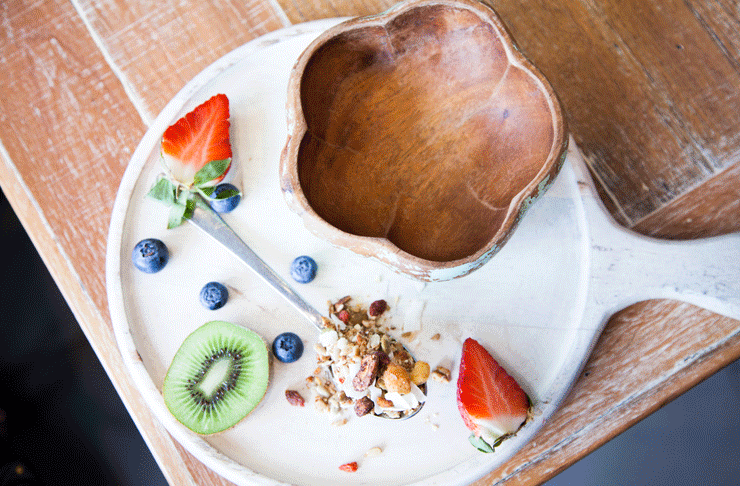 Egg And Bacon Brioche Roll
Now, now, we know what you're thinking—an egg and bacon roll can't be anything special. But let us tell you—Speedo's knows exactly what's up when it comes to making said humble roll. Rashers of bacon and a perfectly fried egg are sandwiched between a soft, buttery brioche bun with BBQ tomato relish and cheddar. Heck, it even comes with a side of not one, not two but THREE hashbrowns! If that doesn't up your gram cred, we don't know what will.
Inspired to get snap-happy? Find Speedo's location, opening hours and all the deets in The Directory.
Editor's note: This article is proudly sponsored by Speedo's and endorsed by The Urban List. Thank you for supporting the sponsors who make The Urban List possible. Click here for more information on our editorial policy.
---
Image credit: Federica Portentoso