Australian artist and designer Jonathan Zawada is a rare breed, neither an artist who lends his hand to design, nor a designer who dabbles in art, Jonathan has exhibited an equal breadth of talent in both fields.
Working across the music, fashion, publishing and corporate industries as a graphic designer and creative director, and as an artist whose indelible drawings, paintings, installation and sculpture have been collected by the likes of Elton John and Greek shipping magnate Phillip Niarchos (renowned for purchasing the most expensive art ever sold at auction), Jonathan's body of work is an impressive one.


Elton John's 'Money Problems' Jonathan Zawada's exhibition 'Over Time' held at PRISM gallery, LA, 2010-2011


'King Mambo' illustration in pencil by Jonathan Zawada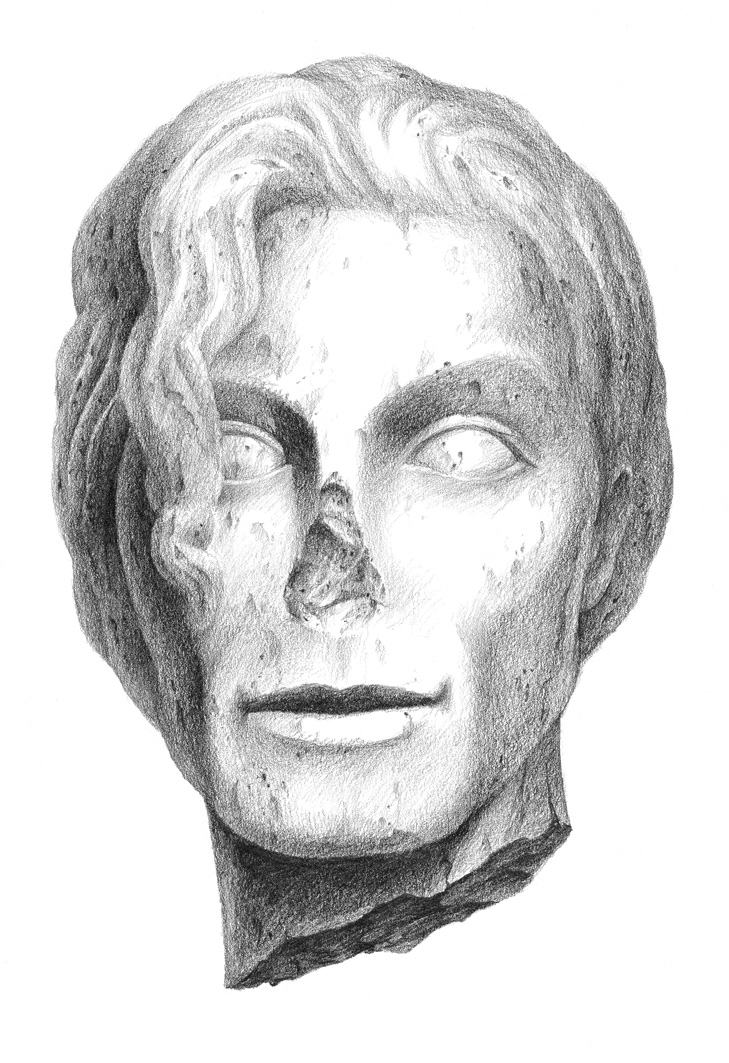 'Romans' left, commissioned by World of Lemons magazine for the 'King of Pop' issue; and pencil illustration right, taken from 'Boolean Values' exhibition 2008, Monster Children Gallery
"I used to try and keep the two things separate [design and art] for a really long time and I thought they were very different disciplines. You have to have an intention when designing something, but you don't have to have an intention when creating art—though you can. There is a crossover there," Jonathan explains.
"Mid last year I had an epiphany . . . I had always had trouble explaining the line between art and design. Then I questioned, 'why am I making a superficial division between the two?'"
In 2011 Jonathan and his wife Annie moved from Sydney to Los Angeles so Jonathan could focus more heavily on his art. Living in LA Jonathan noticed a considerable amount of contemporary art referencing hip hop culture visually, he had always thought of art as being ahead of design.
"I realised these artists were referencing culture and that there was an opportunity in design to influence culture and really engage with it. This is what made me realise design influences art and vice versa, just not in the hierarchy I used to view it."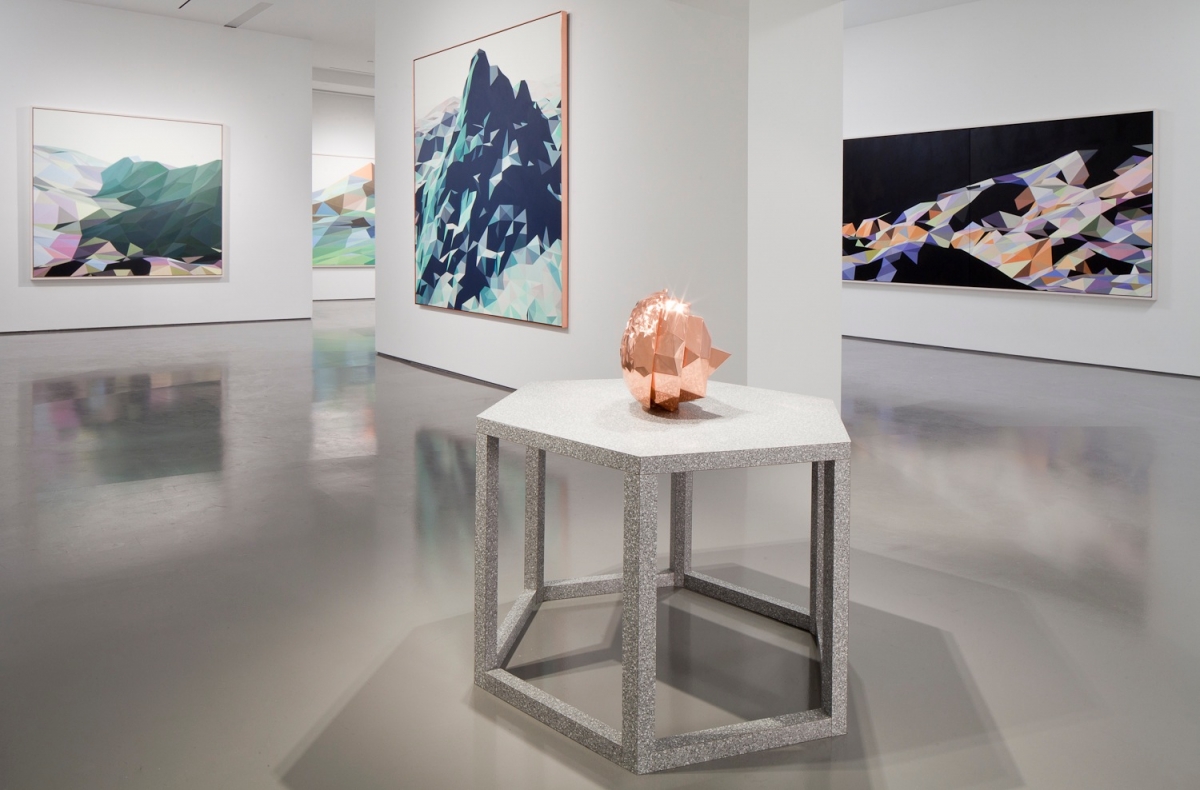 'Free Roam Above The Mist' paintings, installation and sculpture by Jonathan Zawada, second solo exhibition at PRISM gallery, LA, 2012
"Once I became comfortable with not really fitting into the art world and not really fitting into the design world, my anxiety over all that fell away. I apply this approach to all that I do now—I just want to make things I enjoy, whether art or design. Like working with Romance Was Born, I loved it, working with them feels the same as working on an art-based project," Jonathan says.
This is not surprising considering Romance Was Born designers Anna Plunkett and Luke Sales work with a different artist each season as a source of inspiration and collaboration. 'Dream On' is their latest collection for which the duo collaborated with Jonathan Zawada and artist Alia Penner. Jonathan designed textile prints from Alia's artworks, either re-collaging or turning them into repeat patterns for the fabrics. Two thirds of the collection is made from Jonathan's original designs, which play on the themes of 60s psychedelia, marching bands, lava lamps and peace/ gender symbols.


Jonathan Zawada textile design for the Romance Was Born 'Dream On' 2014 collection

"The idea for the repetition of figures in the marching band print actually came from when I created the artwork for The Presets' album 'Apocalypso' and the single 'My People'. This idea of these guys trapped on an asteroid planet alone, and duplicating, replicating themselves in a space psychosis. I created a story behind the creative and made the outfits and sets for the album artwork. Kris Moyes [who directed the clip] wanted a synergy with the artwork for the video clip and we workshopped the idea of this mass repetition of people in motion, which he actualised," Jonathan explains.

Jonathan Zawada's art direction and design for The Presets' album cover 'Apocalypso' won the 2008 Aria for Best Album Art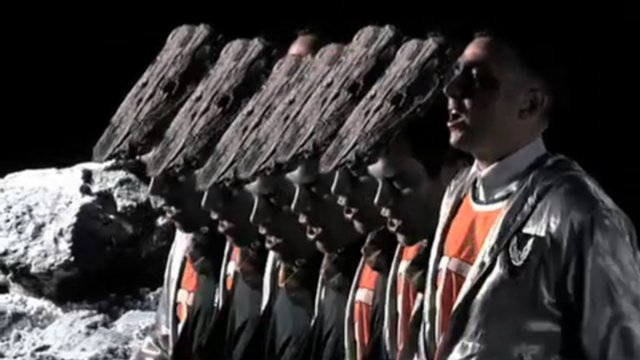 A film still from The Presets' 'My People' clip directed by Kris Moyes

Revisiting ideas from the past has become a large part of Jonathan's current practice, previously he worked a great deal with references. "When I moved to LA I left all my books in Australia, so I am referencing less directly. Now that I have been working for 12 years I have a large body of work to draw on, I reference things I am doing now or ideas from the past, it seems to be quite effective."
In 2007 Jonathan gave a groundbreaking presentation at the design conference Semi-Permanent, in which Jonathan talked openly about the references he drew upon for particular jobs he had undertaken. The reaction to his speech from designers was overwhelming, and in response Jonathan created a blog where next to each job he linked to all the references he used. To this day Jonathan is approached by designers, particularly in LA, who express just how much his openness on the topic resonated and impacted upon them.
"There has been this illusion that graphic designers create and invent themselves and that the work wasn't referenced. People steal ideas all the time and that is fine. You need to reference an existing visual language in order to communicate, designers aren't doing their job if they don't reference an existing language."
Another exciting and ongoing collaboration is Jonathan's work with fashion label Bassike. Jonathan designed Bassike's branding when they launched in 2006 and has continued to collaborate with the label since. Two limited-edition Jonathan Zawada prints are currently available in store, as part of the A/W 2014 collection—so don't miss out because they are sure to run out the door.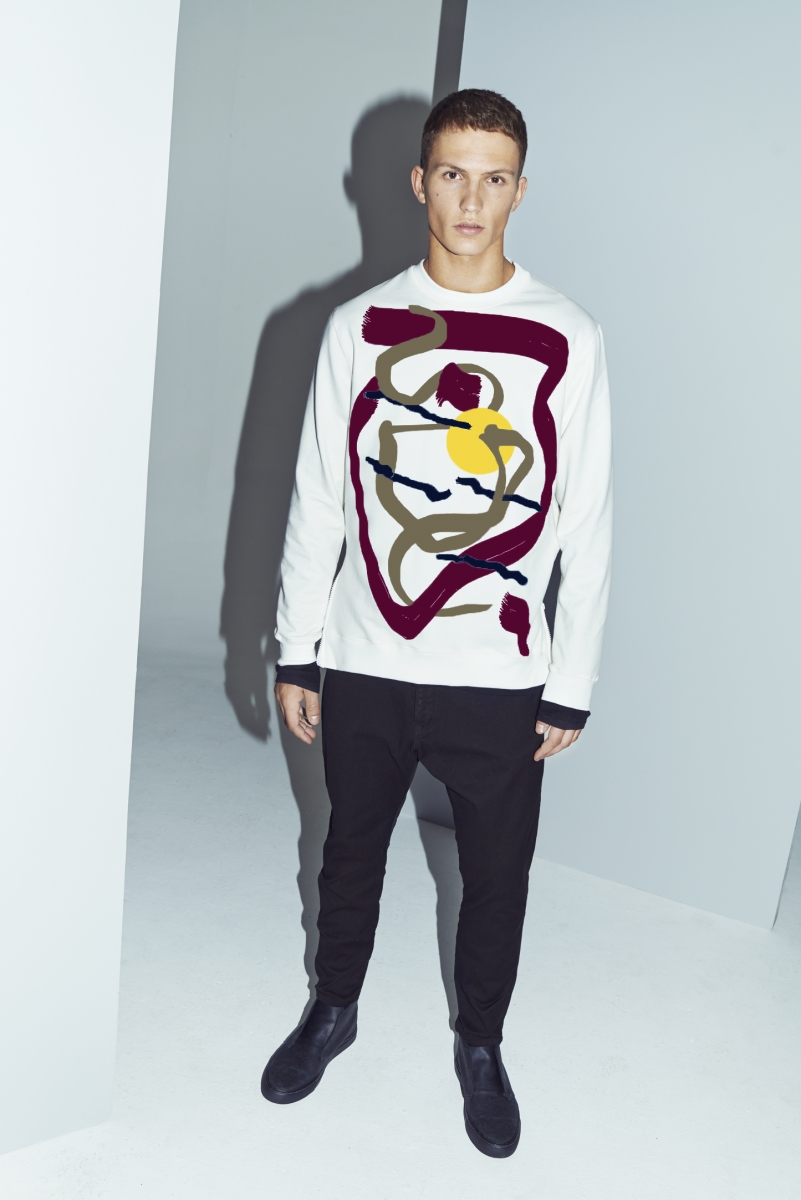 Jonathan Zawada limited-edition print for Bassike's 2014 A/W collection, in store now

Now to the art. Though Jonathan is renowned for his illustration and paintings, his latest exhibition, Real 3D opening this week at Sarah Cottier Gallery in Paddington, comprises fabric mesh installations.
The works appear deceptively simple, but the construction is in fact quite complex and involves several layers of mesh, wooden frames and welded steel. Jonathan began with his own prototypes but perfected the construction working with a metal welder. The focus of the works is the unsettling optical illusion of moiré—the patterned appearance of ripples, waves or stripes in distorted motion.


When Jonathan first moved to LA he noticed the moiré effect all around, particularly via the chain link fences that line the freeway overpasses—probably not the safest place for such a distracting phenomena. . . Moiré seemed to follow him, on the back of his office chair, between the mesh-lined front door and fly screen, Jonathan would find himself zoning out to the effect for ages, really enjoying the experience. Previously Jonathan had created large-scale, hand-drawn Magic Eyes becoming very interested in patterns that are hard on the eye.
Jonathan experimented with different patterned effects and colour combinations, all the while working to make the construction elegant and the moiré effect maximised. There are deeper contextual layers to the works relating to Boolean Logic and the illusions of consciousness.


"Ages ago I read 'I Am A Strange Loop' by Douglas Hofstadter, which looks at the illusion of consciousness. There is no actual part of the brain that contains consciousness; the individual parts of the brain create an illusion of it. Individual, disconnected events that add up to the illusion of something. Also I've referenced Boolean Logic, the mathematical science behind the way computers work, in almost all of my previous exhibitions."
According to Jonathan the individual dots of space in the mesh either allow or don't allow light to pass through, depending on where and how the layers of mesh clash and interact, there is no organising factor—each dot operates on its own. Thousands upon thousands of dots adding up to create an illusion of something that is not there.
The experience of observing these works is truly individual to that person, it is dependent on where you stand, your height, even the space between your eyes. Each human eye views from a slightly different angle and then the brain reconciles the two versions as best it can and the result appears in 3D.
And just to warn, Jonathan quite enjoys this enhanced viewing experience, even if it is a tad nauseating one. Real 3D is running from the 6th of February to the 1st of March at Sarah Cottier Gallery.
Sarah Cottier Gallery
'Real 3D' Jonathan Zawada
The 6th of February to the 3rd of March, 2014
Address: 23 Roylston Street, Paddington NSW 2021
Ph: 02) 9356 3305