Whether you like it or hate it, there's no denying that Merivale is killing it when it comes to taking a restaurant concept and completely owning it. Take Mr Wong for example, sure we've seen our fair share of modern Chinese restaurants in Sydney, but there's something different about Mr Wong that makes him so right. Even three years on, it's still one of the best Chinese restaurants in Sydney.
When the 240-seat mega restaurant opened in 2012 the Hemmes family reportedly invested around $4m to totally erase any hint of the building's former life as Tank nightclub (remember that place?!). Bettina Hemmes, along with designer Michael McCann and interior super stylist Sibella Court, are behind the conversion, which now resembles a colonial-era Shanghai teahouse with a sort-of-industrial feel. Think graphic plates on the walls, eclectic teapots on floating shelves and exposed brick aplenty. There's also a dim sum kitchen, a roast meats counter and a drying room—all of which contribute to the overall spectacle.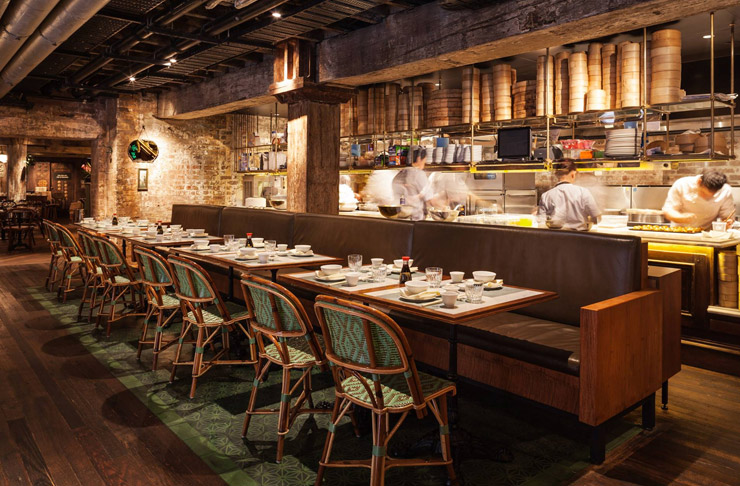 The place is modern, trendy even, but the flavours pay homage to Cantonese culinary tradition without too much deviation. Despite dim sum chef Eric Koh's departure in early 2014 and swift return after a short stint at Tim Ho Wan, yum cha is still delivered at great heights of finesse during lunch. Don't worry, dinner guests can score six and eight piece-assorted dumplings ($25 and $32) as an entrée (just make sure you grab the scallop and prawn shumai before anyone else).
Other must-have starters include the yellowfin tuna which comes with kohlrabi and a nicely balanced soy and ginger sauce. The accompanying sweet wasabi dressing lacks flavour, but proves unnecessary anyway given the quality and shear delicacy of the tuna.
Duck, either in pancakes or roasted and swimming in its own juices, is a tasty obligation at a place like this, as is the sweet and sour crispy pork hock, which feels more like a dish of pulled pork that has been reshaped and deep fried in a sticky hoisin dream sauce.
Although the live seafood will put you back a bit come bill time (those market prices will get you!) the roasted Aussie toothfish, cooked "char siu" over an open flame to bring out every flavour imaginable, is an attractive alternative.
For dessert, the mango pudding with coconut tapioca, lychee granita and mango pearls is a delicious departure from the usual plate of fruit offered at your run-of-the-mill Chinese restaurants in Sydney.
At regular dim sum joints tea is a given and a soft drink request will repay you with an odd, if not inconvenienced look from the wait staff, but Mr Wong is different. There's a wine list that reads like a novella, a cocktail collection filled with hipster favourites (gin and rhubarb bitters, anyone?) and plenty of micro-brewed beers on offer.
Mr. Wong continues to set the bar high when it comes to top-notch produce cooked with the kind of skill rarely seen in large-scale Chinese restaurants in Sydney. If you haven't paid a visit to Mr Wong recently, do yourself a favour and get in on the deliciousness.
Looking for more tasty, tasty reviews? Check out Surly's, Thievery and The Hayberry.
Image credit: Mr Wong