The eye-catching LED-screened door, tucked away on the corner of Bligh and Hunter Streets, leads down to Neil Perry's oriental underworld, Spice Temple.
The staff is uniformed, informed, highly attentive and service orientated. They know the menu inside out, and are willing to accommodate your heart's ordering desire.
Within our mottled dining group on a Friday night, nut allergies and chili intolerance lurked. Our waitress, rather than grinning and bearing the particulars, embraces the challenge and offers us menus catering to each specific requirement.
The chef took accommodating our needs one step further, adapting all the dishes we ordered (some of which were to be carefully avoided by the nut-allergy sufferer), so each dish could be enjoyed by all. This was done without us, or the waitress, making a request.
At Spice Temple the approach is simple—love and appreciate food in all its spicy glory.
Starters that you just can't go past include: Tea smoked 1/2 duck with Mandarin pancakes (delicious); stir-fried Spanner crab omelette; fried eggplant and spicy ginger sauce; and a spinach and sesame salad (yum!).
Now, mains, this list could go on forever, but we must start somewhere: Hunan-style, crisp pork belly with fresh and dried chilies and mushroom soy (pictured above); crisp skinned chicken with lemon, ginger and shallot; stir-fried Wagyu brisket with baby eggplant and chili; whole steamed snapper with black bean and salted chili; and greens stir-fried with garlic.
Famously, Spice Temple's wine list features strictly 100 wines. If a new wine is adopted, an existing wine is removed. The ethos behind this dogma—that tight regulation will force all wines served to be the best possible complement to Neil's Asian menu.
And for dessert, you cannot go past the mango pudding with condensed milk; it trumps the lychee granita with dried strawberry and hazelnut praline.
Indulge and enjoy this two-hatted restaurant!
10 Bligh Street, Sydney NSW 2000
Ph: 02 8078 1888
Opening hours:
Monday to Friday, lunch from 12pm to 3pm. Monday to Saturday, dinner 6pm until late.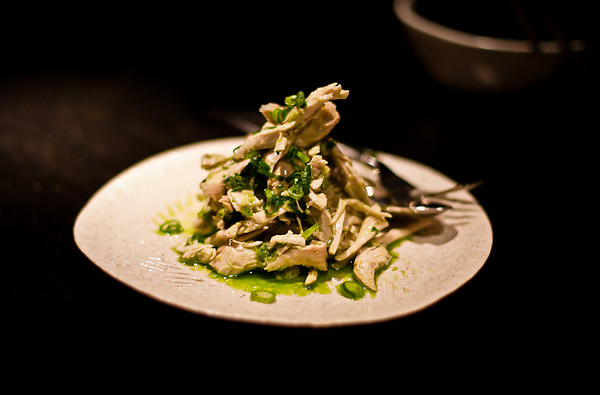 Image credit: Rockpool
Image credit: StarForum