From huge bowls of ramen to burgers as big as your head, there's something about taking on a food challenge that gets some of us strangely excited. We're not 100% sure why we do these things to our insides, but there's nothing quite like the glory (and ensuing stomach pains) of conquering a mega meal.
So with our stomachs prepped (pro-tip: have your last big meal 18-22 hours before your food challenge), we find Sydney's best food challenges. Let's go!
Killa Burgers' 30cm burger challenge
Cram this 30cm burger into your belly in under 60 minutes to win some 'killa' prizes and the respect of your peers. It costs $35 to give it a nudge, and did we mention you have to also finish chips, drink, and a soft serve, too? Yikes.
Wagaya's sushi roulette
A challenge not based on how much you can eat, but based on how much wasabi you can handle. Order the sushi roulette with a group of friends and out comes a plate of innocent-looking salmon sushi. Trouble is, one of these little guys is packed full of wasabi. Make sure everyone takes a bite at the same time and see who's the unlucky one. It's all fun and games until you're the one with a mouthful of wasabi and eyes full of tears.
Pyrmont Bridge Hotel's weeknight eating challenges
Are you a man or a mouse?! Take on Sydney pub, Pyrmont Bridge Hotel's weeknight eating challenges to prove how much of a man (or woman) you are. If you can handle the heat, visit PBH on Tuesdays to experience their insanely spicy Jungle Curry Chilli Challenge. Challenges change weekly, so be sure to check their website to see what's on.
Huong Xua Pho Challenge
We're not even sure how this is possible. Eat a 2.5kg bowl of steaming hot pho in less than 11 minutes and it's free. What makes up the 2.5kg beast, you ask? Here's what's coming at you (and eventually leaving you, but let's not dwell on that)… 500g of meat, 500g of noodle, and 1.5 litres of broth. Even if you don't finish it, it only costs $17, but there's no glory in that. Find out more here.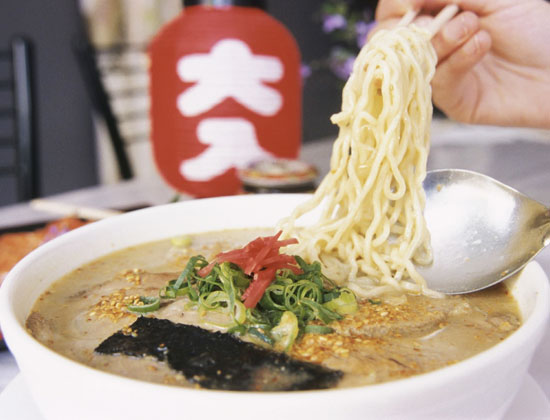 Komachi's big ramen challenge
This little Japanese restaurant in Surry Hills has one big challenge. Finish an enormous bowl of ramen (noodles, soup, and all!) by yourself in under 60 minutes and you will receive a $100 meal voucher. Trouble is, you probably won't want to even think about ramen for months after consuming so much in one sitting. Find out more here.
Bavarian Bier Cafe Parramatta's Lowenschnitzel challenge
On Tuesdays, head on down to the Bavarian Bier Café in Parramatta to take on the Lowenschnitzel challenge. For $22 you'll be presented with a HUGE pork schnitty with fries and schnapps that will probably leave you feeling full until Friday.
Bridge St Garage Tomahawk Challenge
This is a challenge a group of you can go in on. The Tomahawk consists of a huge, slow-roasted, 1.5kg steak that's served with salad, green beans, onion rings, roasted carrots, and hand-cut potato chips. Share between a minimum of four people and make sure you have no weak links in your group—this is one delicious challenge you'll want to finish! Remember to order 24 hours in advance so they can get this bad boy ready for you and your ravenous friends. Find out more about Bridge St Garage here.
Still hungry? We're not quite sure how you could be, but check out our extensive list of the best restaurants in Sydney.
Image credits: Pyrmont Bridge Hotel, Komachi Ramen