Let's face it, there isn't much that a little (ahem, a lot) of avo can't fix. Smashed, stacked or au naturale, it's safe to say the delicious green goodness makes a tasty addition to every single meal. So we've rounded up all the avocado dishes you should have tried in Sydney—you can thank us later.
Here are 50 of the best avocado dishes in Sydney team.
1. Bowery Lane tops their smashed avo with creamy beetroot hummus, crunchy dukkah and silken feta—need we say more?
2. At Mr. Cafe & Bar you can expect piles of avo topped with cumin salt and lime for a zesty pop with each bite.
3. Foundry happens to be our local and their avo toast with tomato is the breakfast bruschetta you need in your life.
4. Basil pesto, shanklish and 63 degree eggs make the Gorgeous George from Cuckoo Callay a winner every time.
5. A spin on the classic, Laneway Cafe's smashed avo also features peas, mint and feta. Can you say foodgasm?
6. Youeni's The Chislett is topped with chickpeas, sprouts and pesto. Add a poached egg (trust us).
7. Offering an all day brekky menu, it's never too late to tuck into Room 10's smashed avo. Top it with prosciutto, we dare you.
8. Single O in Surry Hills has mastered the art of avo—creamy feta, house made sweet potato hummus, macadamia and lemon myrtle on toasted rye.
9. Trafalgar Street Espresso is simple and delish, and that's enough said my friends.
10. Get your fill of avocado at Chica Bonita in Manly—think monster servings of the house made guacamole with a side of corn chips or slathered on fries with refried beans, fresh tomato salsa and a margarita (obvs).
11. It's safe to assume that Avocado Fruit Lounge Cafe understand all things avocado. Here you can get your dose of the creamy green goodness on toast or in a cocktail. Yep.
12. The signature avocado from The Grounds of Alexandria is the perfect balance of zesty and savoury.
13. Dachshund Coffee pair their smashed avo (dubbed the reformed avo, FYI) with goats chevre feta, tabbouleh and crispy sage taking the deliciousness up a notch (or five).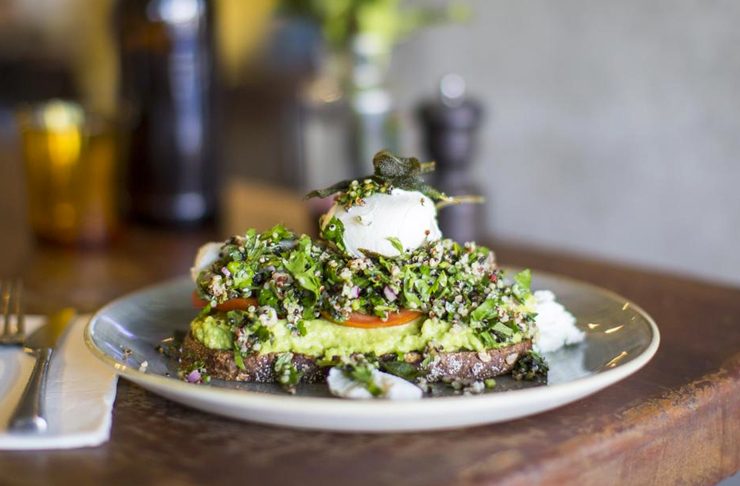 14. The Baron does a green, on green, on green version of the classic. It also happens to be one of our faves aaannnndd #healthygoals.
15. Glider KS take on smashed avo is simple, fresh, delicious and we dig it.
16. Mecca Espresso is one of our faves for coffee and their avo toast is just as good.
17. Cafe Shenkin know that everything is better with avo. Take your pick between the avocado falafel or avocado on toast.
18. Crispy fried chickpeas, pomegranate and kale and za'atar tapenade are just some of the reasons that Two Chaps avo on toast is so extra.
19. With nori and free range onsen egg, Cafe Rumah's avo on toast is anything but basic.
20. At West End Espresso you can get your smashed avo fix guilt free with a delicious nourish bowl. Watch out summer bod, we're coming for you.
21. Because you can never get enough avo, the smooth energy smoothie with coconut, the green stuff and pineapple from Pressed Juices in Bondi is a must.
22. The pops of lemon and chilli flakes make the smashed avo at City Edge Cafe practically irresistible.
23. Stack your avo sky high with a vegetarian breakfast stack from Two Good Eggs café.
24. Three Williams know the best way to enjoy avocado is in a poke bowl packed full of green goodness.
25. Lox Stock & Barrel has got smashed avo down pat—simple and so yes.
26. Cook & Archies deliver the goods with their roast tomato, avocado and buffalo mozzarella bruschetta.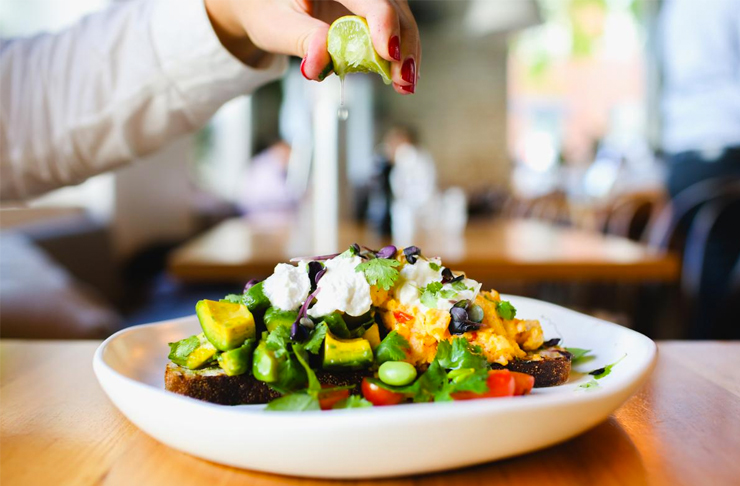 27. Sticky Fingers is the perfect place to grab a delicious smashed avo that won't break the bank.
28. Smashed avocado on waffles is happening at Morley Eats—you can (and will) thanks us later.
29. Grill'd have turned every single one of your dreams into reality with their crunchy quinoa and turmeric battered avocado fries.
30. Do yourself a favour and order an avocado and coconut smoothie from Cafe Nho.
31. At Parida, Bondi you can get your avo stacked, smashed or whipped into guacamole and we'll take all three.
32. Miso avo toast exists at Blackwood Pantry. Yes please.
33. You can dress your smashed avo up or keep is simple with plenty of options at The Nine. Hint: they're all ridiculously Instagrammable.
34. At Harry's Bondi there's no shortage of avo. It's topped with harissa on toast, wrapped in egg rolls or sitting pretty on quinoa & feta fritters.
35. Seared salmon, teriyaki chicken and tempura prawns are just some of the delicious options Umi Sushi offer (with avo, obvs).
36. The original Ducks avocado toast at Three Blue Ducks is and always will be a yes from us.
37. Likewise, Avenue On Sussex know that avocado on goats cheese sprinkled with roasted walnuts is hard to beat.
38. Mr Toppers Toast Bar adds charcoal dusted goats cheese to their smashed avo for a little something special.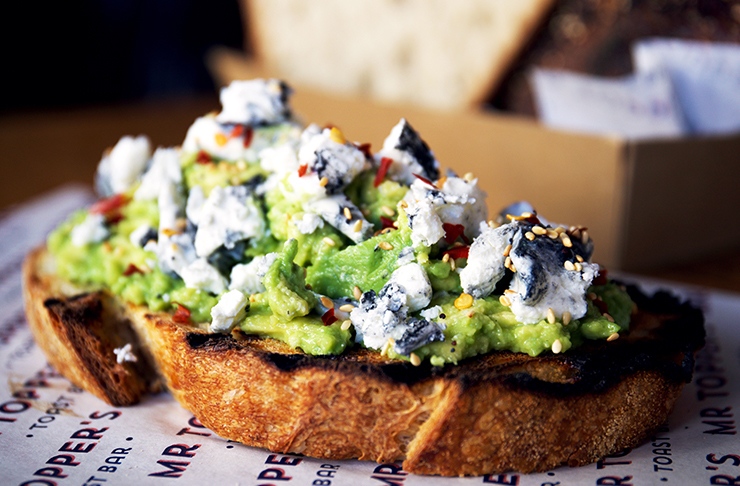 39. For those who prefer their avocado atop a pan fried chicken breast or slathered in creamy sauce with pasta and jumbo prawns, Peter Pans needs to jump to the top of your list.
40. Contessa Balmain know the easiest way to master brekky is with avo on a smoked salmon omelette, with caramelized onion, dill and organic sourdough (because carbs).
41. Arthur's Oysters and Seafood avo-on-toast ice cream is the next best thing since avo on toast. Seriously.
42. Grab a G'day USA from Bloody Mary's for the ultimate avo, vegemite and cheese combo. You know you're into it.
43. Upper Crust's chicken, brie and avo pie is a firm fave with locals and also with us #justsaying.
44. The triple avocado choc slice from oFarm is an avo-solutely delicious match made in heaven.
45. Charcoal bread, pickled radish and furikake are the Rising Sun Workshop's go to for an avocado breakfast.
46. Bondi Massive Cafe understands the art of simple yet tasty food with an avo smash doesn't even need to bells and whistles.
47. Just when we thought we couldn't be any more obsessed with avo, we discovered the avocado salsa benny from John Smith café—even better than it sounds.
48. Nelson Road Tuckshop have gone beyond, adding avocado to their greens smoothie for a creamy upgrade.
49. For a breakfast that will leave you feeling as satisfied as it does healthy, tuck into the smashes avo with cherry tomatoes, feta and balsamic finish from Ungaro Raw.
50. The Elevation in Parramatta secret to a perfect smashed avo is the perfect amount of crunch, zest and cheesiness for a combo that we just can't get enough of.
Here are 50 places around the world you need to see before you die.
Image credit: Mr., Cook & Archies | Carla Dibbs, Dachshund Coffee | Claudia Shmueli, Mr Toppers Toast Bar