Helloooo to the ultimate comfort breakfast! We are ready for your fluffy, eggy and yes, even your sticky maple embrace. That's right, French toast, we're talking about you.
Sydney's best cafés have really ramped up their French toast game, and we're all too happy to dive head first into stacks of sweet decadence first thing in the morning. Fine, first thing being 10am. Who's watching the time when there's French toast to eat? The only struggle you'll have is picking between the excellent array of toppings (and whether you're opting for bread, brioche or croissant levels of decadence).
Fouratefive
Surry Hills
If you're done with rich wintery breakfasts, head straight to Fouratefive. Their French toast is stuffed with banana, dulce de leche and marscapone, with a nut crumble in case that's not enough decadence for you first thing in the morning.
Mecca Alexandria
Alexandria
Proving they have the whole morning sorted now, Mecca Alexandria are putting out a signature buttermilk French toast with a difference. Topped with carrot orange marmalade, whey caramel, labneh, and almonds, you can also add pasture raised ham (is this really optional?!).
Three Williams
Redfern
As well as likely winning the award for the most photographed French toast in Sydney, Three Williams' cornflake-crusted specimen will win over your heart too. Topped with fresh berries, yogurt, pecans and drizzled with the heavenly organic maple syrup, there is good reason for its fame.
Dunbar House
Watson's Bay
Work up an appetite on the ferry for a brunch with beachy views. Using Sonoma bread, this breezy version is served with warm seasonal fruits and mascarpone. Yep, Dunbar House knows how to do spoil you any day of the week.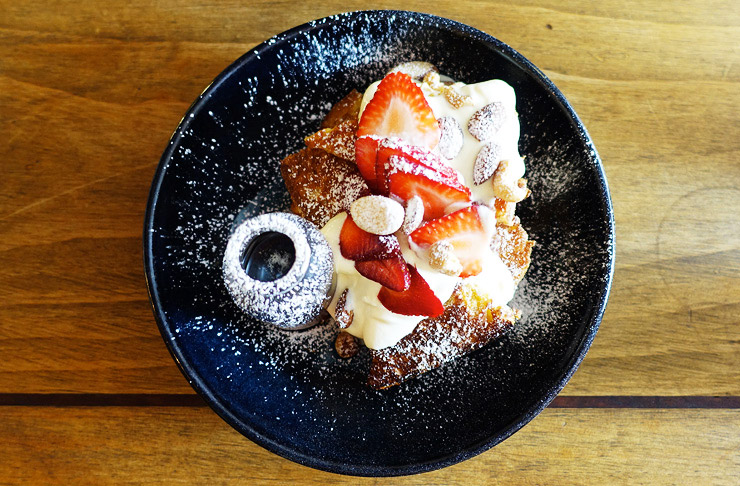 Stain Café
Hunters Hill
Keeping their French toast spring fresh, Stain Café's new iteration is a floral and fabulous. Featuring rose vanilla custard and raspberry, some almonds for crunch and gorgeous edible flowers, this is as much a feast for the eyes as it is for the stomach.
Boathouse Balmoral
Mosman
You'll need that beach breeze because Boathouse Balmoral's French toast uses a croissant, not your regular bread, for their brekkie staple. There's a nice balance of whipped ricotta and seasonal fruits to balance out all that butter though, so no need to fret.
First Drop Café
Redfern
Local Redfern favourite First Drop Café are Greeking their French toast with fresh Greek sweet bread. We love the addition of nut butter to the mascarpone, raspberries, cinnamon, and maple syrup. Win.
White Rabbit
CBD
Thankfully this inner city café is now open Saturday for your brioche French toast fix! That said, it'd be a pretty good way to start your working day too, because who would say no to caramelised banana, ricotta, and salted caramel?
Image credit: Federica Portentoso at Three Williams, Sophia Fukunishi at Stain Cafe.