You Imagine What You Desire is the theme for 2014's 19th Biennale of Sydney. Artistic director Juliana Engberg gave an impassioned account of her vision for Asia Pacific's largest contemporary art event.
"For me artists are active philosophers who seek to engage the audience and viewer in an exploration of our world through metaphor, narrative and poetry. They do this so that we might find inspiration in the sensations and intensities produced by art, and so that we might, temporarily, step aside from our commonplace experiences and feel something uncanny and unusual."

Running from March 21 to June 9, the Biennale of Sydney is a free event, which will engage more than 90 artists from 31 countries. It is to be held across five venues, including: the Art Gallery of NSW; the Museum Of Contemporary Art (MCA); the heritage-listed Cockatoo Island; the heritage-listed Carriageworks; and Artspace.

Informed by each location's unique set of characteristics, Juliana Engberg has conceptualised five very different Biennale landscapes.

Cockatoo Island:

Ulla von Brandenburg 'Die Straße' (The Street), 2013 (video still)

Eva Koch 'I Am The River', 2012 (video installation)
Juliana described Cockatoo Island as a "dirty, smelly and visceral place," hence the works she has curated are robust, highly tangible and engaging. "I want people to feel uplifted, spirited when visiting." Inspired by a sense of 'happy anarchy' works by Danish artist Eva Koch and German Ulla von Brandenburg will be staged on the island.

Museum of Contemporary Art:


Douglas Gordon 'Phantom', 2011 (video still)

John Stezaker 'Mask CXLIX', 2010 (collage)
The elements of water and air informed the MCA Biennale collection-to-be, along with the imaginative and surreal—a sense of 'liquious' according to Juliana. The collaboration between acclaimed Scottish artist Douglas Gordon and singer-songwriter Rufus Wainwright will be featured, as well as sensual works by English artist John Stezaker and Swiss artist Pipilotti Rist.

Art Gallery Of NSW:


Michael Cook 'Majority Rule Memorial', 2014 (print)


Yingmei Duan 'Happy Yingmei', 2011 (performance and sound installation)
A stalwart of Australian art, the Art Gallery of NSW engendered a collection that investigates human, geo-political and cultural bahaviours through the vehicles of metaphor and fable. Performance artist Yingmei Duan will set up residence within the gallery for the 12-week period; viewers can pass through her forest installation and interact with the artist. Contemporary Indigenous artist Michael Cook's, and Romanian artist Mircea Cantor's works, will also be exhibited.

Carriageworks: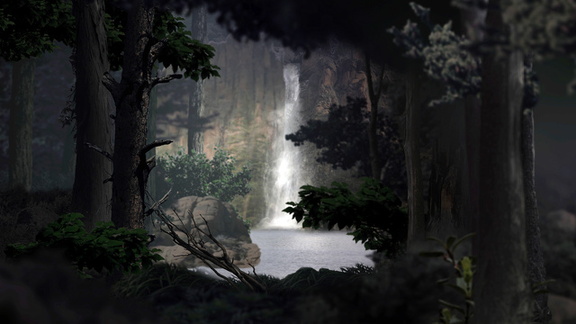 Broersen & Lukács 'Mastering Bambi', 2010 (video still)


Mathias Poledna 'A Village By The Sea', 2011 (35mm frame enlargement)
Carriageworks takes a theatrical turn with a selection focused upon the languages, narratives and materials of film and theatre. Stunning works by Broersen (The Netherlands) & Lukács (Amsterdam) and Austrian artist Mathias Poledna will leave attendees spellbound.

Artspace:
Lastly to Artspace, where Swiss artist Ugo Rondinone, French artist Maxime Rossi and Finish conceptual artist Henna-Riikka Halonen will all be represented.

Since its inaugural exhibition in 1973, which was opened by Queen Elizabeth, the Sydney Biennale has showcased the works of 1600 artists from more than 100 countries. The previous biennale in 2012 generated $60.6 million in income towards Australia's economy and was attended by more than 665,000 people.