UPDATE WEDNESDAY 29 JULY, 2020
New COVID-Safe Restrictions For Gyms
Premier Gladys Berejiklian has revealed more COVID-Safe restrictions will be introduced for gyms from 12am on Saturday 1 August.
From that time, all gyms will be expected to have a COVID marshall on the premises at all times—even gyms who typically don't have staff on-site. And, like all pubs, cafes, clubs, restaurants and bars, gyms will also need to register a COVID Safety Plan.
The Premier also indicated that more restrictions would be put in place if case numbers continued to rise. "If I walk into a venue and I'm not comfortable with how COVID safe that venue is, I'd leave," she said. "I expect patrons to do the same."
The announcement comes after 19 new cases of coronavirus were reported in NSW overnight. The Potts Point cluster has now grown to seven known cases and Dr Jeremy McNulty of NSW Health is "particularly concerned" about this inner-city cluster.
For our rolling list of NSW COVID hotspots, head here.
To find a COVID testing clinic near you, head here.
For more information about COVID-19, its symptoms and Australian transmission data, head here.
UPDATE TUESDAY 28 JULY, 2020
NSW Venues Linked To Coronavirus Outbreak
New coronavirus cases and hotspots are popping up each day in NSW. While the recent uptick in COVID-19 community transmission in NSW isn't quite as staggering and saddening as it has been in Melbourne—the state remains to be on high alert and NSW health authorities are working hard to trace outbreaks and prevent a much larger, more devastating second wave.
To help you keep track of which NSW venues, suburbs and regional areas are currently being affected by an outbreak, we'll be updating this live list of coronavirus hotspots regularly.
Update Friday 17 July, 2020
Group Bookings at Restaurants, Bars, Cafes and Clubs Reduced To 10
Following the announcement on Tuesday this week that group bookings at pubs would be reduced to 10, the NSW Government has now revealed this rule will also apply to restaurants, cafes, bars and clubs as of next Friday 24 July.
There have now been 42 new coronavirus cases linked to the Casula outbreak, and three new "mystery cases" not currently linked to the Crossroads Hotel.
Re-introduced lockdown restrictions so far include:
Bookings at pubs, restaurants, cafes, bars and clubs will be limited to 10 people from Friday 24 July
Venues limited to a capacity of 300
Weddings and corporate events limited to 150 people
Funerals and places of worship limited to 100 people
Stay tuned for more updates.
For more information about COVID-19, its symptoms and Australian transmission data, head here.
Update Tuesday 14 July, 2020
Group Bookings At Pubs Reduced To 10
The NSW Government has this morning revealed some venue restrictions will be reintroduced as new COVID-19 clusters have begun to appear throughout Sydney.
For now, the re-introduced restrictions will apply only to pubs.
Bookings at pubs will be limited to 10 people and pub venues will be limited to a capacity of 300.
As of 12.01am on Friday 17 July, every pub in NSW must download the COVID Safe plan, and register that COVID Safe plan.
The news comes just two weeks after lockdown restrictions were significantly downgraded, even removed entirely as of Wednesday 1 July—suggesting the Government may have been too hasty to return to business as usual, and that the impact of the Victorian situation has reached NSW in some capacity before borders were shuttered.
To date, 28 cases have been linked to the Crossroads Hotel in Casula, with another case under investigation. Anyone who was at the hotel between the 3rd and the 10th of July is being urged to come forward and get tested, and to self isolate for two weeks regardless if they have a positive or negative test.
The Star casino has confirmed a patron visiting earlier in July tested positive to coronavirus. The Star has also been fined $5,000 for breaching public health orders, but has not been shut down.
Some scenes in Sydney have emerged showing people flouting or simply forgetting social distancing (this image of crowds outside the Golden Sheaf in Double Bay has sparked concerns Sydney will go back into more restricted lockdown soon).
Premier Gladys Berejiklian has said that NSW is at a "critical point" and that residents should not let their guard down. Speaking on 2GB Radio, she said, "We cannot have people mingling, we cannot have people letting their guard down, and unfortunately that is happening all too frequently for our liking."
Stay tuned for more updates.
For more information about COVID-19, its symptoms and Australian transmission data, head here.
Update Sunday 14 June, 2020


Capacity Limits To Be Dropped For Pubs And Restaurants
Plans To Kick Start Sydney's Nightlife

Following up Prime Minister Scott Morrison's announcement on Friday 12 June, the NSW Government has revealed a few more lockdown restrictions will be downgraded—even removed entirely—as of Wednesday 1 July.

Maybe the most notable is that the current 50-person limit placed on all pubs, restaurants and cafes will be dropped.

Second up, outdoor cultural and sporting venues with a capacity of up to 40,000 will be able to open at 25% seated occupancy. Larger venues will remain closed for now.

Other venues and businesses to reopen as of July 1 include:
Cinemas
Theatres
Performance halls
Theme parks
Show grounds
And finally, while nightclubs are the only venue to remain closed for now, the Government is keen to kick Sydney's nightlife into gear and grow the concept of Sydney's "24-hour economy", saying that restrictions on nightclubs and music festivals could be removed as soon as August if community transmission doesn't spike.
According to the ABC, there are also plans to relax rules on new liquor licenses—which could, hopefully, and eventually, see a tribe of new venues open up in Sydney. Minister for Customer Service Victor Dominello suggested this could include licenses for new venues in Kings Cross, ending an 11-year freeze on new liquor licenses in the area introduced to tackle alcohol-related violence.
These decisions come after NSW has recorded four new cases of COVID-19, including a locally-transmitted case. For more information about COVID-19, its symptoms and Australian transmission data, head here.
Update Tuesday 2 June, 2020
Gyms, massage and tattoo parlours to reopen
Today NSW Health Minister Brad Hazard revealed that gyms, dance and yoga studios would be able to reopen as of next Saturday 13 June.
According to the ABC, classes will have to be capped with a 10 person limit, and there will be a maximum of 100 people per venue. All gyms and studios will be required to enforce the four-square-metre rule and to sign in guests to assist with COVID-19 tracing, should an outbreak occur.
Additionally, massage and tattoo parlours will be allowed to reopen with a 10-person limit.
Stay tuned for more details.
UPDATE SUNDAY 24 MAY, 2020
Salons to reopen
Government authorities have revealed today that beauty, tanning and nail salons will also be allowed to open across NSW as of Monday 1 June.
This is the latest in a growing list of loosening restrictions for the first day of June. So far it's also included the regional travel ban, museums, libraries and galleries reopening, and pubs, bars and restaurants being allowed up to 50 patrons at a time.
There is, however, no official word on when NSW gyms and fitness studios can reopen. Deputy Premier John Barilaro has speculated that gyms could reopen in a month or so, and that the government is currently working on a plan to ensure that indoor workouts are ultimately COVID-safe.
Stay tuned for more details.
UPDATE FRIDAY 22 MAY, 2020
50 patrons allowed in pubs, restaurants and cafes
It seems that Monday 1 June will see a few more lockdown restrictions ease across Sydney and NSW.
According to the ABC, Premier Gladys Berejiklian has just revealed as of June 1, restaurants, cafes and pubs will be allowed to host up to 50 guests at a time.
Bookings will be limited to parties of 10, and restaurants will have to stick to social distancing practices like the four-square-metre per patron rule.
Stay tuned for more updates.
Update Wednesday 20 May, 2020
Museums to reopen
This morning, Premier Gladys Berejiklian revealed that NSW's museums and art galleries would be able to reopen as of June 1.
Don't expect busy halls and lengthy queues if you do plan a visit—the Premier said that number of patrons allowed into an institution at any one time will need to be limited in order to maintain appropriate social distancing. This number limit will be determined by the museum or gallery operators, and, in the case of the Art Gallery of NSW, be managed with timed bookings.
In a statement released this afternoon, Michael Brand, director of the Art Gallery of NSW said, "Art is a source of hope and inspiration in difficult times and we've been very much looking forward to welcoming everyone back to the Gallery... We are currently putting in place all the measures that will ensure our art museum is a safe place to visit, and a safe workplace for our staff and volunteers."
"We are looking forward to being able to announce new dates for the Archibald, Wynne and Sulman Prizes 2020 exhibition, postponed until later in the year."
This easing of lockdown follows the announcement yesterday, that regional travel for any reason, including holidaying, would also be allowed from June 1. For more details on that, keep reading below.
Update Tuesday 19 May, 2020
nsw travel allowed
According to the ABC, the NSW Government has revealed that regional travel will be allowed within NSW, for any reason, as of June 1.
Restrictions will lift just in time for the Queens Birthday long weekend, and the ski season, which is due to kick off on June 6. It's not yet clear how the ski season will go ahead, with outdoor gatherings still restricted to numbers of 10, making operating the slopes and ski resorts difficult, to say the least.
Prior to June 1, regional travel has otherwise been allowed for work and education purposes, but holidaying has been off the cards since mid-March.
So—this is great news for anyone itching to hit the road, but even more so for our State's many bushfire affected regions, who have been suffering due to the drop off in tourism for most of 2020.
Planning a big NSW road trip? Here are 5 beautiful spots to visit when restrictions lift in June.
Update Sunday 10 may, 2020
Premier Gladys Berejiklian has today revealed that NSW's current social distancing restrictions will ease as of Friday 15 May, including the re-opening of cafes and restaurants.
The announcement follows the Prime Minister's three-step plan to restore the Aussie economy in the face of the ongoing pandemic last Friday afternoon, with some—but not all—of the "Step 1" changes coming into play.
Here's what will be allowed as of Friday 15 May:
Cafes and restaurants will be allowed to reopen, with up to 10 guests dining in
Weddings will be allowed up to 10 guests
Funerals will be allowed 20 mourners indoors, and 30 mourners outdoors
Religious gatherings will be able to host up to 10 guests
Outdoors pools, gyms and playgrounds will reopen with some restrictions
As for where NSW has not followed the Federal Government's outline for step 1—local and regional travel is still banned and fines remain in place.
"NSW is not yet ready to have recreational holidays [to] regional communities," the Premier said. "We're not ready to ease restrictions as much as other states have."
With her announcement, the Premier underscored the fact that the easing of restrictions did not signal that the virus was somehow less harmful or fatal.
"Just because we're easing restrictions doesn't mean the virus is less deadly or of less threat. All it means is we have done well to date," she said.
"Every time you leave the house, you have to assume you have the virus or somebody you're going to contact has the virus. That is the only way we will keep this deadly virus at bay."
Update Friday 8 May, 2020
Prime Minister Scott Morrison has revealed today a three-step plan to restore the Aussie economy in the face of the ongoing pandemic—and it looks like there is a little light at the end of the tunnel for restaurants and cafes.
While States and Terriotires will move through the stages at their own pace, with staging reviewed every three-four weeks—stage one of the plan involves the reopening of restaurants, cafes and shopping, as well as libraries, community centres, playgrounds and boot camps.
More detail on the stage can be seen in the infographic below.
As for NSW's response to the new plan, Premier Gladys Berejiklian has said that NSW's restrictions will remain in place until at least Monday 11 May, after Mother's Day.
While the plan rolls out, physical distancing, hand-washing, increased sanitation and COVID-19 testing will still be in play. The Morrison government has underscored the importance of downloading the CovidSafe App in order to track and trace outbreaks as they do (and unfortunately, they will), occur with the reopening of business.
The Government's plan does not reflect any diminished risk in infection, or the eradication of the virus—so it's important to stay vigilant for your own health and safety, and the health and safety of others.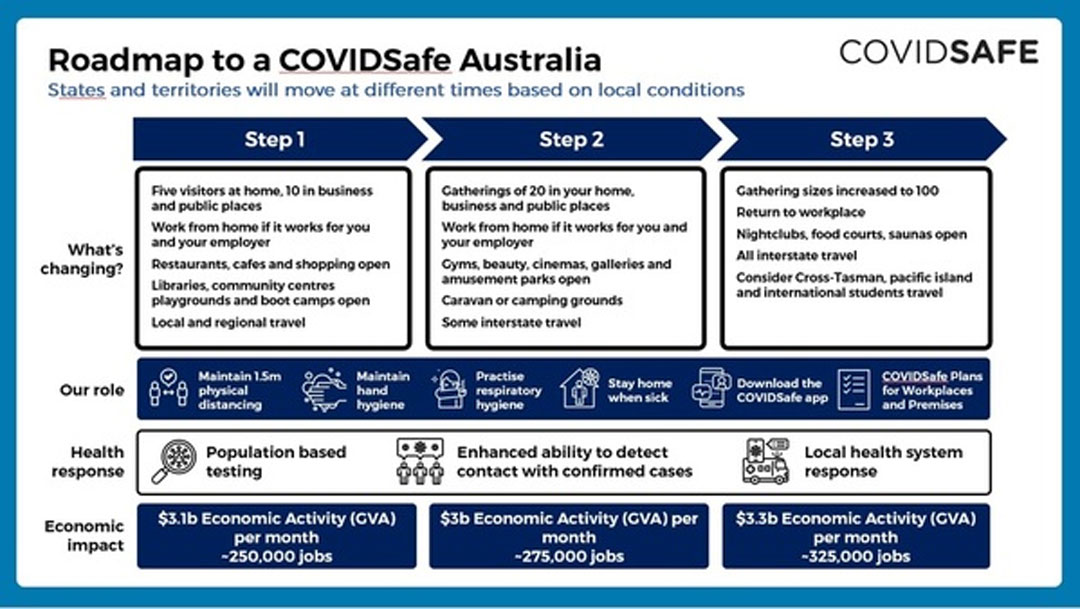 Update thursday 7 May, 2020
This morning, NSW Premier Gladys Berejiklian revealed that NSW would likely be well on the way out of lockdown by the end of June.
While other Australian states have had a more clear concept of when lockdown would end, NSW has been kept mostly in the dark—that is, until today.
"I suspect by the end of June, life will feel much more normal than it does now, and even during May, life will feel much more normal," the Premier said.
Her announcement comes as the nation holds its collective breath for Prime Minister Scott Morrison's possible Friday 8 May announcement, where the national cabinet is said to be meeting earlier than expected to discuss the easing of national social distancing regulation.
As for whether social distancing will be dropped in time for Mother's Day, the Premier has said nothing in NSW will change for the coming weekend.
"Please know that two adults and children can visit any mother at any one time, and a mother can accept multiple visits a day," she confirmed.
The Premier's statement follows the new home visiting rules set in place last Friday:
From Friday 1 May, groups of just two adults will be able to visit "anybody" in their households.
The Premier noted there was an "inherent risk" in easing restrictions, but said that she was "absolutely confident that people will be responsible".
With the shift, children will be able to accompany adults for home visits, but people over 70 should continue to quarantine as much as possible.
"If you have the mildest sniffle, do not go and visit anybody [or] if you're feeling slightly unwell or fatigued, don't risk it... Because there's too much at stake."
Outside of this, NSW social distancing existing laws will remain in place. It's not a dramatic change, but it is a little light at the end of the tunnel that has been COVID-19 for Sydney and NSW.
Update April
As so many of us are well aware, Sydney has been living in lockdown since Monday 23 March, in order to curb the spread of COVID-19.
As well as the four hard and fast rules set by the Federal Government to enforce better social distancing, NSW has a broader, more detailed set of 16 rules as part of an official public health order issued by NSW Health. You can read about those rules here.
In early April, NSW Premier Gladys Berejiklian said it was unlikely that these rules would get any tougher, provided the number of new COVID-19 cases continued to decline.
While it's hardly the spectacular sparkly city life we're accustomed to, try to think of it like this: the current way of life in Sydney is our new normal, it's not going to get especially more restrained and we can start to get comfy and lean into this era of wintertime self-iso.
The State's current social distancing rules, as well as fines associated with breaking those rules, are in play for a minimum of 90 days—that is, they'll be in place until the end of June. From there, it's likely the government will reassess whether restrictions need to stay in place, or whether they can be lifted slightly.
While new cases have fallen under the present social distancing restrictions, the Premier has also said, "We all have to stay vigilant. We can't pretend it's over," adding also that "it won't be over until there is a vaccine."
So, for the foreseeable future, it's really important to skip the park hangs or your morning cycle with mates and follow the Government's social distancing rules.
Bondi Beach has reopened as of this week for swimming and surfing, but Waverly Council is still a COVID-19 hotspot, and flocking down to the sand en masse is a dangerous idea. Lives are at risk within any age group—even if NSW reports no new cases, exponential modelling proves how easy it would be for untraceable community transmission to spiral rapidly—and we're back at square one as a city.
If you want to get a better sense of the impact of physical distancing, this epidemiologist has explained it perfectly, and this extra-nerdy animation from Youtuber 3Blue1Brown simulates the real impact of a few failed social distancing scenarios (using a cute pi with googly eyes).
So, yep—it looks like take away and delivery from our favourite restaurants and cafes will be the norm for a while. Here are our a few of our top picks for takeaway this week.
We will continue to update this page as laws are relaxed or updated. For more information on the COVID-19 crisis in Australia, please go here.
Image credit: Sacha Styles