You know summer has arrived when new venues are flooding your feed on a daily basis.
Just opened, Nightcap is brought to you by the familiar faces behind Bine Craft Beer Bar, Hideaway Kitchen, Mr Hizola's, Soho Place and Nightjar. This crew has a loyal following—people seem to trail them everywhere they go—and you can trust this prime spot in buzzing Nobby Beach will be no different.
Co-owner Scott Imlach makes no apologies, Nightcap is grungy, dark and somewhere you'll likely stumble in for "one drink" that will dangerously lead to the wee hours, given the intoxicating energy and lack of windows to the outside world.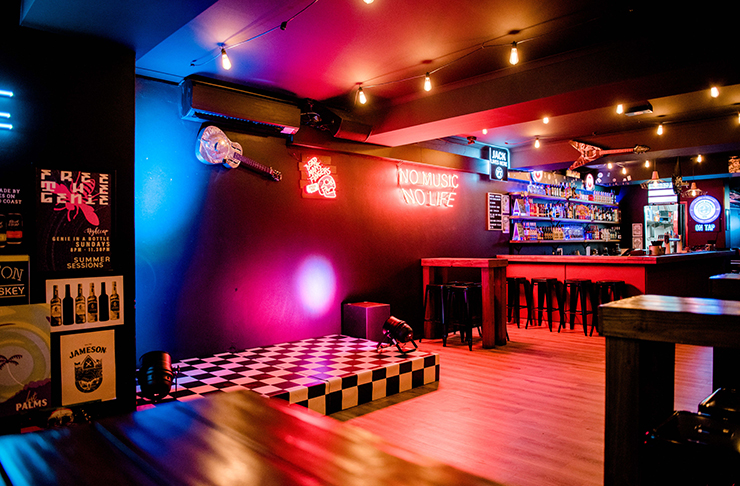 Yet another small bar in the Coast's growing armoury (meaning there is NO food, folks) ensures the focus is squarely on the drinks. Paying homage to the rock legends splashed in graffiti across the walls, alongside guitars, event posters, album covers and old vinyls, Nightcap's cocktail list reads like a who's who of music royalty. Start slow and sip on an ACDC Espresso (martini), Red Hot Chilli Pepper or Beatles-inspired Strawberry Fields.
All the region's craft breweries are represented on the menu, together with bad-habits-never-die cans of VB, XXXX and Toohey's New. Whiskey lovers are well catered for and we expect the spiced rum Dead Man's Fingers is likely sprinkled in everything.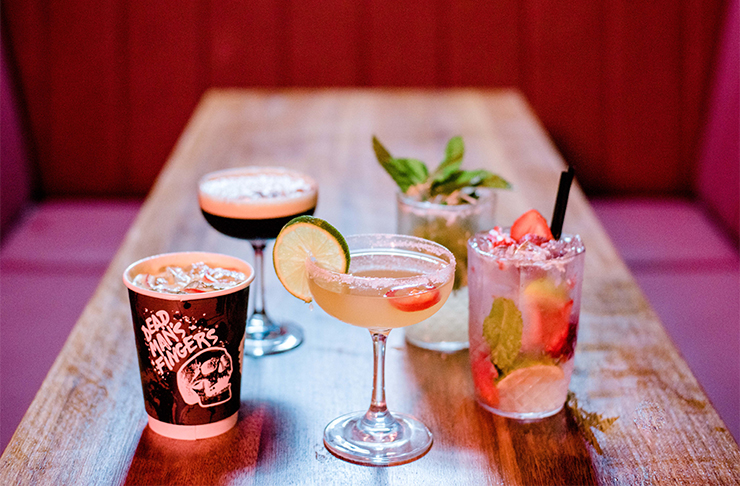 Filling the hole left by recently departed live music venues (RIP, Shark Bar), Nightcap is meticulously sound proofed to host a steady stream of local and visiting musos; some soothing, some obnoxiously loud. And as always with this team, giving the Coast's hard-working hospitality army a place to let their hair down is paramount, thus Monday night has been officially dedicated to Hospo Night.
Nightcap dive bar is now open seven nights until late. Though, you have been warned, a spontaneous "nightcap" here is likely to turn into anything but.
The Details
What: Nightcap dive bar
Where: 2245 Gold Coast Highway, Nobby Beach
When: Open seven nights
For more information, click here.
You'll want to line that stomach before you plunge into the boozy abyss. We suggest hitting I Like Ramen or MexiCali first.
Image credit: Kaitlin Maree Photography for Urban List