Are you a giggler? A chuckler? Perhaps you're even a snorter. There is no better place to release a belly full of laughs without judgement than at your local live comedy venue.

You can tell a lot about a place by its comedy scene. It's one of the best ways to get to know a new country or city because audiences will laugh at what they really think! When I first moved from Sydney to Melbourne, I promptly parked myself in various comedy venues. I learnt which tram numbers were the dodgy ones, that there was possibly more cafés than people in Melbourne, and which suburbs to avoid.

During the months when comedy festivals are few and far between, you can still find great performances that are being held regularly throughout the city. And let's face it, in today's stressful and fast-paced world we need to laugh more. Instead of paying your Laughter Therapist (they really do exist!), pull yourself off the couch, head out for a night of laughs and keep supporting live comedy!
?
Here's our round up of some of Melbourne's best venues that offer a regular dose of fresh new material from a diverse range of comedians. If we've missed any of your favourites let us know!
MONDAYS – LOCAL LAUGHS

With wood paneling, shelves of old books and lamp shades, The Local Taphouse is a long-running venue with an unbeatable atmosphere. You will see a great mix of established acts, up and comers, and special guests, all of which can be enjoyed from the comfort of couches and armchairs. Just remember, it pays to arrive early if you want a seat!

'Local Laughs' at The Local Taphouse | 184 Carlisle St in St Kilda East
Mondays, 8.30pm | $15 adult, $12 concession
03 9537 2633 | Facebook

TUESDAYS – LUCKY COMEDY

At Lucky Coq you can feast on cheap pizzas and relax on lounges while listening to local up-and-comers have their shot at making you laugh. There's no cover charge, so Lucky Comedy is best for those who want to dip their toes in the comedy scene without making it their whole night!

'Lucky Comedy' at Lucky Coq | Downstairs, Corner Chapel Street & High Street in Windsor
Tuesdays, 9pm | Free entry
03 9525 1288

WEDNESDAYS – PUBLIC BAR COMEDY

Don't let the $5 entry fee or slightly dingy look of The Public Bar fool you. This venue is a guaranteed giggle inducer where you can tuck into a meal from Miss Katie's Crab Shack beforehand and mingle with the comedians during the intermission. The casual vibe and great city location will soon have you making this a regular Wednesday night out.

'Public Bar Comedy' at The Public Bar | 238 Victoria Street in North Melbourne
Wednesday, 8.30pm | $5
03 9329 9888 | Facebook | Twitter | Instagram

THURSDAYS – FIVE BOROUGHS COMEDY

This well-run venue situated on the always-buzzing Hardware Lane is a smorgasbord of chuckles! Five Boroughs uses the 'headline' format (short intervals from a range of comedians followed by a longer performance by the headline act), so if you aren't too impressed by one comedian, there'll be another one moments away!

Five Boroughs Comedy | Upstairs, 68 Hardware Lane in Melbourne
Thursdays, 8.30pm | $12
03 9642 1341 | Facebook | Twitter

FRIDAY & SATURDAY – THE LAST LAUGH

Located in the historic Athenaeum Theatre, The Last Laugh has been providing giggles, chortles and merriment since 1975. It's played host to names such as David Strassman, Ben Elton, Jimeoin and Wendy Harmer. If you want to see a great line up of top quality, professional Australian and international acts, this is the place to go.

'Last Laugh' at The Comedy Club | (Upstairs) The Athenaeum Theatre,
188 Collins Street In Melbourne
Friday & Saturday | Price vary
03 9650 1977 | Facebook | Twitter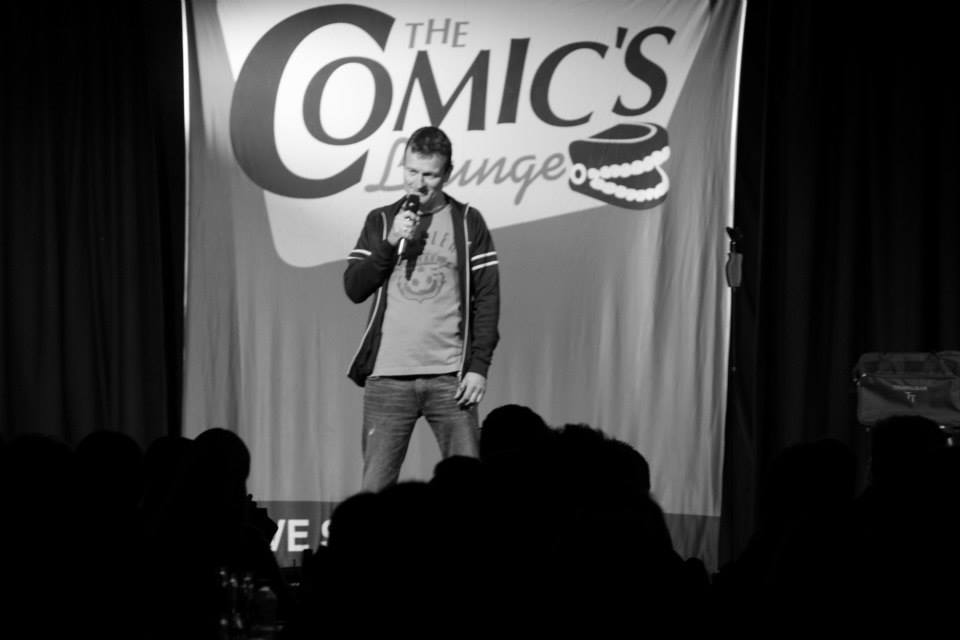 Image Credit: The Comic's Lounge Facebook.
ALMOST EVERY NIGHT OF THE WEEK - THE COMICS LOUNGE

Open bar, funky couches, table service throughout the show – The Comic's Lounge is an easy choice that won't disappoint. The classic three-act show (host, support act and headline act) features big names, local and international acts and has an event almost every night of the week! Dinner and show packages are also available if you want to make a night of it.

The Comic's Lounge | 26 Errol Street in North Melbourne
6 nights/week | Times and prices vary
03 9348 9488 | Facebook | Twitter

Main Image Credit: Highschoolrejects.com