Cocktails, fruit and hanging out with our best pals are some of our favourite things about spring—even when the weather forecast doesn't cooperate. The Melbourne bar that's got that trifecta covered, plus the added benefit of being indoors, is House Of Correction in the CBD.
Dedicated to their house-crafted cocktail ingredients, venue manager Joel McKenzie gave us the low down on how to make our new favourite spring cocktail—the New English Punch.
It's fruity, features a delightfully zingy homemade lemon and blueberry shrub, sour apple cider vinegar and fizzy ginger beer. We're pretty certain you'll be drinking this right through to summer.
Here's everything you need to whip one up at home, shrub included.
New English Punch
Ingredients
1 shot Bombay Sapphire Gin
1 shot blueberry lemon shrub (see recipe below)
1 shot lemon juice
1/2 shot Aperol
2 dashes Fee Brothers Plum Bitters
Top with ginger beer
Method
Fill a wine glass with ice. Shake all ingredients except ginger beer in a cocktail shaker with ice and then strain into the wine glass using a hawthorn strainer. Top with ginger beer, and garnish with a lemon wedge.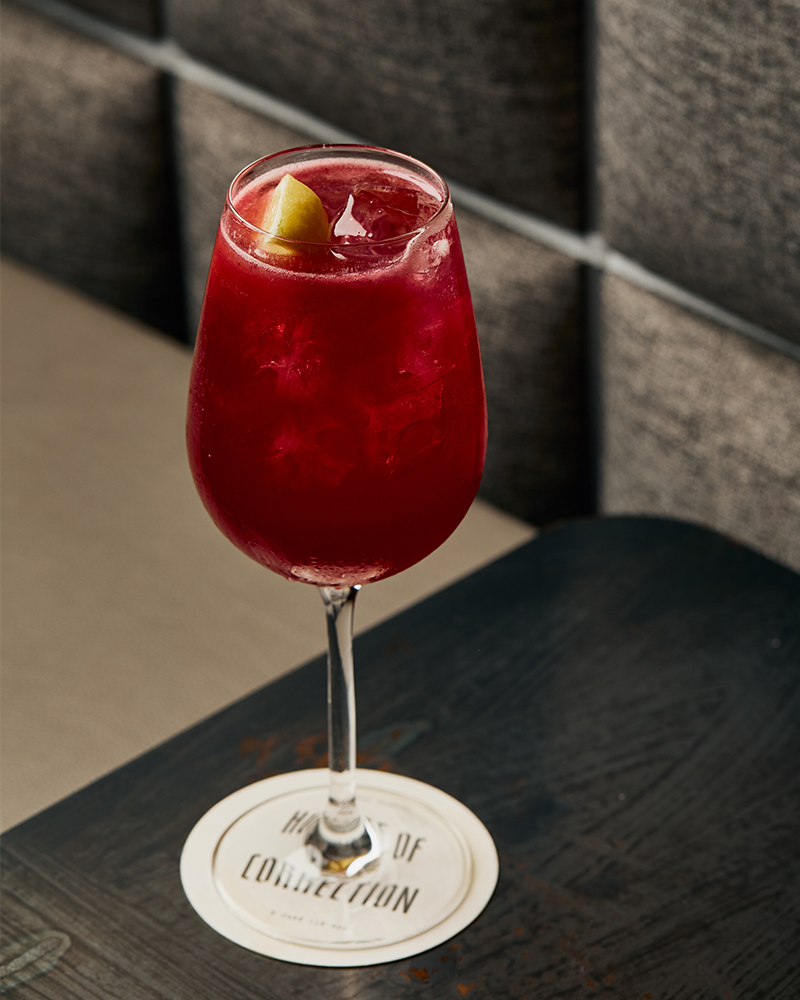 How To Make Blueberry Lemon Shrub
Heat 500ml of water and 500g of sugar on the stove until sugar dissolves. Peel rind and dice flesh of two lemons. Add lemons and 250g of frozen blueberries to the sugar mix. Boil everything until it's mushy (around 30 minutes). Then allow to cool and strain twice. Add 40ml of apple cider vinegar to the mix and store it in sterilised bottles in the fridge.
If you really can't be bothered with all of that, just pop into House Of Correction on Swanston Street and have the friendly bar mate do you the honours.
Image credit: Griffin Simm
Editor's Note: This article was produced in partnership with House Of Correction. To find out more about who we work with (and why!), read our editorial policy here.