You don't have to be a die-hard foodie to know that sandos absolutely blew up in Melbourne early last year, more than ever.
And while the hype may have settled down in 2020, that doesn't mean there's a shortage of places where you can track down the beautiful creation.
Located just outside of the Queen Victoria Market tram stop seven, you'll find Melbourne's latest sando specialisers: the casual, daytime Japanese café, Meet Sando.
"The business name comes from the notion that we want to introduce sando to Melbourne, hence Meet Sando." Meet Sando owner Harsono Setiono says.
They set up shop in November last year inside the former Pickett's Deli and Rotisserie venue. They're serving up the katsu sando, also known as the traditional Japanese sandwich, as well as main meals, pastries and coffee.
Harsono says that Meet Sando was a serendipitous move. He wasn't thinking of opening a café, but rather that the opportunity presented itself. And given that the Queen Victoria Market vicinity is heritage-listed, a lot of the shop's original fittings have remained intact, for example the tables and the shopfront Post Office sign.
"Since we are in the Queen Victoria Market vicinity, in terms of our price point, we've tried to make it affordable for everyone."
That's why you'll find their sandos vary from $11 to $15 each. In total there's five to choose from, each served with ponzu salad. And what can you expect when you order one? You can anticipate it to be freshly crafted every time, with your panko-crumbed filling being golden and crispy, fresh out of the deep fryer.
While there's a range of places where you can get katsu sando in Melbourne, what Meet Sando are focusing on is a somewhat fusion-style meal, where the sandwich itself remains traditional. Harsono says, "It's got Australian flavour injected, for example we sell hot chips." And it's also why their slogan is "more than a sandwich".
To date, their chicken and pork sandwiches have been their most popular sandos so far, but Harsono definitely recommends opting for the mushroom sando with truffle mayo and mozzarella, which he says is one of a kind in Melbourne. "It's a baked Portobello mushroom with cheese on top, so it's melted… and it's slippery."
There's also a selection of add-ons that you can beef up your sando with for only $2 a pop. Add cheese or crispy egg to your chicken katsu sando? Why not?
In true Melbourne style, there's also a bunch of menu options to choose from aside from the sandos. You can pick from one of their four toasties, or a meal from their recently introduced "semi-brunch style menu". The plates on this side of the offering are more on the substantial side of things—you can grab the big breakfast served on white sourdough, French toast or the chicken or pork katsu platter—which are essentially the sandos, but with the lot.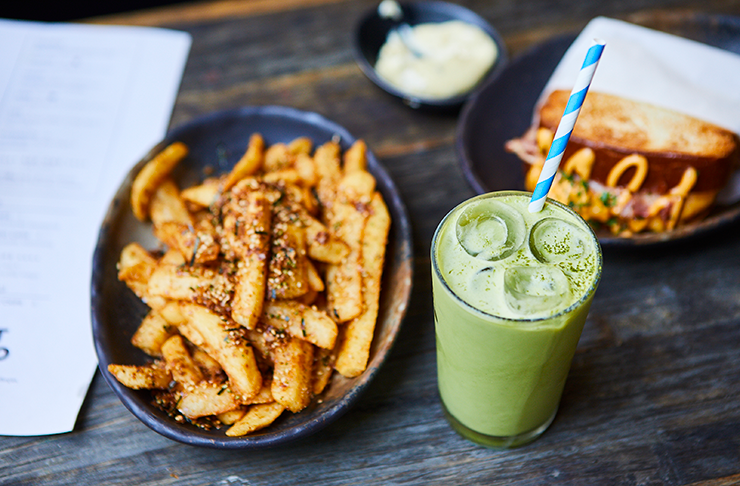 In terms of coffee, they're keeping us well caffeinated with Proud Mary on the job, a roast which adds extra Melbourne breakfast cred to any joint that's killing the game.
The Details
What: Meet Sando
Where: 507 Elizabeth Street, Melbourne
Keep up to date with the latest openings around Melbourne on our New Eats section.
Image credit: Michelle Jarni